Tauon Music Box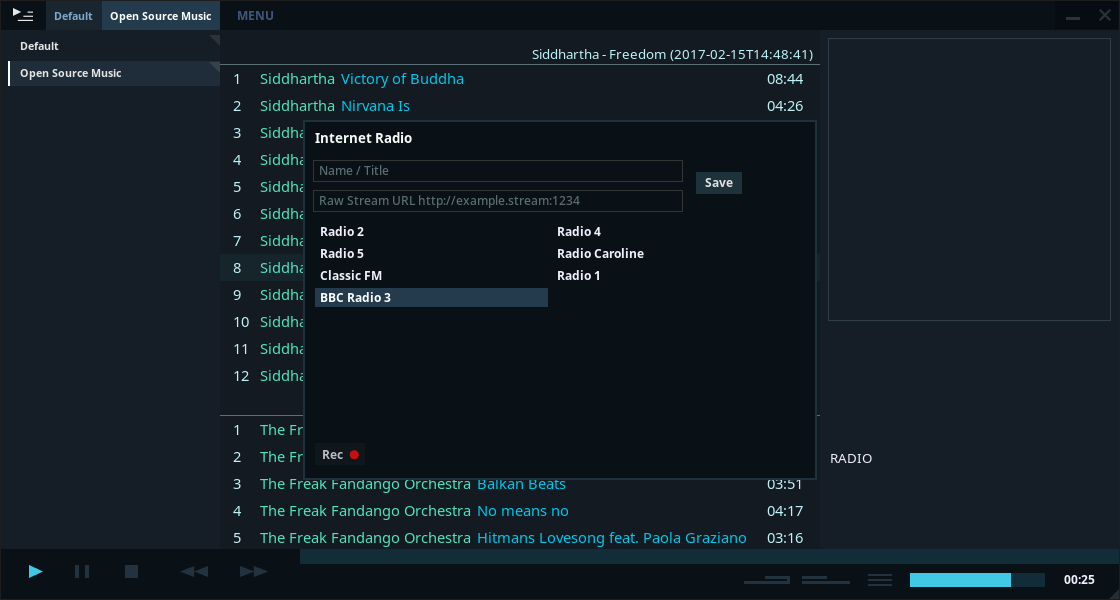 Tauon Music Box is my favourite graphical music player by a country mile. It's an absolute gem of an open source program. There's regular releases building on its goodness, refining and improving its performance and functionality. And it works an absolute charm on the RPI4. A travesty that the project has only attracted a lamentable few hundred GitHub stars.
Tauon Music Box is more than a music player. One thing that might not be immediately obvious is that the program offers internet radio functionality. This used to be tagged "Open HTTP Stream", but since March of this year, the developer has renamed the menu Internet Radio", and more importantly added some functionality in this area.
Playback of radio streams is excellent, no complaints here. While there's record functionality, you can't use that on the RPI4, as recording is currently unavailable with the GStreamer backend. [There are 2 backends available for Tauon: GStreamer and BASS, the latter is proprietary and unavailable for the RPI4].
While I am a huge fan of Tauon Music Box, its internet radio function is still in need of enhancement. You can add/delete stations, but it isn't possible to reorder them. I like the drag and drop functionality which lets you add pls, m3u, and xspf files to import stations, but there's no stations immediately available, and there's no radio directory to browse stations.
If you only listen to a handful of stations, the interface won't present an issue. But if you're a dabbler, searching for new stations with Tauon's interface isn't ideal.
Installation
There's not a package for Tauon in Raspbian repositories. But it's easy to install this program on the RPI4 with the following commands:
$ sudo apt install libsdl2-2.0-0 libsdl2-image-2.0-0 fonts-noto python3-gi python3-cairo gir1.2-notify python3-gi-cairo
$ git clone https://github.com/Taiko2k/TauonMusicBox.git
$ cd TauonMusicBox
To launch the software, issue the command:
$ python3 tauon.py
Next page: Page 3 – Radiotray-NG
Pages in this article:
Page 1 – Introduction
Page 2 – Tauon Music Box
Page 3 – Radiotray-NG
Page 4 – PyRadio
Page 5 – StreamTuner2
Page 6 – Curseradio
Page 7 – Goodvibes
Page 8 – Sayonara Player
Page 9 – Cantata
Page 10 – Yarock
Page 11 – Summary
---
Complete list of articles in this series:
Raspberry Pi 4 Blog
Week 36
Manage your personal collections on the RPI4
Week 35
Survey of terminal emulators
Week 34
Search the desktop with the latest version of Recoll
Week 33
Personal Information Managers on the RPI4
Week 32
Keep a diary with the RPI4
Week 31
Process complex mathematical functions, plot 2D and 3D graphs with calculators
Week 30
Internet radio on this tiny computer. A detailed survey of open source software
Week 29
Professionally manage your photo collection with digiKam
Week 28
Typeset beautifully with LyX
Week 27
Software that teaches young people how to learn basic computing skills and beyond
Week 26
Firefox revisited - Raspbian now offers a real alternative to Chromium
Week 25
Turn the Raspberry Pi 4 into a low power writing machine
Week 24
Keep the kids learning and having fun
Week 23
Lots of choices to view images
Week 22
Listening to podcasts on the RPI4
Week 21
File management on the RPI4
Week 20
Open Broadcaster Software (OBS Studio) on the RPI4
Week 19
Keep up-to-date with these news aggregators
Week 18
Web Browsers Again: Firefox
Week 17
Retro gaming on the RPI4
Week 16
Screen capturing with the RPI4
Week 15
Emulate the Amiga, ZX Spectrum, and the Atari ST on the RPI4
Week 14
Choose the right model of the RPI4 for your desktop needs
Week 13
Using the RPI4 as a screencaster
Week 12
Have fun reading comics on the RPI4 with YACReader, MComix, and more
Week 11
Turn the RPI4 into a complete home theater
Week 10
Watching locally stored video with VLC, OMXPlayer, and others
Week 9
PDF viewing on the RPI4
Week 8
Access the RPI4 remotely running GUI apps
Week 7
e-book tools are put under the microscope
Week 6
The office suite is the archetypal business software. LibreOffice is tested
Week 5
Managing your email box with the RPI4
Week 4
Web surfing on the RPI4 looking at Chromium, Vivaldi, Firefox, and Midori
Week 3
Video streaming with Chromium & omxplayerGUI as well as streamlink
Week 2
A survey of open source music players on the RPI4 including Tauon Music Box
Week 1
An introduction to the world of the RPI4 looking at musikcube and PiPackages