PDF Viewer
Over the years PDF has become an extremely important file format. If you want to create documents that can be viewed under all major operating systems, PDF is the ticket, as it maintains the overall look and feel of documents regardless of what platform they are viewed under. Businesses and consumers increase productivity using PDF documents and forms.
Besides offering universal compatibility, the format is reliable, ease of creation, security, and version independence. The format also supports annotations, and a very practical format.
Since late 2014, Adobe's proprietary but useful Adobe Acrobat Reader DC has been no longer supported under Linux. Adobe's website still only lists Windows, Mac OS and Android as supported operating systems. This is one of the many dangers of closed source software – at the whim of corporate bosses, development and distribution can simply disappear overnight, possibly never coming back.
---
Evince
Evince is leaner, faster, and offers comparable functionality to Acrobat Reader DC. You can view, search or annotate documents in many different formats. Evince is published under an open source license.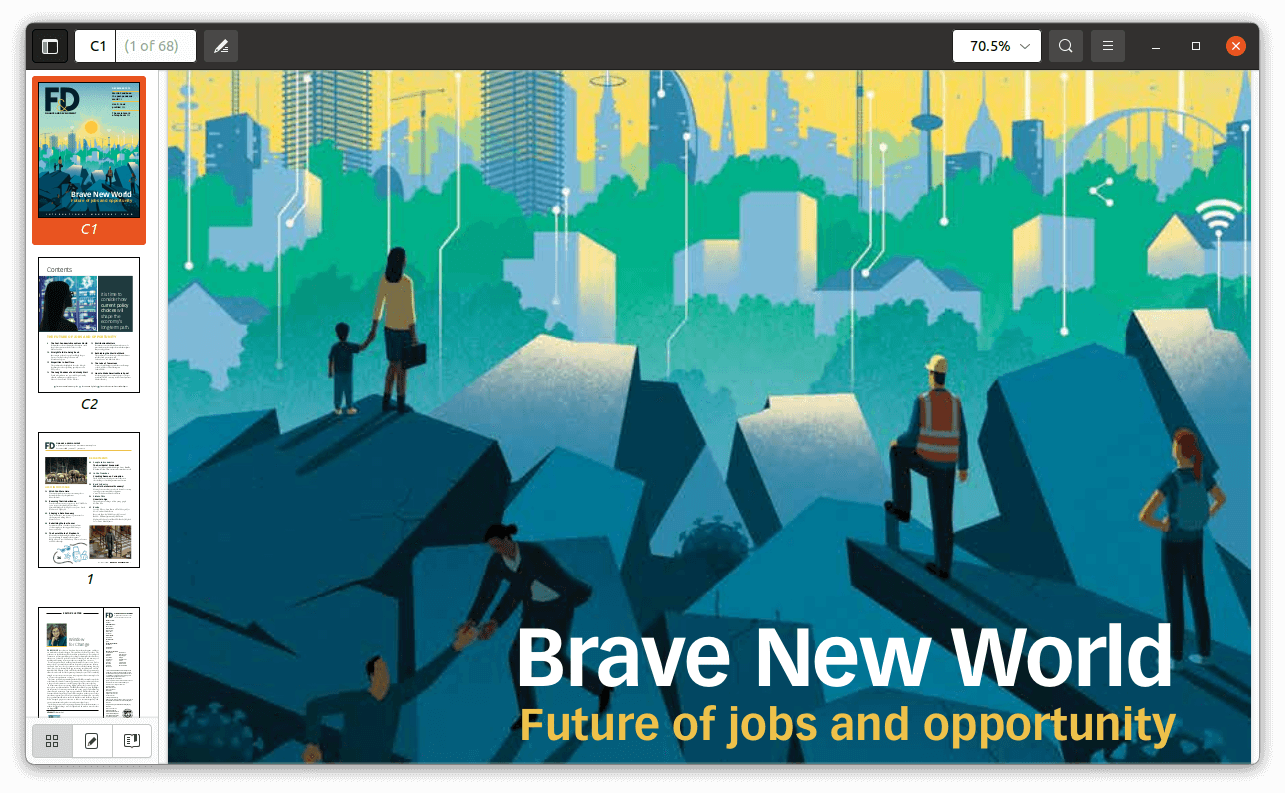 Evince is much more than a PDF viewer. It's a complete document viewer supporting a wide range of formats. Besides PDFs, it lets you view PS, EPS, XPS, DjVu, TIFF, DVI (with SyncTeX), and Comic Books archives (CBR, CBT, CBZ, CB7).
Evince is already pre-installed with Ubuntu 21.04.
---
Pages in this article:
Page 1 – Introduction / Office Suite
Page 2 – Web Browser
Page 3 – Media Player
Page 4 – Email Client
Page 5 – Image Viewer
Page 6 – Photo and Image Editor
Page 7 – Audio Editor
Page 8 – Video Editor
Page 9 – PDF Viewer
---
All articles in this series:
Linux For Starters
Part 1
What is Linux? Why use Linux? What do I need?
Part 2
Choose a Linux distribution meeting your specific needs and requirements.
Part 3
Make a bootable Ubuntu USB stick in Windows.
Part 4
We show you how to install Ubuntu 21.04 on your hard disk.
Part 5
Things to do after installing Ubuntu.
Part 6
Navigating your way around the Desktop.
Part 7
Updating the system, install new software.
Part 8
Recommended open source replacements for proprietary Windows desktop software.
Part 9
Get started with the power and flexibility of the terminal.
Part 10
We cover the basics of files and permissions.
Part 11
Getting help from your system.
Part 12
Learn all about the file system.
---
Read our complete collection of recommended free and open source software. The collection covers all categories of software.

The software collection forms part of our series of informative articles for Linux enthusiasts. There's tons of in-depth reviews, alternatives to Google, fun things to try, hardware, free programming books and tutorials, and much more.