8. Enable Night Light
Many people who regularly use computers suffer from eye strain and fatigue. Looking at a monitor for a long time can strain your eyes or can make any other problems you are having with your eyes seem more apparent. There is also research to show that late-night exposure to bright lights can affect sleep quality. This can be mitigated by reducing blue-light exposure.
Ubuntu already comes with a tool to reduce the amount of blue-light exposure. You only need to activate the feature.
Open Settings from the Dash. Select Screen Display, and then select the Night Light tab.
In the image below, you can see there's a slider to enable Night Light.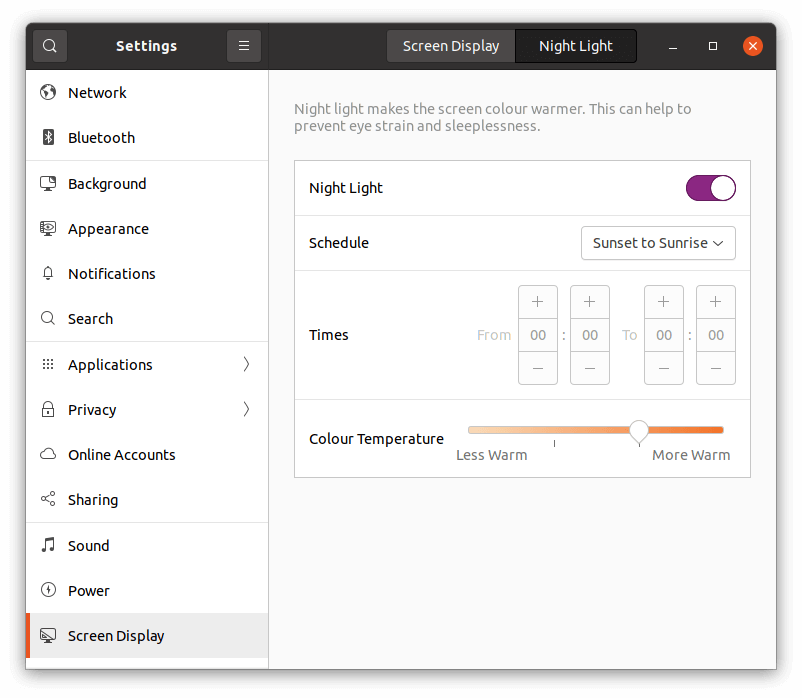 We have chosen the Sunset to Sunrise schedule, but we can also define a specific time to start and stop the night light. We can also configure the colour temperature.
If you need more functionality, check out Eye Care: Best Free Linux Software to Look after your Eyes for our recommendations.
---
Summary
There's lots of things some users might want to do after a fresh installation of Ubuntu. It's impossible to cover them all in a single article. But we've covered the fundamentals.
We don't recommend manually configuring a firewall. iptables is the built in firewall for Ubuntu Desktop. But the default desktop installation has no ports open and no servers running. ufw is software for managing the firewall. It's also pre-installed but configured to do nothing. For most home Ubuntu users there's no need to configure either iptables or ufw.
There's tons of replacements for the software already pre-installed with Ubuntu. For example, many users prefer using Google Chrome rather than Firefox as their web browser even though Chrome is proprietary software. But things like that are largely personal decisions.
Nevertheless, newcomers can easily be bamboozled by the sheer number of open source software available. To help new users, we have assessed many thousands of open source programs from an independent and unbiased view and selected our favorites.
The next part in this series will exmaine the Ubuntu desktop.
---
Pages in this article:
Page 1 – Initial Update
Page 2 – Install Drivers
Page 3 – Enable Backups
Page 4 – Video/Audio Codecs and TrueType Fonts
Page 5 – GNOME Tweaks
Page 6 – GNOME Extensions
Page 7 – Install BleachBit
Page 8 – Night Light and Summary
---
All articles in this series:
Linux For Starters: Your Guide to Linux
Part 1
What is Linux? Why use Linux? What do I need?
Part 2
Choose a Linux distribution meeting your specific needs and requirements.
Part 3
Make a bootable Ubuntu USB stick in Windows.
Part 4
We show you how to install Ubuntu 21.04 on your hard disk.
Part 5
Things to do after installing Ubuntu.
Part 6
Navigating your way around the Desktop.
Part 7
Updating the system, install new software.
Part 8
Open source replacements for proprietary Windows desktop software.
Part 9
Get started with the power and flexibility of the terminal.
Part 10
We cover the basics of files and permissions.
Part 11
Getting help from your system.
Part 12
Learn all about the file system.
Part 13
Manipulating files from the shell.
Part 14
Maintain your system with these simple tips.
Part 15
Managing users on your system.
Part 16
Explore different desktops to GNOME 3.
Part 17
Gaming on Linux.
Part 18
Protect your privacy with this guide.
Part 19
Access the Windows desktop from Linux using a remote desktop client.
Part 20
Set up a virtual machine running Ubuntu as the host and openSUSE as the guest.
Part 21
Wine lets you run Windows programs on Linux without emulation.