5. Install GNOME Tweaks
GNOME ships with a System Settings tool which isn't as diverse as some of its peers. There's still useful options such as a simple way to enable remote access and file sharing. If you're serious about customizing GNOME, you'll need GNOME Tweaks. It's not an official GNOME app, but it offers some advanced tinkering.
GNOME Tweaks can be installed from Ubuntu Software or from the command-line with:
$ sudo apt install gnome-tweaks
Here's GNOME Tweaks in action.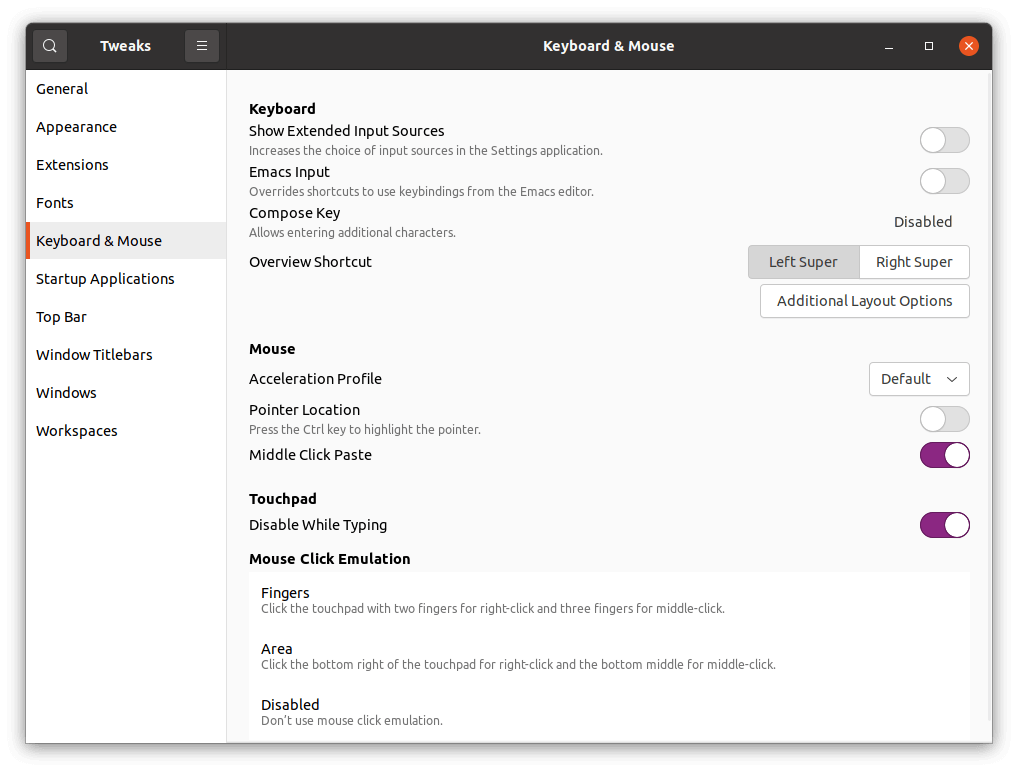 The tool makes it simple to customize the appearance of your desktop, set fonts, define startup applications which are automatically started when you log in, configure windows and workspaces, and more.
Next Page: Page 6 – GNOME Extensions
---
Pages in this article:
Page 1 – Initial Update
Page 2 – Install Drivers
Page 3 – Enable Backups
Page 4 – Video/Audio Codecs and TrueType Fonts
Page 5 – GNOME Tweaks
Page 6 – GNOME Extensions
Page 7 – Install BleachBit
Page 8 – Night Light and Summary
---
All articles in this series:
Linux For Starters: Your Guide to Linux
Part 1
What is Linux? Why use Linux? What do I need?
Part 2
Choose a Linux distribution meeting your specific needs and requirements.
Part 3
Make a bootable Ubuntu USB stick in Windows.
Part 4
We show you how to install Ubuntu 21.04 on your hard disk.
Part 5
Things to do after installing Ubuntu.
Part 6
Navigating your way around the Desktop.
Part 7
Updating the system, install new software.
Part 8
Open source replacements for proprietary Windows desktop software.
Part 9
Get started with the power and flexibility of the terminal.
Part 10
We cover the basics of files and permissions.
Part 11
Getting help from your system.
Part 12
Learn all about the file system.
Part 13
Manipulating files from the shell.
Part 14
Maintain your system with these simple tips.
Part 15
Managing users on your system.
Part 16
Explore different desktops to GNOME 3.
Part 17
Gaming on Linux.
Part 18
Protect your privacy with this guide.
Part 19
Access the Windows desktop from Linux using a remote desktop client.
Part 20
Set up a virtual machine running Ubuntu as the host and openSUSE as the guest.
Part 21
Wine lets you run Windows programs on Linux without emulation.