7. Install BleachBit
With a fresh installation of Ubuntu you won't have any junk festering on your system. But it doesn't take long before a system needs cleaning. It's best to get into good habits and periodically cleanse your system.
BleachBit deletes unnecessary files to free valuable disk space, maintain privacy, and remove junk. It removes cache, Internet history, temporary files, cookies, and broken shortcuts.
The program also wipes free disk space (to hide previously deleted files for privacy and to improve compression of images), vacuums Firefox databases (to improve performance without deleting data), and securely shreds arbitrary files.
We can install BleachBit from the Ubuntu Software program or from the command-line with the command:
$ sudo apt install bleachbit
Here's BleachBit in action.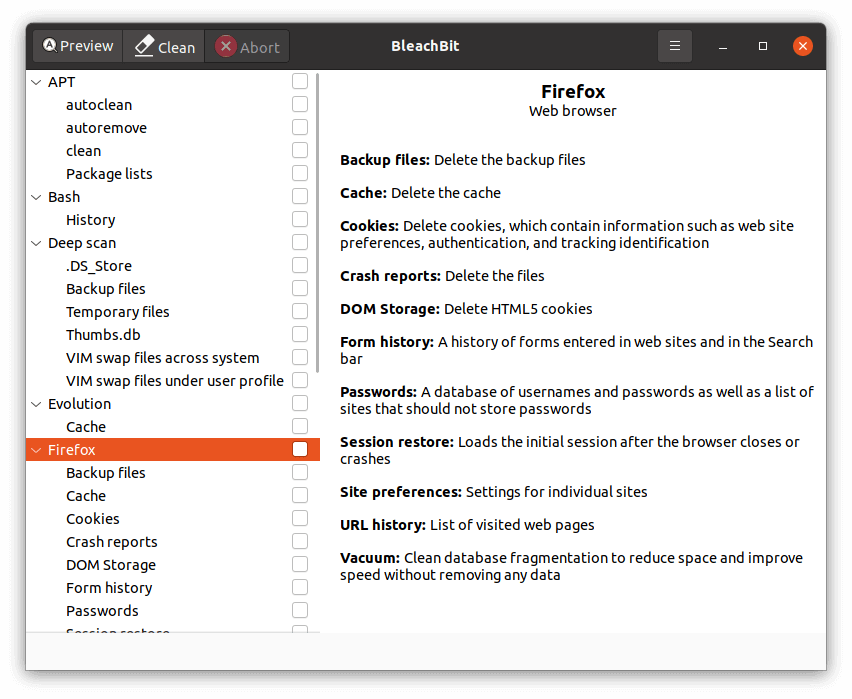 We've written a detailed review of BleachBit.
Next Page: Page 8 – Enable Night Light & Summary
---
Pages in this article:
Page 1 – Initial Update
Page 2 – Install Drivers
Page 3 – Enable Backups
Page 4 – Video/Audio Codecs and TrueType Fonts
Page 5 – GNOME Tweaks
Page 6 – GNOME Extensions
Page 7 – Install BleachBit
Page 8 – Night Light and Summary
---
All articles in this series: