7. TopIcons Plus

TopIcons Plus is another handy extension that brings all icons back to the top panel. This helps to make it easier to keep track of running programs.
Sadly the developer has stopped maintaining the project. Hopefully another developer will continue to take this extension forward.
Website: github.com/phocean/TopIcons-plus
---
8. GSConnect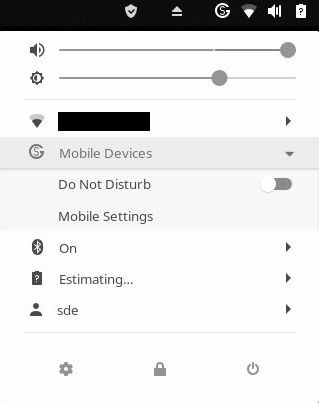 Do you want to integrate your Android phone with your Linux desktop? Or to enable all your devices to communicate with each other? GSConnect is a good solution.
GSConnect is a complete implementation of KDE Connect especially for GNOME Shell with Nautilus, Chrome and Firefox integration.
KDE Connect allows devices to securely share content like notifications or files and other features like SMS messaging and remote control.
GSconnect is a totally independent extension, and therefore does not rely on the KDE Connect desktop application. It's true that GNOME and KDE don't necessarily work well together on the same user account. This applies to GSConnect. Don't install KDE Connect if you want to use this GNOME extension.
There's also extended keyboard support.
Website: github.com/andyholmes/gnome-shell-extension-gsconnect/wiki
---
9. Screenshot Tool
Here's another useful extension. It offers a convenient shortcut to create screenshots. We particularly like its implementation, combined with silky smooth operation.
You can grab an area of the screen, a window, or the whole desktop.
There's support for uploading images to Imgur, an online image sharing community and image host. Images are uploaded without being linked to an account. You can even delete an image if it's the most recent upload.
There's configurable keybindings for the 3 different types of capture.
Website: github.com/OttoAllmendinger/gnome-shell-screenshot
---
Next page: Page 4 – Drop Down Terminal X, Auto Move Windows, Internet Radio
Pages in this article:
Page 1 – Dash to Dock, PaperWM, Arc Menu
Page 2 – Window List, TaskBar 2020, OpenWeather
Page 3 – TopIcons Plus, GSConnect, Screenshot Tool
Page 4 – Drop Down Terminal X, Auto Move Windows, Internet Radio
Page 5 – ShellTile, you2ber, Mpris Indicator Button
Page 6 – NetSpeed, Workspaces-to-Dock, Clipboard Indicator
Page 7 – Switcher, Timezone, Places Status Indicator
Page 8 – Time ++, Coverflow Alt-Tab, Extensions
Page 9 – Gno-Menu, Desktop Icons, Activities Configurator
Page 10 – Caffeine, Recent Items, Top Panel Workspace Scroll
Page 11 – System monitor, Frippery Panel Favorites, Removable Drive Menu
---

Click the button to make a donation via flattr. Donations help us to maintain and improve the site. You can also donate via PayPal.


---
Read our complete collection of recommended free and open source software. The collection covers all categories of software.

The software collection forms part of our series of informative articles for Linux enthusiasts. There's tons of in-depth reviews, alternatives to Google, fun things to try, hardware, free programming books and tutorials, and much more.