25. Gno-Menu
We've tried to keep to a minimum extensions that offer similar functionality. But we're happy to make an exception when it comes to application menus.
Gno-Menu is a traditional styled full featured Gnome-Shell apps-menu that aims to offer all the essentials in a simple uncluttered intuitive interface. There's full support for user theme integration. There are view options, a search bar, a favorites panel, categories/workspace box, power options, selected app box, as well as a gear icon which launches GNOME Shell preferences.
We think that ArcMenu just shades Gno-Menu, but you may very well disagree.
Website: github.com/The-Panacea-Projects/Gnomenu
---
26. Desktop Icons
This extension isn't one we regularly use. But there's considerable demand for the ability to add icons to the desktop, if only to make people familiar with Windows to feel at home.
There's support for multi-monitors, HiDPI, thumbnail support, and drag-and-drop support between files in the desktop. There's also internalization support, support for single click mode, the ability to show home and trash folders, and a lot more besides.
The extension uses GNOME Files (formerly Nautilus).
Website: gitlab.gnome.org/World/ShellExtensions/desktop-icons
---
27. Activities Configurator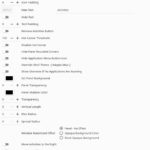 Activities Configurator is a shell extension that lets you customize the activities button and top panel appearance.
With this extension, you can configure the Activities Button and Top Panel. Select an icon. Change the text. Disable Hot Corner or set the Hot Corner Threshold. Set Panel Background color and transparency plus much more to enhance your desktop. Click the icon or text with the secondary mouse button to launch the GS Extension Preferences.
Website: nls1729.github.io/activities_config.html
---
Next page: Page 10 – Caffeine, Recent Items, Top Panel Workspace Scroll
Pages in this article:
Page 1 – Dash to Dock, PaperWM, Arc Menu
Page 2 – Window List, TaskBar 2020, OpenWeather
Page 3 – TopIcons Plus, GSConnect, Screenshot Tool
Page 4 – Drop Down Terminal X, Auto Move Windows, Internet Radio
Page 5 – ShellTile, you2ber, Mpris Indicator Button
Page 6 – NetSpeed, Workspaces-to-Dock, Clipboard Indicator
Page 7 – Switcher, Timezone, Places Status Indicator
Page 8 – Time ++, Coverflow Alt-Tab, Extensions
Page 9 – Gno-Menu, Desktop Icons, Activities Configurator
Page 10 – Caffeine, Recent Items, Top Panel Workspace Scroll
Page 11 – System monitor, Frippery Panel Favorites, Removable Drive Menu
---

Click the button to make a donation via flattr. Donations help us to maintain and improve the site. You can also donate via PayPal.


---
Read our complete collection of recommended free and open source software. The collection covers all categories of software.

The software collection forms part of our series of informative articles for Linux enthusiasts. There's tons of in-depth reviews, alternatives to Google, fun things to try, hardware, free programming books and tutorials, and much more.