Last Updated on June 12, 2023
21. Places Status Indicator

Places Status Indicator is a frequently recommended extension among GNOME users, and with good reason. It's a productivity boon, and you don't want to miss this one.
This extension adds a menu for quickly navigating places in the system including network shares without opening a file manager. You get a quick drop-down indicator presenting you with immediate access to various mount points on the system.
It helps save time accessing Home, Documents, Downloads, Music, Pictures and Videos folders, as well as hard disks, and your network shares.
This extension is part of Classic Mode and is officially supported by GNOME.
Website: gitlab.gnome.org/GNOME/gnome-shell-extensions
---
22. Time ++
Time ++ is a bit of a jack in the box. It crams a lot of functionality into a single extension. There's a todo.txt manager, time tracker, timer, stopwatch, pomodoro, and alarm clock.
This extension has a fullscreen interface, which can be used to control a corresponding section as well as replace regular notifications.
Features of the todo.txt manager include:
Kanban boards.
Fuzzy task searching.
Filtering by context, project, priority, custom fuzzy filters…
Toggling a filter on/off.
Support for multiple todo files and corresponding done files and csv directories.
Compound sorting by priority, due date, completion date, creation date, etc…
Fuzzy autocompletion for contexts and projects when inline editing a task.
Auto-updating when the todo.txt file changes.
Deleting all completed tasks and optionally storing them into a done.txt file.
Switching between different views via keyboard shortcuts.
Website: github.com/zagortenay333/timepp__gnome
---
23. Just Perfection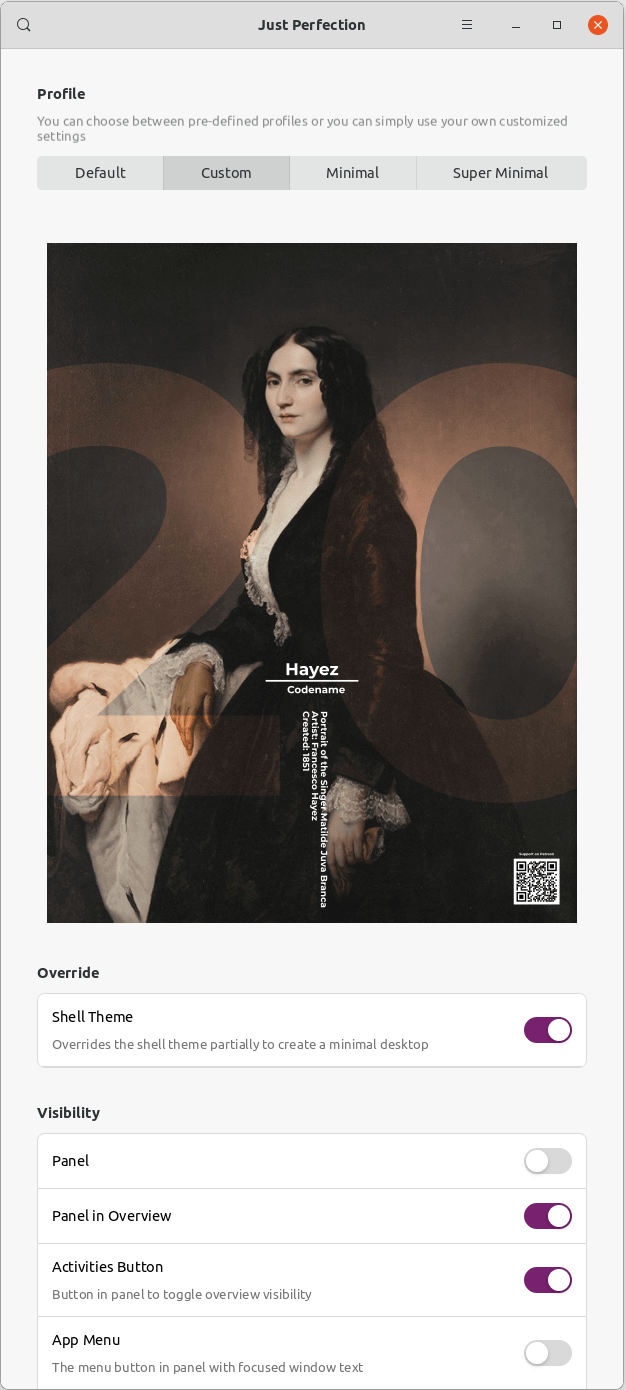 This extension lets you really tinker with your GNOME desktop.
The first thing to do is turn off the Preferences Info as it takes up a lot of screen estate. We are showing the Preferences Info (the image) in the screenshot.
There are pre-defined profiles as well as the ability to make your own customized profile.
There are so many different tweaks you can apply to get your GNOME desktop honed to perfection. Hence the name of this extension.
The extension's interface is displayed as one huge vertical list. There's definitely room to improve the layout of the options. But the clunky layout is not a massive inconvenience.
Website: gitlab.gnome.org/jrahmatzadeh/just-perfection
---
24. Top Panel Workspace Scroll
Top Panel Workspace Scroll lets you change workspaces by scrolling while over the top panel in Gnome Shell.
Website: github.com/timbertson/gnome-shell-scroll-workspaces
---
Next page: Page 7 – Impatience, System monitor, Frippery Panel Favorites, Removable Drive Menu
Pages in this article:
Page 1 – Dash to Dock, Arc Menu, Section Todo List, OpenWeather
Page 2 – Internet Radio, Window-List, Custom Home Corners, Mpris Indicator Button
Page 3 – Vitals, Screenshot Tool, Net speed Simplified, Clipboard Indicator
Page 4 – Stocks-Extension, Timezone, Desktop Icons NG, GSConnect
Page 5 – Recent Items, you2ber, ddterm, Auto Move Windows
Page 6 – Places Status Indicator, Time ++, Just Perfection, Top Panel Workspace Scroll
Page 7 – Impatience, System monitor, Frippery Panel Favorites, Removable Drive Menu
Page 8 – No overview at start-up, Extension List, Caffeine, BlurMyShell
Page 9 – Burn My Windows, Coverflow Alt-Tab, Material Shell, Colosseum
Read our complete collection of recommended free and open source software. Our curated compilation covers all categories of software.

The software collection forms part of our series of informative articles for Linux enthusiasts. There are hundreds of in-depth reviews, open source alternatives to proprietary software from large corporations like Google, Microsoft, Apple, Adobe, IBM, Cisco, Oracle, and Autodesk.

There are also fun things to try, hardware, free programming books and tutorials, and much more.