Last Updated on June 12, 2023
13. Stocks-Extension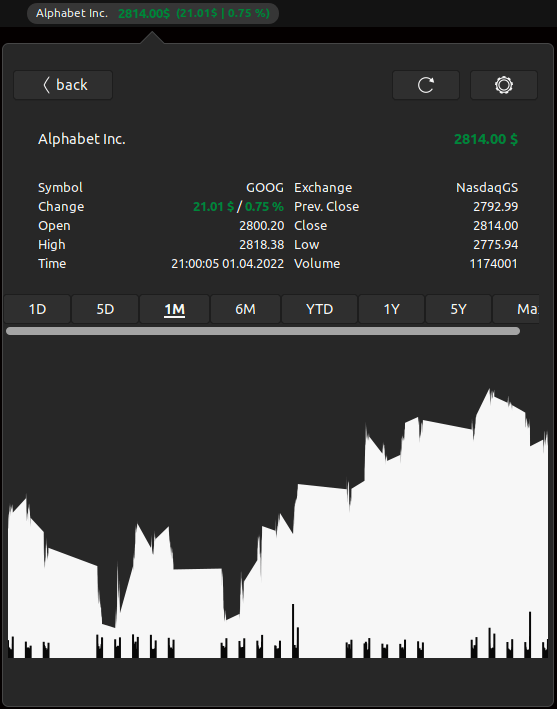 As the name suggests this extension lets you display and watch stock quotes.
Just add the stocks with their respective symbols. Data is sourced from Yahoo! Finance. Besides the summary view, you can display charting information as shown in the image. Choose the period to display ranging from intra-day up to 5 years.
You can show off-market prices in the ticker. This functionality is enabled by default.
The extension appears to have a bug; the settings wheel from the dropdown doesn't work. Without access to settings you can't add and delete stocks. But it's not really a big issue, as the workaround is to use the Settings function from the GNOME extension website or use the Extensions extension (that's number 30 in this roundup).
Website: github.com/cinatic/stocks-extensione
---
14. Timezone
Timezone is an extension designed for remote teams by making it easier to see where and when their coworkers are. It's a really useful extension for anyone who participates in a group.
The extension reads a people.json text file where you specify the location of the members. It checks your home directory for this file, but you can specify a remote address too.
It takes a few minutes to set up the json file, but once done, you'll fall in love with this extension.
There's the option to configure working hours. When one of your group is outside the working hours, their time is shown in red text. Disturb them at your peril, unless they're night owls!
Website: github.com/jwendell/gnome-shell-extension-timezone
---
15. Desktop Icons NG
Desktop Icons NG is a fork of the official 'Desktop Icon's extension. It offers additional benefits including:
Drag'n'Drop, both inside the desktop, between desktop and applications, and nautilus windows.
Allows to use "Open with…" option with several files.
When hovering or clicking on an icon with a name too large to fit, it shows the full name.
Doesn't hang the compositor when there is too much activity in the desktop folder.
Website: gitlab.com/rastersoft/desktop-icons-ng
---
16. GSConnect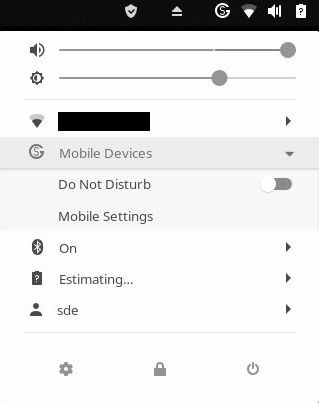 Do you want to integrate your Android phone with your Linux desktop? Or to enable all your devices to communicate with each other? GSConnect is a good solution.
GSConnect is a complete implementation of KDE Connect especially for GNOME Shell with Nautilus, Chrome and Firefox integration.
KDE Connect allows devices to securely share content like notifications or files and other features like SMS messaging and remote control.
GSconnect is a totally independent extension, and therefore does not rely on the KDE Connect desktop application. It's true that GNOME and KDE don't necessarily work well together on the same user account. This applies to GSConnect. Don't install KDE Connect if you want to use this GNOME extension.
There's also extended keyboard support.
Website: github.com/andyholmes/gnome-shell-extension-gsconnect/wiki
---
Next page: Page 5 – Recent Items, you2ber, ddterm, Auto Move Windows
Pages in this article:
Page 1 – Dash to Dock, Arc Menu, Section Todo List, OpenWeather
Page 2 – Internet Radio, Window-List, Custom Home Corners, Mpris Indicator Button
Page 3 – Vitals, Screenshot Tool, Net speed Simplified, Clipboard Indicator
Page 4 – Stocks-Extension, Timezone, Desktop Icons NG, GSConnect
Page 5 – Recent Items, you2ber, ddterm, Auto Move Windows
Page 6 – Places Status Indicator, Time ++, Just Perfection, Top Panel Workspace Scroll
Page 7 – Impatience, System monitor, Frippery Panel Favorites, Removable Drive Menu
Page 8 – No overview at start-up, Extension List, Caffeine, BlurMyShell
Page 9 – Burn My Windows, Coverflow Alt-Tab, Material Shell, Colosseum
Read our complete collection of recommended free and open source software. Our curated compilation covers all categories of software.

The software collection forms part of our series of informative articles for Linux enthusiasts. There are hundreds of in-depth reviews, open source alternatives to proprietary software from large corporations like Google, Microsoft, Apple, Adobe, IBM, Cisco, Oracle, and Autodesk.

There are also fun things to try, hardware, free programming books and tutorials, and much more.