4. Window-List
Like Dash to Dock, this extension restores another one of the traditional metaphors to your GNOME experience. Window List displays a window list at the bottom of the screen. It's a simple way of making your GNOME desktop feel more comfortable if you're coming from a Windows background.
The extension lets you configure the window grouping. Choose between new grouping windows, group windows when space is limited, or always group windows. There's also the option to show the window list on all monitors, or a single monitor.
This extension is part of Classic Mode and is officially supported by GNOME.
Website: gitlab.gnome.org/GNOME/gnome-shell-extensions
---
5. TaskBar 2020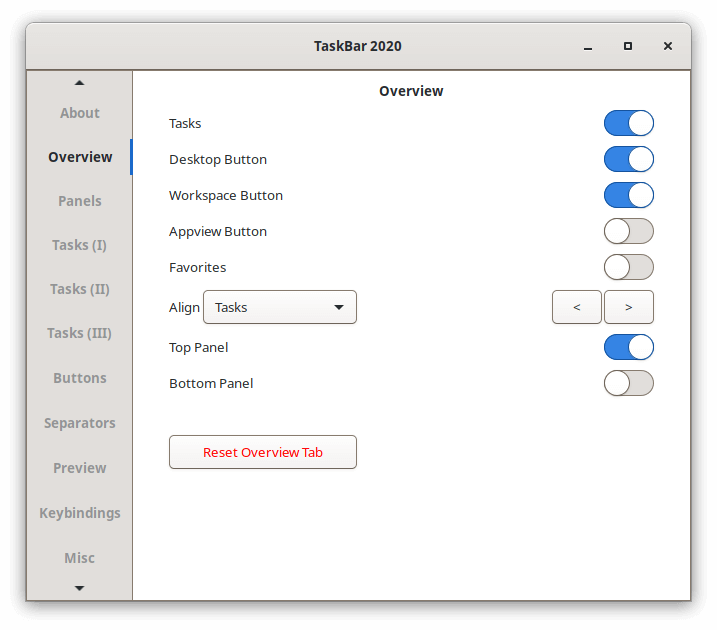 If you're looking for a great and more versatile alternative to Window-List, we strongly recommended TaskBar 2020.
TaskBar 2020 is a dock-like windows list on the top/bottom bar.
There's also a wealth of configuration options, as indicated in the dialog box to the left.
TaskBar 2020 offers a great way of fine tuning your desktop.
Website: github.com/c0ldplasma/gnome-shell-extension-taskbar
---
6. OpenWeather
OpenWeather is a useful weather extension that displays weather information for almost anywhere in the world. With the extension installed, you'll have an always-visible display of the current weather status and temperature in the top bar. Click the icon and you receive more detailed information together with a forecast for tomorrow.
The tool pulls its data from OpenWeatherMap or darksky weather providers.
You can define multiple locations, use personal keys from the weather providers, access geolocation providers, as well as defining units to use for temperature, wind speed, and pressure. You can also configure the layout to your heart's content. The extension uses coordinates to store the locations and makes the names editable to support multiple weather-providers.
Website: gitlab.com/jenslody/gnome-shell-extension-openweather
---
Next page: Page 3 – TopIcons Plus, GSConnect, Screenshot Tool
Pages in this article:
Page 1 – Dash to Dock, PaperWM, Arc Menu
Page 2 – Window List, TaskBar 2020, OpenWeather
Page 3 – TopIcons Plus, GSConnect, Screenshot Tool
Page 4 – Drop Down Terminal X, Auto Move Windows, Internet Radio
Page 5 – ShellTile, you2ber, Mpris Indicator Button
Page 6 – NetSpeed, Workspaces-to-Dock, Clipboard Indicator
Page 7 – Switcher, Timezone, Places Status Indicator
Page 8 – Time ++, Coverflow Alt-Tab, Extensions
Page 9 – Gno-Menu, Desktop Icons, Activities Configurator
Page 10 – Caffeine, Recent Items, Top Panel Workspace Scroll
Page 11 – System monitor, Frippery Panel Favorites, Removable Drive Menu
---

Click the button to make a donation via flattr. Donations help us to maintain and improve the site. You can also donate via PayPal.


---
Read our complete collection of recommended free and open source software. The collection covers all categories of software.

The software collection forms part of our series of informative articles for Linux enthusiasts. There's tons of in-depth reviews, alternatives to Google, fun things to try, hardware, free programming books and tutorials, and much more.