In Operation
Here's an image of WTF with a default configuration.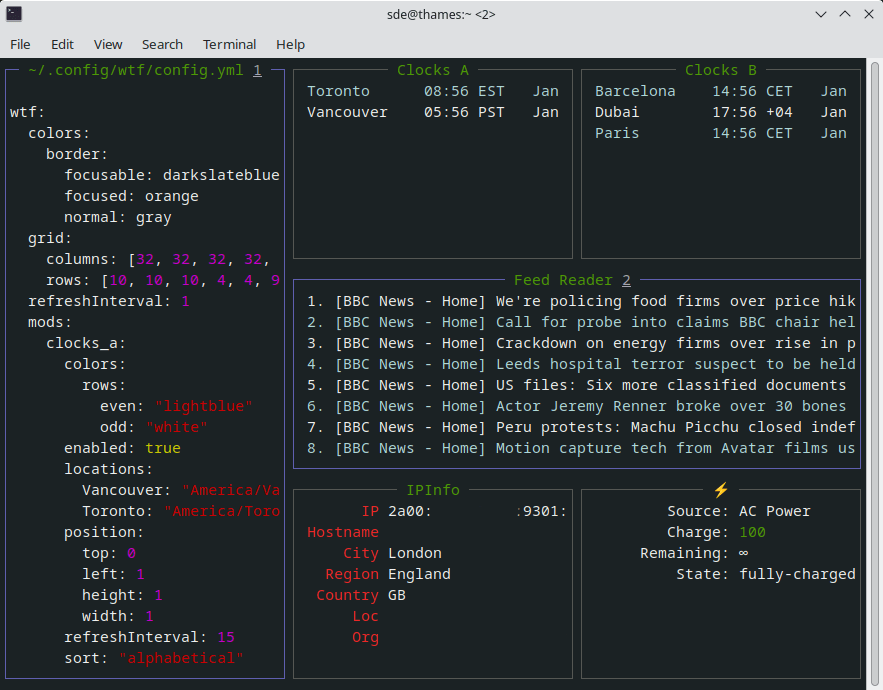 As the image shows, we're presented with a number of widgets showing various information. The left panel shows a text file (it's the config.yml to configure the program). The other panels are showing time clocks, a news feed, IP information (which we redacted some of the information), and battery information.
The widgets that you see on the screen are displayed using modules. The real power of WTF is these modules. They are chunks of functionality that let you tailor the information to your precise requirements.  A module is a discrete unit of functionality that extracts data from a source and packages that data for display.
Modules are added and configured by including specific lines of text in your config.yml file. In the image below, we're starting to configure WTF. We've taken one of the sample configs available from the project's GitHub repository, and added a feed reader to our RSS feed which is available at https://www.linuxlinks.com/feed/ and positioned it in the top right hand corner.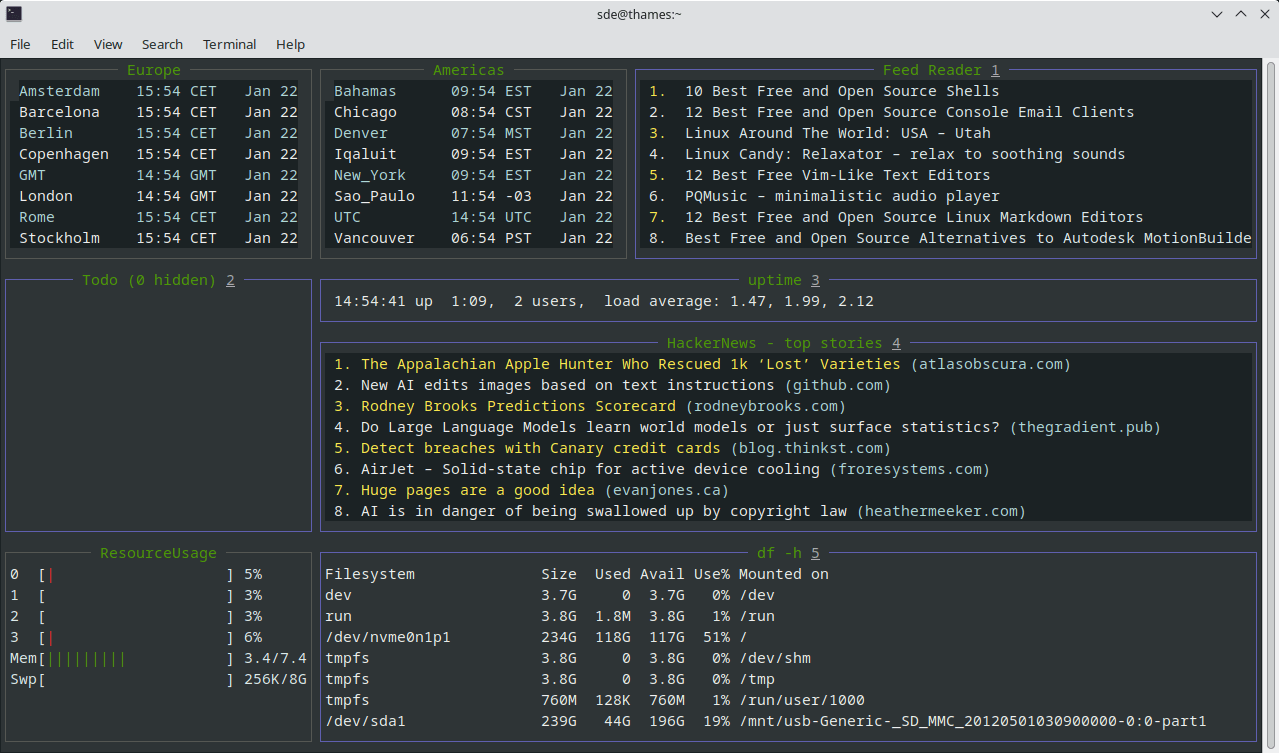 There are many modules available which are easily added by inserting specific code in the config file. That file lets us define where each module appears, defines the number of rows and columns and the widget height and width.
Pages in this article:
Page 1 – Introduction / Installation
Page 2 – In Operation
Page 3 – Summary
---
Complete list of articles in this series:
Essential System Tools
Alacritty
Innovative, hardware-accelerated terminal emulator
BleachBit
System cleaning software. Quick and easy way to service your computer
bottom
Graphical process/system monitor for the terminal
btop++
Monitor usage and stats for CPU, memory, disks, network and processes
catfish
Versatile file searching software
Clonezilla
Partition and disk cloning software
CPU-X
System profiler with both a GUI and text-based
Czkawka
Find duplicate files, big files, empty files, similar images, and much more
ddrescue
Data recovery tool, retrieving data from failing drives as safely as possible
dust
More intuitive version of du written in Rust
f3
Detect and fix counterfeit flash storage
Fail2ban
Ban hosts that cause multiple authentication errors
fdupes
Find or delete duplicate files
Firejail
Restrict the running environment of untrusted applications
Glances
Cross-platform system monitoring tool written in Python
GParted
Resize, copy, and move partitions without data
GreenWithEnvy
NVIDIA graphics card utility
gtop
System monitoring dashboard
gWakeOnLAN
Turn machines on through Wake On LAN
hyperfine
Command-line benchmarking tool
inxi
Command-line system information tool that's a time-saver for everyone
journalctl
Query and display messages from the journal
kmon
Manage Linux kernel modules with this text-based tool
Krusader
Advanced, twin-panel (commander-style) file manager
Neofetch
System information tool written in Bash
Nmap
Network security tool that builds a "map" of the network
nmon
Systems administrator, tuner, and benchmark tool
nnn
Portable terminal file manager that's amazingly frugal
pet
Simple command-line snippet manager
Pingnoo
Graphical representation for traceroute and ping output
ps_mem
Accurate reporting of software's memory consumption
SMC
Multi-featured system monitor written in Python
Timeshift
Reliable system restore tool
QDirStat
Qt-based directory statistics
QJournalctl
Graphical User Interface for systemd's journalctl
TLP
Must-have tool for anyone running Linux on a notebook
Unison
Console and graphical file synchronization software
VeraCrypt
Strong disk encryption software
Ventoy
Create bootable USB drive for ISO, WIM, IMG, VHD(x), EFI files
WTF
Personal information dashboard for your terminal