In operation
Now we've prepared the software, we can copy ISOs to the exFAT filesystem (in our case that's the /dev/sde1 partition). They can be saved to anywhere on the first partition, as Ventoy recursively searches for all files on that partition.
In this instance, we've copied ISOs for 6 popular Linux distros: Fedora, Ubuntu, Mint, MX, Elementary OS and openSUSE. The vast majority of Linux distributions are supported.
Booting from the USB drive presents the following menu in the program's list view.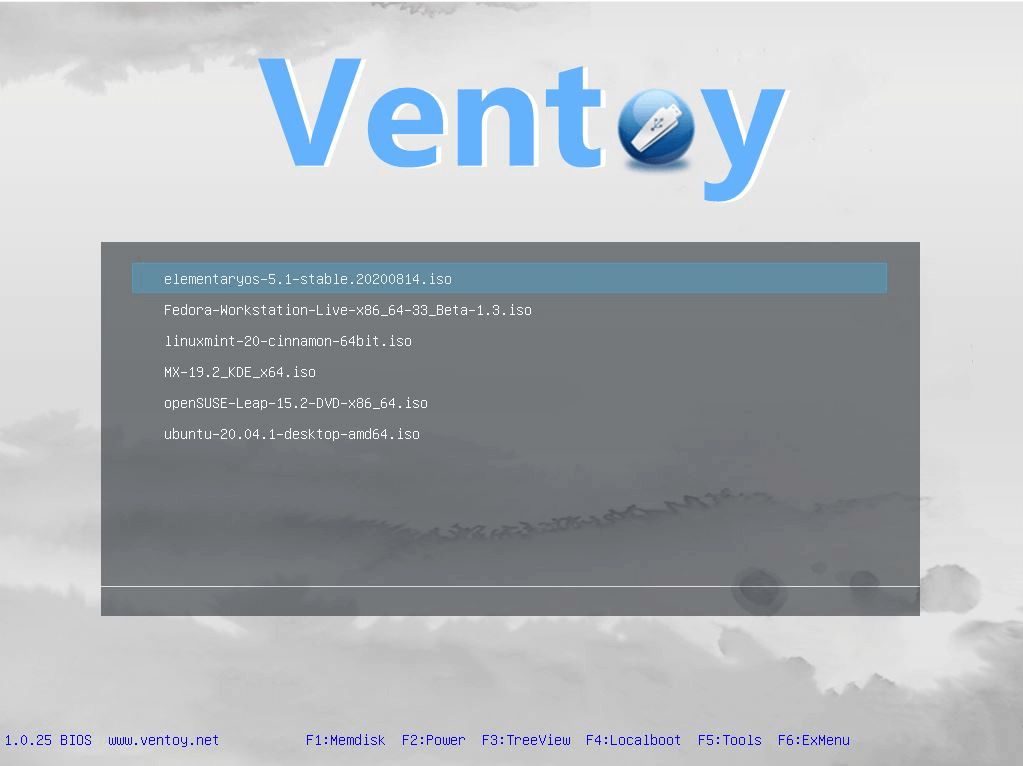 Pressing F3 changes to the program's TreeView. In this mode, Ventoy lists the directories, subdirectories and ISO files in a tree view according to their location.
There's a good range of features including:
Directly boot from ISO/WIM/IMG/VHD(x)/EFI file, no extraction is necessary.
Legacy + UEFI supported.
Support for UEFI Secure Boot, Persistence, MBR and GPT partition style.
Not just support for ISOs (including ISOs larger than 4GB). The software also supports WIM, IMG, VHX(x), and EFI.WIM files.
Auto installation.
File injection.
Native boot menu style for Legacy & UEFI. x86 Legacy BIOS and amd64 UEFI are supported in the same way.
Not only boot but also complete installation process.
Linux vDisk boot supported (vdi/vhd/raw).
"Ventoy Compatible" concept. This is a concept introduced by the author of the program, and describes a distro that doesn't require a manual 'hook' before boot.
Plugin Framework which is used to customize and enhance the software.
Menu Alias/Menu Style/Customized Menu.
USB drive write-protected.
USB normal use unaffected.
Data nondestructive during version upgrade.
No need to update Ventoy when a new distro is released.
Pages in this article:
Page 1 – Introduction / Installation
Page 2 – In Operation
Page 3 – Summary
---
Complete list of articles in this series:
Essential System Tools
Alacritty
Innovative, hardware-accelerated terminal emulator
BleachBit
System cleaning software. Quick and easy way to service your computer
bottom
Graphical process/system monitor for the terminal
btop++
Monitor usage and stats for CPU, memory, disks, network and processes
catfish
Versatile file searching software
Clonezilla
Partition and disk cloning software
CPU-X
System profiler with both a GUI and text-based
Czkawka
Find duplicate files, big files, empty files, similar images, and much more
ddrescue
Data recovery tool, retrieving data from failing drives as safely as possible
dust
More intuitive version of du written in Rust
f3
Detect and fix counterfeit flash storage
Fail2ban
Ban hosts that cause multiple authentication errors
fdupes
Find or delete duplicate files
Firejail
Restrict the running environment of untrusted applications
Glances
Cross-platform system monitoring tool written in Python
GParted
Resize, copy, and move partitions without data
GreenWithEnvy
NVIDIA graphics card utility
gtop
System monitoring dashboard
gWakeOnLAN
Turn machines on through Wake On LAN
hyperfine
Command-line benchmarking tool
inxi
Command-line system information tool that's a time-saver for everyone
journalctl
Query and display messages from the journal
kmon
Manage Linux kernel modules with this text-based tool
Krusader
Advanced, twin-panel (commander-style) file manager
Neofetch
System information tool written in Bash
Nmap
Network security tool that builds a "map" of the network
nmon
Systems administrator, tuner, and benchmark tool
nnn
Portable terminal file manager that's amazingly frugal
pet
Simple command-line snippet manager
Pingnoo
Graphical representation for traceroute and ping output
ps_mem
Accurate reporting of software's memory consumption
SMC
Multi-featured system monitor written in Python
Timeshift
Reliable system restore tool
QDirStat
Qt-based directory statistics
QJournalctl
Graphical User Interface for systemd's journalctl
TLP
Must-have tool for anyone running Linux on a notebook
Unison
Console and graphical file synchronization software
VeraCrypt
Strong disk encryption software
Ventoy
Create bootable USB drive for ISO, WIM, IMG, VHD(x), EFI files
WTF
Personal information dashboard for your terminal