Corel Corporation is a Canadian software company specializing in graphics processing. They are best known for developing CorelDRAW, a vector graphics editor. They are also notable for purchasing and developing AfterShot Pro, PaintShop Pro, Painter, Video Studio, MindManager, and WordPerfect.
Corel has dabbled with Linux over the years. For example they produced Corel Linux, a Debian-based distribution which bundled Corel WordPerfect Office for Linux. While Corel effectively abandoned its Linux business in 2001 they are not completely Linux-phobic. For example, AfterShot Pro has an up to date Linux version albeit its proprietary software.
This series looks at the best free and open source alternatives to products offered by Corel.
Corel WordPerfect Office is an all-in-one office suite and word processing software. Document, spreadsheet, and presentation applications.
What are the best free and open source alternatives?
---
1. LibreOffice
When it comes to open source open source office suites our strongest recommendation goes to LibreOffice. It provides Writer (word processing), Calc (spreadsheets), Impress (presentations), Draw (vector graphics and flowcharts), Base (databases), and Math (formula editing).
Users who've used Microsoft Office for years will appreciate that LibreOffice has made enormous strides in offering better compatibility with DOCX, XLSX, and PPTX files. For example, LibreOffice's DOCX is saved in native 2013/2016/2019 mode.

LibreOffice has native support for a modern and open standard, the Open Document Format (ODF). ODF 1.3's most important new features are document digital signatures and OpenPGP-based XML document encryption. The new ODF also boasts improvements in change tracking, and elements first pages, text, numbers, and charts.
LibreOffice is available on all major desktop operating systems. Besides Linux, it runs under macOS, ChromeOS, and Windows.
---
2. ONLYOFFICE
Like LibreOffice, ONLYOFFICE is a high quality free and open source office and productivity suite.
ONLYOFFICE includes an online editing suite called ONLYOFFICE Docs. It combines text, spreadsheet, presentation and form editors that include features similar to Microsoft desktop editors (Word, Excel and PowerPoint). It works with most popular formats: DOCX, ODT, XLSX, ODS, CSV, PPTX, ODP, etc.
ONLYOFFICE is delivered either as SaaS or as an installation for deployment on a private network.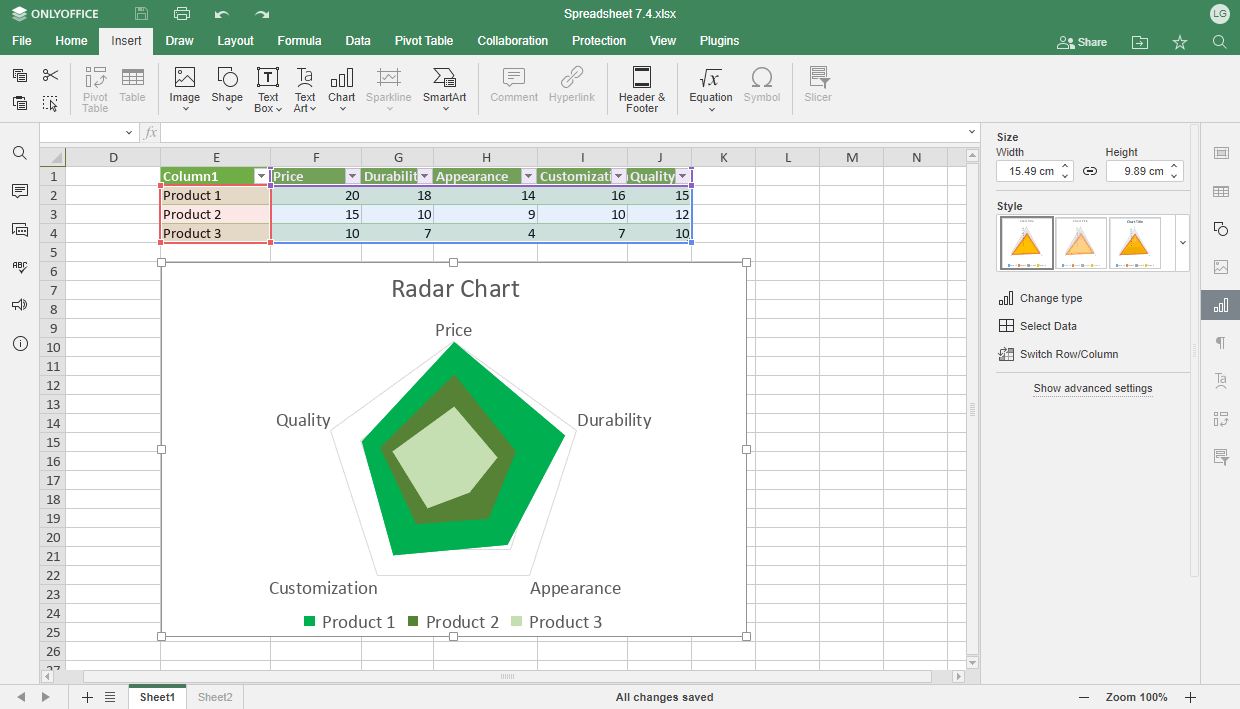 ---
All articles in this series:
Alternatives to Corel's Products
AfterShot Pro is raw image processing software offering simple photo management, good workflow, and batch processing.
CorelCAD is a computer-aided design application for 2D and 3D design which supports a variety of graphic formats including DWG, DXG, CDR, SHP, and others.
CorelDRAW is vector-based designing software used to create logos, flexes, brochures, invitation cards, and any kind of vector designing.
DVD Copy is simple-to-use software which allows you to copy DVDs, convert HD video, output to mobile devices, and more.
MindManager is mind mapping software application. MindManager can be used to manage projects, organize information, and for brainstorming.
MotionStudio 3D is a 3D titling, motion graphics and effects-in one complete package. Generate 3D graphics, titles and animated text
Painter is a raster-based digital art software which is used for canvas painting and offers photo-art tools. Sketch, paint, and illustrate.
PaintShop Pro is a raster and vector graphics editor. It features an interface for automating tasks with scripts written in Python.
PDF Document Writer lets users convert documents, emails, images and other file types into a PDF for viewing and sharing.
Pinnacle Studio is a full-featured, near-pro-level video editing application without a steep learning curve.

VideoStudio MyDVD is DVD authoring software. Make your menus more meaningful and use the powerful tools within VideoStudio MyDVD.
VideoStudio Pro is a video editing software package that offers both storyboard and timeline-oriented editing.
WinDVD Pro allows you to play DVDs and Blu-rays. The player can also be used to play videos and audio/music files in other formats.
WinZip is a file archiver and compressor with tools for system integration. The software also bundles an image manager and backup functionality.
WordPerfect Office is an all-in-one office suite and word processing software. Document, spreadsheet, and presentation applications.