Corel Corporation is a Canadian software company specializing in graphics processing. They are best known for developing CorelDRAW, a vector graphics editor. They are also notable for purchasing and developing AfterShot Pro, PaintShop Pro, Painter, Video Studio, MindManager, and WordPerfect.
Corel has dabbled with Linux over the years. For example they produced Corel Linux, a Debian-based distribution which bundled Corel WordPerfect Office for Linux. While Corel effectively abandoned its Linux business in 2001 they are not completely Linux-phobic. For example, AfterShot Pro has an up to date Linux version albeit its proprietary software.
This series looks at the best free and open source alternatives to products offered by Corel.
WinZip is a file archiver and compressor. The software also bundles an image manager, and backup functionality. It's available for Windows, macOS, iOS and Android, but there's no version available for Linux. And it's proprietary software (trialware).
What are the best free and open source alternatives?
---
1. PeaZip
PeaZip is based on opensource technologies of 7-Zip, p7zip, Brotli, FreeArc, PAQ, Zstandard file compression tools, and on secure file compression and encryption PEA project.
PeaZip provides fast, high compression ratio multi-format archiving to 7Z, ARC, Brotli, BZ2, GZ, PEA, TAR, WIM, Zstandard and ZIP archives (write supported formats), and works as opener / extractor tool for 200+ archive types including ACE, ISO, RAR, ZIPX files, including ability to manage encrypted archives for supported formats.
This software deploys a powerful and complete file manager for editing, viewing, browsing and searching archive files, featuring a wide set of data security functions: strong encryption (AES, Twofish, Serpent), encrypted password manager, optional two-factor authentication (encryption / decryption with password and keyfile), secure delete, and file hashing tools.
---
2. GNOME Archive Manager
GNOME Archive Manager (previously called File Roller) is an archive manager for the GNOME desktop environment. The software has been in development for more than 20 years. It lets you create and modify archives, view the contents of an archive, view a file contained in the archive, and extract files from the archive.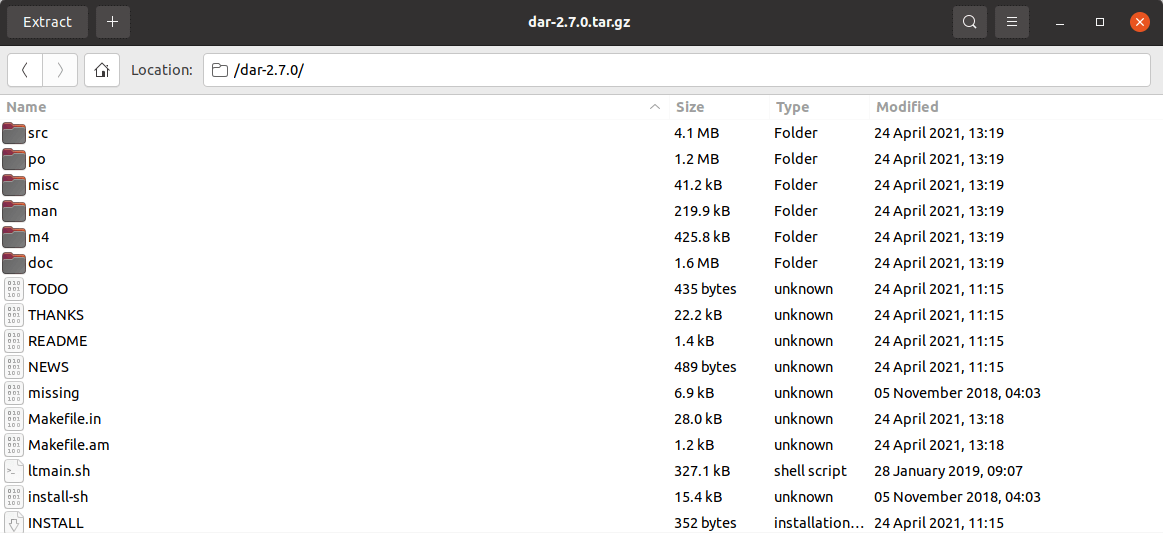 ---
3. DAR
Disk ARchive (DAR) is a full featured archiver with support for differential backups, slices, compression, ATTR/ACL support. DAR also supports pipes for remote operations, including with ssh. It can remove files during restoration.
This application can store a backup in several files (called "slices" in the following) of a given size, eventually pausing or running a user command/script before starting the next slice.
There are graphical user interfaces available for DAR including KDar, Gdar and DarGUI, although KDar is unmaintained.
---
All articles in this series:
Alternatives to Corel's Products
WordPerfect Office is an all-in-one office suite and word processing software. Document, spreadsheet, and presentation applications.
Painter is a raster-based digital art software which is used for canvas painting and offers photo-art tools. Sketch, paint, and illustrate.
AfterShot Pro is raw image processing software offering simple photo management, good workflow, and batch processing.
WinZip is a file archiver and compressor with tools for system integration. The software also bundles an image manager and backup functionality.
DVD Copy is simple-to-use software which allows you to copy DVDs, convert HD video, output to mobile devices, and more.
WinDVD Pro allows you to play DVDs and Blu-rays. The player can also be used to play videos and audio/music files in other formats.
---
Popular series
New to Linux? Read our Linux for Starters series. We start right at the basics and teach you everything you need to know to get started with Linux.
The largest compilation of the best free and open source software in the universe. Each article is supplied with a legendary ratings chart helping you make informed decisions.
Hundreds of in-depth reviews offering our unbiased and expert opinion on software. We offer helpful and impartial information.
Alternatives to Google's Products and Services examines your options to migrate from the Google ecosystem with open source Linux alternatives.
Alternatives to Microsoft's Products and Services recommends open source Linux software.
Alternatives to Adobe Cloud looks at free and open source alternatives to products available from Adobe Cloud's subscription service.
Alternatives to Apple recommends free and open source alternatives to Apple's proprietary world.
Alternatives to Corel surveys alternatives to Corel's range of graphics processing products and other software applications.
Getting Started with Docker helps you master Docker, a set of platform as a service products that delivers software in packages called containers.
Essential Linux system tools focuses on small, indispensable utilities, useful for system administrators as well as regular users.
Linux utilities to maximise your productivity. Small, indispensable tools, useful for anyone running a Linux machine.
Home computers became commonplace in the 1980s. Emulate home computers including the Commodore 64, Amiga, Atari ST, ZX81, Amstrad CPC, and ZX Spectrum.
Now and Then examines how promising open source software fared over the years. It can be a bumpy ride.
Linux at Home looks at a range of home activities where Linux can play its part, making the most of our time at home, keeping active and engaged.
Linux Candy reveals the lighter side of Linux. Have some fun and escape from the daily drudgery.
Best Free Android Apps. We showcase free Android apps that are definitely worth downloading. There's a strict eligibility criteria for inclusion in this series.
These best free books accelerate your learning of every programming language. Learn a new language today!
These free tutorials offer the perfect tonic to our free programming books series.
Stars and Stripes is an occasional series looking at the impact of Linux in the USA.