Last Updated on September 26, 2020
Internet Radio
I've recently reviewed a whole raft of dedicated internet radio players. Here's the ones I've covered: odio, Shortwave, Radiotray-NG, PyRadio, StreamTuner2, Curseradio, and most recently Goodvibes.
Olivia also offers internet radio functionality offering you access to more than 25,000 online radio stations.
Here's an image of BBC Radio 3 being streamed.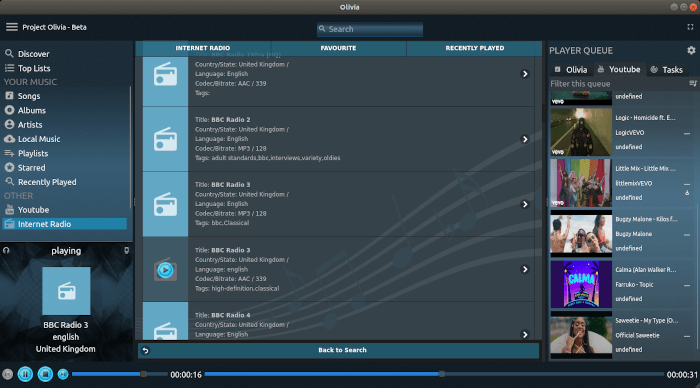 The software lets you search by a station, tag, country, and language. I normally restrict a search by country and then filter the results with tags. Particularly useful is the information box for each stream includes the codec/bitrate which helps select the highest quality stream. For example, BBC Radio 3 streams in MP3 at 128kbs, and with AAC at 339kbs.
You can also sort radio streams by most played, and most voted.
The internet radio player functionality is pretty good. It's easy to find stations without the chore of manually adding stream data. But some of the functionality is yet to be implemented such as recording radio. That's a leitmotif throughout the application.
Next page: Page 5 – Other Features
Pages in this article:
Page 1 – Introduction / Installation
Page 2 – In Operation
Page 3 – YouTube
Page 4 – Internet Radio
Page 5 – Other Features
Page 6 – Settings
Page 7 – Summary