Last Updated on September 26, 2020
In Operation
Having compiled the latest source code, on starting Olivia, the software reports I'm using an outdated engine. But there were no hoops to jump through to update the engine.
Here's an image of Olivia in action, after performing a simple search. The image shows the software with its default theme and configuration. It's a traditional display with left and right sidebars. I'm not a fan of the default theme, it's rather gaudy in my opinion.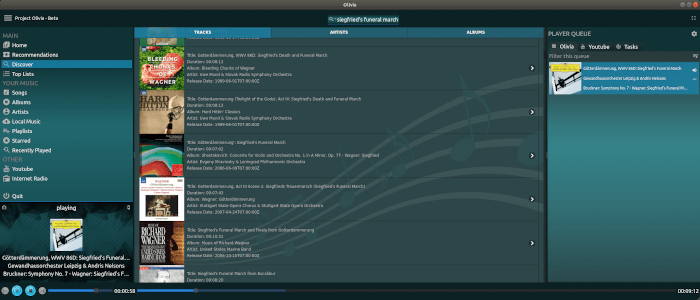 There's the usual playback buttons, volume and track sliders. The software offers 'smart' recommendations that identify songs related to any particular song.
Olivia helps identify good streaming material with its top lists. By country, you can find both top tracks and top albums available to stream. If you're a music lover who wants to try something different, choose a random country from the list and start playing the top 100 songs from that country.
Songs you've played are stored in your library in songs/albums/artists.
There's a Local Music entry in Olivia's left sidebar. But that's only for music downloaded by Olivia. It does not allow you to play your local music. So if you want to listen to your extracted CDs, you'll be disappointed.
Pages in this article:
Page 1 – Introduction / Installation
Page 2 – In Operation
Page 3 – YouTube
Page 4 – Internet Radio
Page 5 – Other Features
Page 6 – Settings
Page 7 – Summary