FeedReader is a modern desktop application designed to complement existing web-based RSS accounts.
It combines all the advantages of web based services like synchronization across all your devices with everything you expect from a modern desktop application.
The software is released under an open source license.
Features include:
Supports the following services: FeedHQ, Feedbin, freshRSS, Local RSS, The Old Reader, Nextcloud News, InoReader, BazQux, feedly, and Tiny Tiny RSS.
Consistent article formatting.
Highly customizable.
Sidebar themes.
Desktop notifications
Print articles.
Quick search functionality.
Share articles with Twitter, Telegram, and by email.
Add tags to keep tracks of articles. Create tags to categorize and sort articles.
Listen to podcasts right from within FeedReader.
Keyboard shortcuts.
Uses Gumbo to parse HTML. Gumbo is

an HTML5 parsing library in pure C99.

Feedbin plugin.
Image viewer.
Save images.
Offline mode.
HiDPI support.
Full-screen mode.
Import OPML files.
Internationalization support.
Available as a Flatpak.
Website: jangernert.github.io/FeedReader
Support: GitHub code repository
Developer: Jan Lukas Gernert and many contributors
License: GNU General Public License v3.0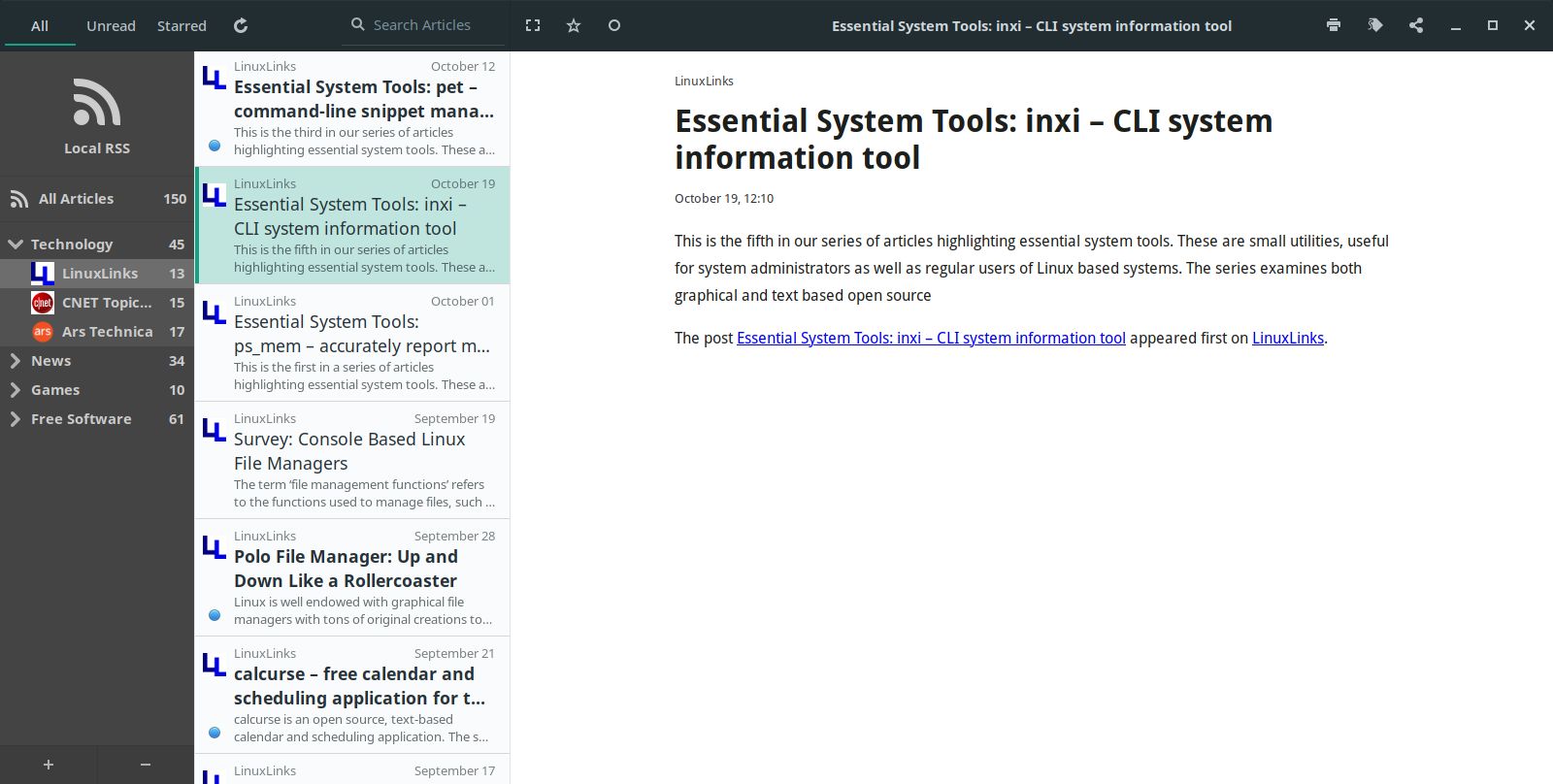 FeedReader is written in Vala. Learn Vala with our recommended free books and free tutorials.
Return to News Aggregators Home Page
---

Click the button to make a donation via flattr. Donations help us to maintain and improve the site. You can also donate via PayPal.


---
Read our complete collection of recommended free and open source software. The collection covers all categories of software.

The software collection forms part of our series of informative articles for Linux enthusiasts. There's tons of in-depth reviews, alternatives to Google, fun things to try, hardware, free programming books and tutorials, and much more.