Last Updated on September 2, 2022
This is a new series that surveys popular streaming services from a Linux perspective. I am not reviewing any of the streaming services themselves although I may make comments from a personal perspective along the way.
To start the series, I'm looking at Amazon Music Unlimited. This is a music subscription service with a catalogue of around 90 million songs. It costs $8.99/£8.99 per month to Prime members ($9.99/£9.99 for non-Prime members). I took advantage of the recent Amazon Prime Day deal offering a 4 month free trial. At the time of writing, there's still a 1 month free trial available. Up to 10 devices can be authorized to a music library account.
The service offers a wide-ranging song catalogue and bundles in lossless and hi-res tracks in the standard subscription fee. If you're a follower of my music software reviews, you'll know I'm a huge fan of music encoded with FLAC (Free Lossless Audio Codec).
Let's get the first elephant in the room out of the way.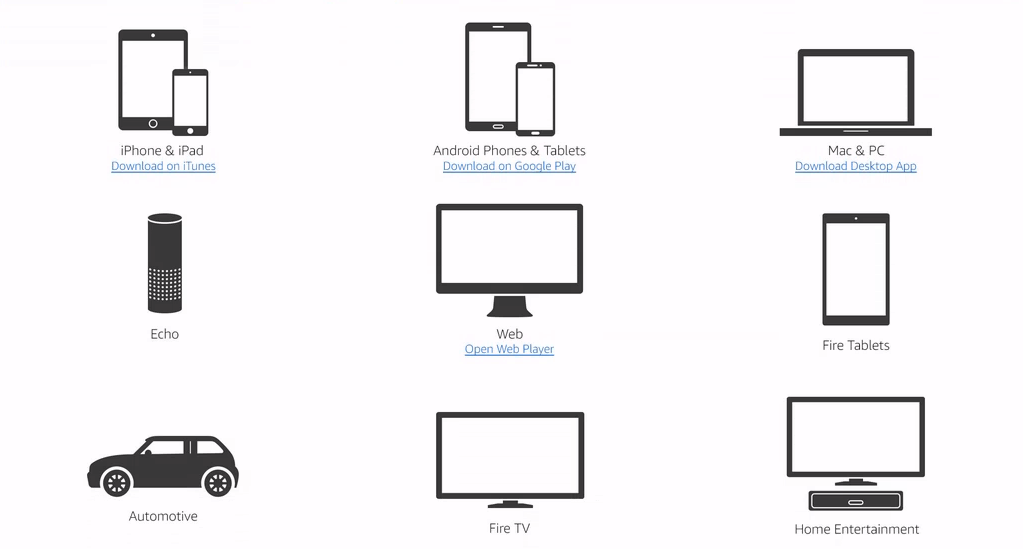 As the image above shows, Amazon Music Unlimited is compatible with smartphones and tablets via its Android and iOS apps; PCs and Macs via either its web player or desktop app; Fire tablets and Fire TVs; some in-car entertainment systems; Sonos multi-room wireless speakers; Bluesound and NAD BluOS devices.
If you're hoping there's a Linux client lurking in the Mac & PC section, you'll be very dispirited. That's correct, Amazon doesn't offer a Linux client.
Amazon is not Linux-phobic. For example, their cloud computing division, Amazon Web Services produces Amazon Linux, a distribution of Linux using Fedora as the upstream with a commitment to release major versions every two years with each major release having 5 years of long term support. But Amazon hasn't committed to releasing a Linux client for Amazon Music Unlimited. In fact, there's nothing to suggest a dedicated client will ever be forthcoming. That's a huge disappointment.
Instead, Linux users have to settle accessing the streaming service with a DRM-capable web browser such as Firefox or Chrome.
The web interface is perfectly serviceable. To be fair, had Amazon developed an Electron-based Linux client, things would probably be very similar from an interface perspective. Sadly gapless playback is not available with web playback. Many albums are best enjoyed uninterrupted by breaks. Gapless audio was the norm for vinyl records and CDs. And many dedicated Linux music clients support gapless playback. But we're out of luck with Amazon Music Unlimited under Linux.
The second elephant in the room is staring at us. You'll notice the SD symbol showing right at the bottom of the window.
When we click the SD symbol we see: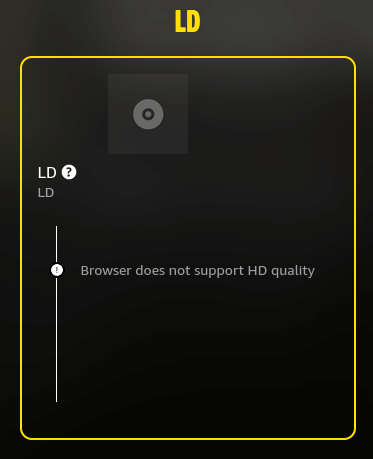 As the image highlights, using the streaming service with a web browser means you have to settle with SD playback.
That's right, you can forget HD or Ultra HD playback.
The upshot is that while Amazon Music Unlimited offers HD (lossless) and Ultra HD (also lossless but with a higher sample rate), Linux users have to settle for Standard Definition with a bitrate up to 320 kbps.
The SD files use lossy compression. Even with a high bitrate, I can definitely hear the difference between lossy and lossless.
Under Windows, you can access many songs with Ultra HD Audio with track quality up to 24 bit / 44.1 kHz encoded with FLAC. The privileged class.
Summary
I'm passionate about music. It deserves to be heard with lossless compression. However, Amazon Music Unlimited is only available for Linux with lossy compression. That's a showstopper in my book. Linux users should not be treated as second class citizens by a huge multinational company that models itself as an advocate of Linux.
For the remaining period of my free trial, I'll use the streaming service with the Android app. While certainly not ideal, at least I can listen to tracks with HD and, where available, Ultra HD Audio.
As things stand, I definitely won't be extending the subscription. Should a dedicated Linux client with FLAC support and gapless playback be forthcoming, I will reevaluate the position as the music catalogue is impressive even though there are some gaps.
---
All articles in this series:
Streaming with Linux
Amazon Music Unlimited
Music subscription service with 90 million song catalogue
Myuzi
Bills itself as a Spotify alternative for Linux
Spotify
Pioneer in music streaming and still the best-known service
Deezer
Streaming service serving up FLAC files
TIDAL
Music subscription service targeted at audiophiles