OpenShot Video Editor is a non-linear video editor for Linux, built with Python, GTK, and the MLT Framework. The developers' goal is to create an easy-to-use, powerful, non-linear video editor, with a focus on "User Interface", "Work flow", and "Stability".
OpenShot can easily combine multiple video clips, audio clips, and images into a single project, and then export the video into many common video formats.
It is a versatile application used to create photo slide shows, edit home videos, create television commercials, on-line films, and much more. The software is particularly strong in the areas of editing and compositing, and has been designed as a practical tool for working with high-definition video including HDV and AVCHD.
Create videos for YouTube, Flickr, Vimeo, Metacafe, iPod, Xbox, and many more common formats.
Features include:
Supports many video, audio, and image formats (based on FFmpeg).
GNOME integration (drag and drop support).
3D animation.
Multiple tracks (layers).
Clip resizing, trimming, snapping, and cutting.
Non-destructive editing so that the original video clips are never modified.
Video transitions with real-time previews (lumas and masks).
Compositing, image overlays, watermarks.
Title templates, title creation.
SVG friendly, to create and include titles and credits.
Scrolling motion picture credits.
Solid color clips (including alpha compositing).
Support for Rotoscoping / Image sequences.
Drag and drop timeline.
Frame stepping, key-mappings: J,K, and L keys.
Video encoding (based on FFmpeg).
Key-frame animation.
Digital zooming of video clips.
Speed changes on clips (slow motion etc).
Custom transition lumas and masks.
Re-sizing of clips (frame size).
Audio mixing and editing.
Presets for key frame animations and layout.
Ken Burns effect (making video by panning over an image).
Digital video effects, including brightness, gamma, hue, greyscale, chroma key (bluescreen / greenscreen), and over 20 other video effects.
Extensive editing and compositing features, and has been designed as a practical tool for working with high-definition video including HDV and AVCHD.
Support for Blender 2.6.X.
Website: www.openshot.org
Support: Documentation
Developer: Jonathan Thomas, Andy Finch, Olivier Girard, Karlinux, Helen McCall, TJ, and contributors
License: GNU GPL v3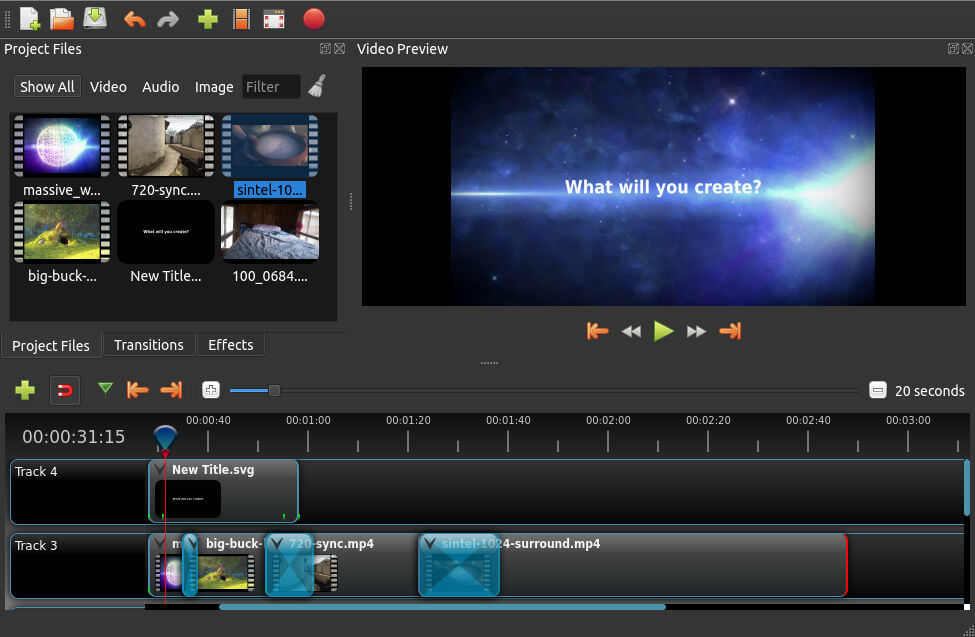 OpenShot is written in Python. Learn Python with our recommended free books and free tutorials.
Return to Video Home Page | Return to Video Editors Home Page
---