NodeBB is Node.js based forum software built for the modern web.
It uses web sockets for instant interactions and real-time notifications.
NodeBB has many modern features out of the box such as social network integration and streaming discussions, while still making sure to be compatible with older browsers.
Features include:
Modern Design – mobile-first and real-time interactions
Real-time streaming with instant notifications, streaming posts, and real-time chats. NodeBB integrates real-time events in the background – your users are notified instantly when someone follows them, likes their post, or subscribes to their topics. Native multi-tasking support allows you to have streaming conversations with multiple people side-by-side.
Social interactions – users earn reputation from others when posting helpful comments – gamifying and engaging your community.
Social integration – share content with Facebook, Google, and Twitter.
Cloud integrations – Slack, Pushbullet, Mailchimp, and more.
Theming engine is very flexible.
One-click install plugin and themes. NodeBB has over 300 plugins and themes to choose from.
Advanced search – find the content you're looking for with the help of several search filters designed to fine-tune your search results.
Spam prevention – integrates with several spam prevention tools including Akismet, StopForumSpam, and Project Honeypot.
Roles and Permission – create private or read-only categories with access control. Give users or groups special roles to view or moderate content.
Tags – users can tag topics, adding an extra dimension beyond categorization and making it easy to find related content.
SEO – enhance ranking with human-readable URls, semantic HTML with embedded microdata, and more.
API – publically facing read-only API as well as a REST write API, making it easy to integrate with your software.
Powerful and intuitive admin panel.
Analytics dashboard.
Drag-and-drop widgets.
Internationalization support – over 50 languages actively translated.
Website: nodebb.org
Support: Documentation, GitHub Code Repository
Developer:
License: GNU General Public License v3.0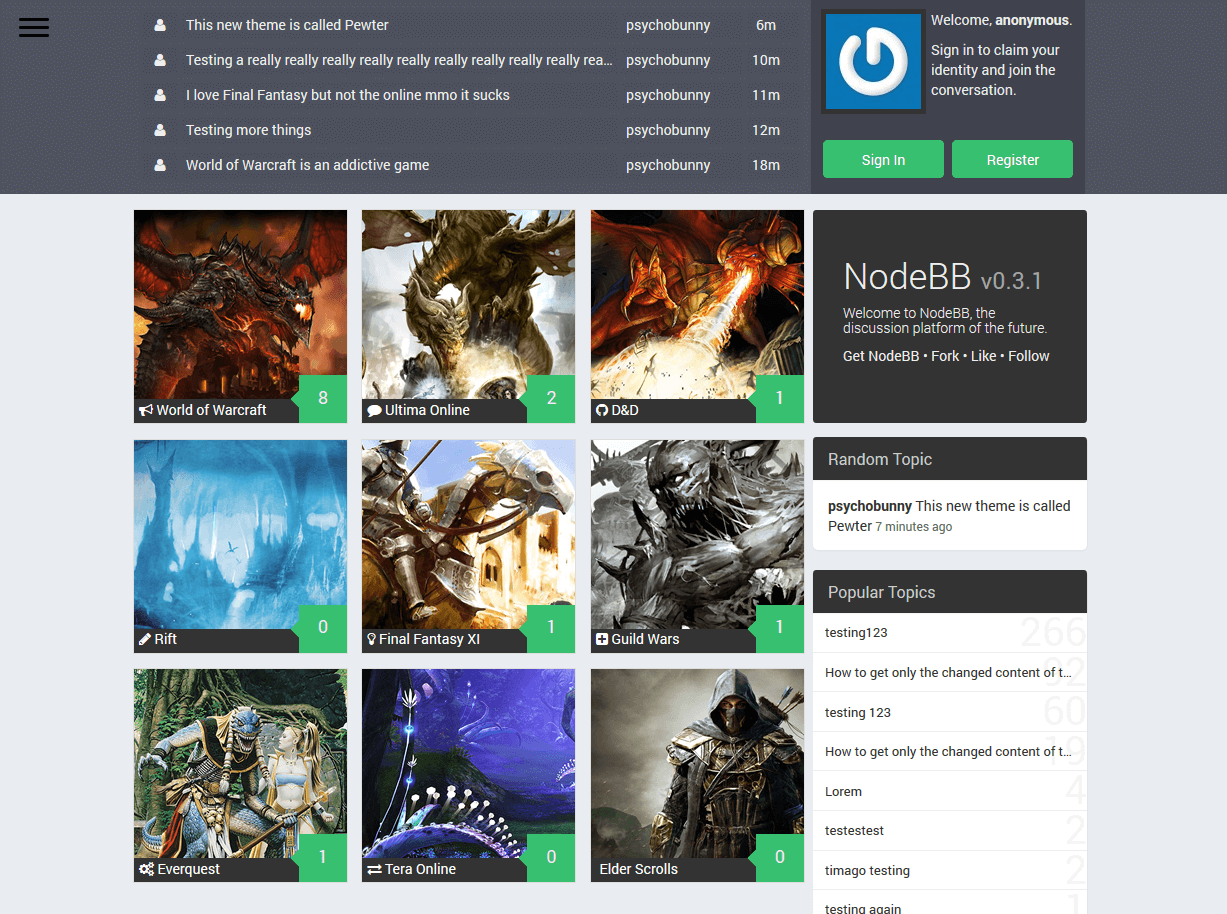 NodeBB requires the following software to be installed:
A version of Node.js at least 10 or greater (installation/upgrade instructions).
Redis, version 2.8.9 or higher or MongoDB, version 2.6 or higher.
nginx, version 1.3.13 or higher (only if intending to use nginx to proxy requests to a NodeBB).
NodeBB is written in JavaScript. Learn JavaScript with our recommended free books and free tutorials.
Return to Internet Forums Home Page
---
Popular series
New to Linux? Read our Linux for Starters series. We start right at the basics and teach you everything you need to know to get started with Linux.
The largest compilation of the best free and open source software in the universe. Each article is supplied with a legendary ratings chart helping you to make informed decisions.
Hundreds of in-depth reviews offering our unbiased and expert opinion on software. We offer helpful and impartial information.
Replace proprietary software with open source alternatives: Google, Microsoft, Apple, Adobe, IBM, Autodesk, Oracle, Atlassian, Corel, Cisco, Intuit, and SAS.
Getting Started with Docker helps you master Docker, a set of platform as a service products that delivers software in packages called containers.
Essential Linux system tools focuses on small, indispensable utilities, useful for system administrators as well as regular users.
Linux utilities to maximise your productivity. Small, indispensable tools, useful for anyone running a Linux machine.
Home computers became commonplace in the 1980s. Emulate home computers including the Commodore 64, Amiga, Atari ST, ZX81, Amstrad CPC, and ZX Spectrum.
Now and Then examines how promising open source software fared over the years. It can be a bumpy ride.
Linux at Home looks at a range of home activities where Linux can play its part, making the most of our time at home, keeping active and engaged.
Linux Candy reveals the lighter side of Linux. Have some fun and escape from the daily drudgery.
Best Free Android Apps. We showcase free Android apps that are definitely worth downloading. There's a strict eligibility criteria for inclusion in this series.
These best free books accelerate your learning of every programming language. Learn a new language today!
These free tutorials offer the perfect tonic to our free programming books series.
Stars and Stripes is an occasional series looking at the impact of Linux in the USA.