This is a multi-part blog looking at an Intel NUC 13 Pro Mini PC running Linux. In this series, we examine every aspect of this Mini PC in detail from a Linux perspective. We'll compare the machine with other machines along the way.
This machine is from GEEKOM, a leading and respected brand and manufacturer of Mini PCs. They provide a 3 year warranty on their Mini PCs.
In this first gaming article for the Intel NUC 13 Pro, I'm going to revisit some of the games I previously tested on the HP EliteDesk 800 G2 Mini PC. While the NUC has a 13th generation CPU, the HP has a 6th generation Intel CPU (i5-6500T). I will compare the performance of the NUC with an Intel desktop PC with a 10th generation Intel CPU (i5-10400). All three machines are using their onboard graphics.
To recap, the NUC's onboard graphics is the Intel Iris Xe. The HP Mini PC uses the Intel HD Graphics 530 (GT2), and the 10th gen desktop PC uses the Intel UHD Graphics 630.
I will cover more modern games in later articles in this series. And you're welcome to suggest games to test in the Comments section at the bottom of this article.
Let's kick off with a venerable classic game that's still under active development. It's called SuperTuxKart. This game is special in part because it's still good fun to play.
SuperTuxKart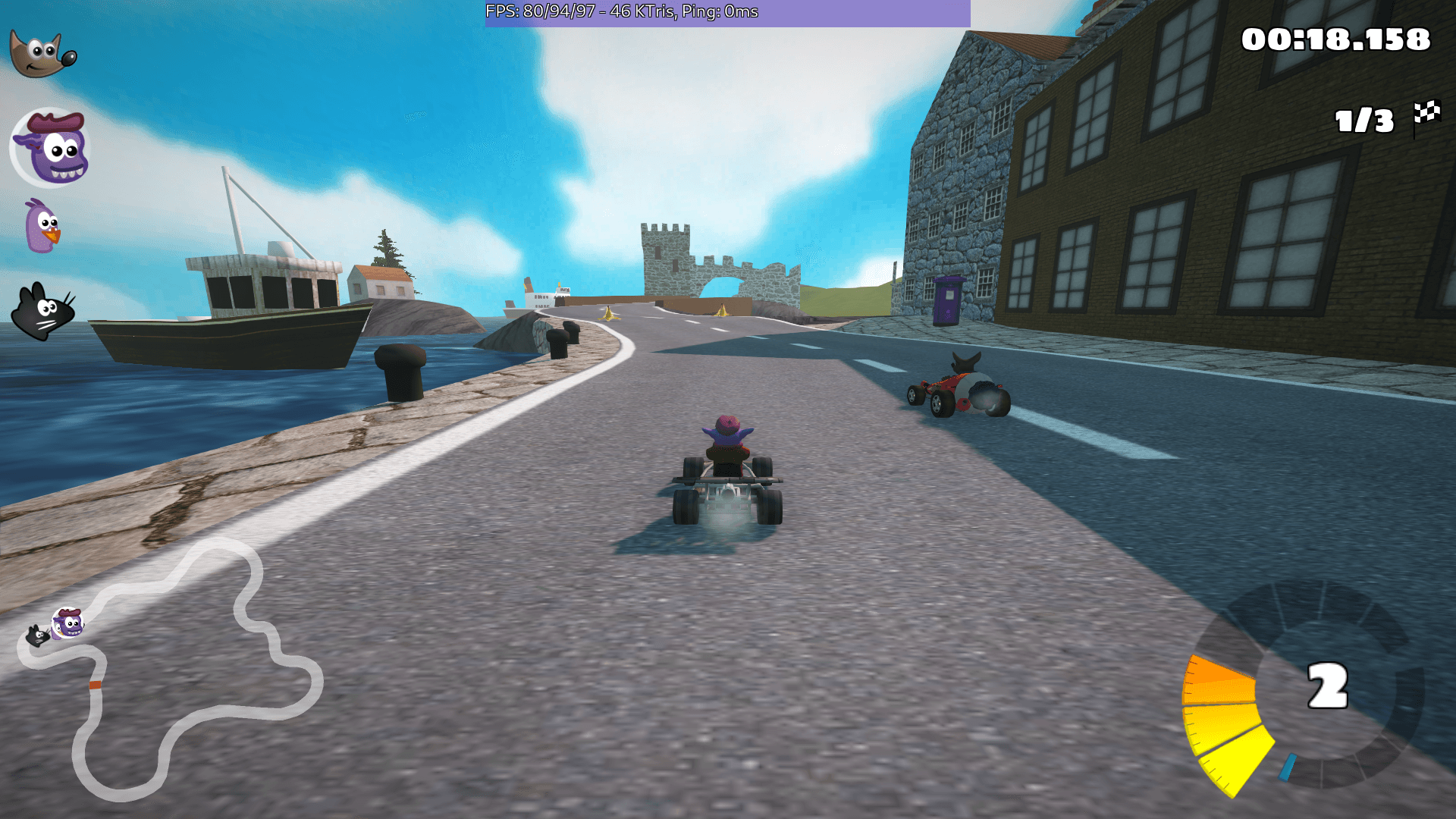 SuperTuxKart is a free and open source cross-platform kart racing game offering a variety characters, tracks, and modes to play. It's a fairly simple implementation but still retains its cuteness of old.
The developers of the game recommend using a dedicated graphics card such as the NVIDIA GeForce GTX 950. The minimum graphics for this game is an Intel HD Graphics 4000. All three machines' onboard graphics exceeds that minimum by a considerable margin.
How does the NUC perform? Performance is dependent on the graphics effects level and the resolution. I tested SuperTuxKart at 1920×1080 at the six different graphics levels available in the game.
Here's a chart showing the NUC's performance compared to the HP Mini PC and the 10th gen desktop PC. Graphics level 6 is the highest graphics level.
110 Frames Per Second (FPS) is the maximum for this game. As the chart shows, the NUC reaches that maximum for Graphics Levels 1 to 5. It's only the highest graphics level (6) where the NUC drops FPS slightly. But 94 FPS is super-fluid action.
Contrast that with either the HP Mini PC or the 10th gen desktop machine. The game isn't playable on either machine at graphics level 6, and even at level 4 or 5 they struggle on demanding scenes. Even the desktop PC running at a lowly graphics level 3 cannot match the NUC's FPS at graphics level 6.
Next page: Page 2 – Retrocycles
Pages in this article:
Page 1 – SuperTuxKart
Page 2 – Retrocycles
Page 3 – Team Fortress 2 / DOTA 2 / Summary
---
Complete list of articles in this series:
Intel NUC 13 Pro Mini PC
Part 1
Introduction to the series with interrogation of system
Part 2
Benchmarking the Mini PC
Part 3
Installing Ubuntu 23.10 Desktop
Part 4
Configuring Ubuntu 23.10 Desktop
Part 5
Power Consumption
Part 6
P-Cores and E-Cores
Part 7
Gaming
Part 8
Installing and Configuring Manjaro
Part 9
BIOS options