CardBook is a Thunderbird address book based on the CardDAV and vCard standards. It can also run independently of Thunderbird.
CardBook provides an integrated contact management solution with a fully functional and logical UX and UI.
This is free and open source software.
Features include:
Autocompletion in mail address fields and Lightning calendar fields.
Manage contacts from messages.
Restrict address book use by mail account (for email autocompletion, email collection and contact registration).
Easy CardDAV synchronization.
Access to all vCard data.
Supports vCard 3.0 and vCard 4.0 (default).
Customizable data fields.
Unlimited number of custom fields.
Show address on map.
Unlimited categories, email addresses, phone numbers, addresses, chat programs, URLs, calendar events per contact.
Supports colored categories.
Hierarchized organization support.
Phone number validation.
Call phone numbers using softphone, like TBDialOut.
Connect directly to softphone (Jami, Linphone) to make phone calls using SIP.
Address panel.
Connect directly to chat programs (Google, Jabber, Jami, Skype, QQ) to chat using IMPP.
Local cache AES-CTR encryption support (disabled by default).
Digest access authentication.
Drag and drop support.
Saved search.
Filter.
Merge contacts modified both locally and on the server.
Find and merge duplicate contacts.
Find all emails related to a contact.
Find all calendar entries related to a contact.
Find ignoring diacritical marks.
Share contacts by email.
Collect outgoing emails.
Contacts stored in IndexedDB.
Customizable printouts.
Import Thunderbird standard address books.
CSV file export and import.
VCF file export and import.
Functional GUI.
Classic and vertical layout.
Anniversary manager.
Export birthdays to Lightning add-on.
Task manager.
Standalone or fully integrated within Thunderbird.
Compatible and complementary with add-ons in the ATN ecosystem.
Additional and optional software configuration support.
Automatic configuration.
Available in many languages.
Fully integrated in the main Thunderbird window (yellow stars, possibility to edit|remove|add standard and CardBook contacts).
Import Microsoft Outlook Contacts.
Cross-platform support – runs under Linux, BSD, macOS, and Windows.
Website: gitlab.com/CardBook/CardBook
Support: GitLab Code Repository
Developer: Philippe Vigneau and contributors
License: Mozilla Public License Version 2.0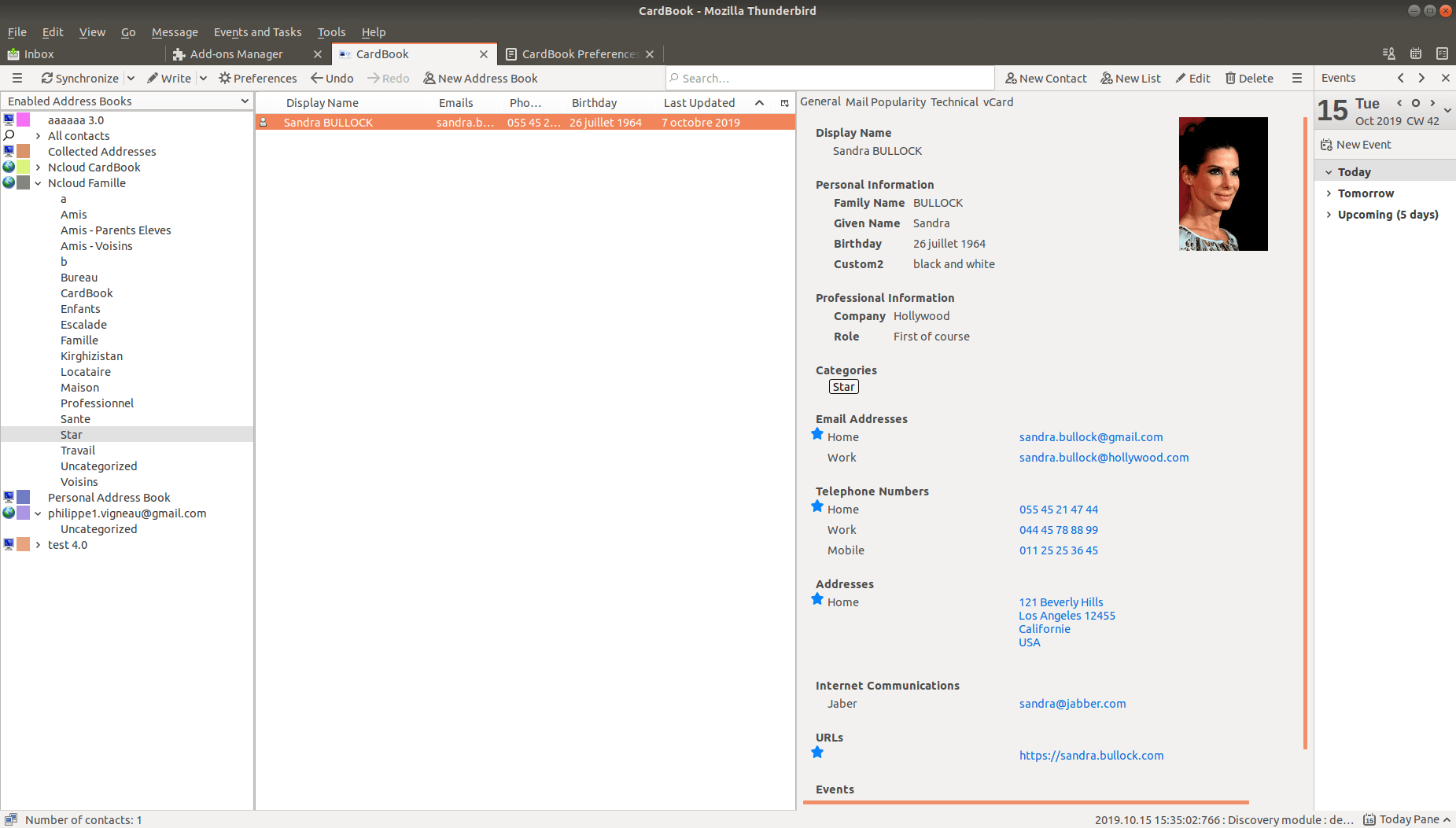 CardBook is written in JavaScript. Learn JavaScript with our recommended free books and free tutorials.
Return to Address Book Managers Home Page
---
Popular series
The largest compilation of the best free and open source software in the universe. Each article is supplied with a legendary ratings chart helping you to make informed decisions.
Hundreds of in-depth reviews offering our unbiased and expert opinion on software. We offer helpful and impartial information.
Replace proprietary software with open source alternatives: Google, Microsoft, Apple, Adobe, IBM, Autodesk, Oracle, Atlassian, Corel, Cisco, Intuit, and SAS.
Machine Learning explores practical applications of machine learning and deep learning from a Linux perspective. This is a new series.
New to Linux? Read our Linux for Starters series. We start right at the basics and teach you everything you need to know to get started with Linux.
Essential Linux system tools focuses on small, indispensable utilities, useful for system administrators as well as regular users.
Linux utilities to maximise your productivity. Small, indispensable tools, useful for anyone running a Linux machine.
Surveys popular streaming services from a Linux perspective: Amazon Music Unlimited, Myuzi, Spotify, Deezer, Tidal.
Saving Money with Linux looks at how you can reduce your energy bills running Linux.
Home computers became commonplace in the 1980s. Emulate home computers including the Commodore 64, Amiga, Atari ST, ZX81, Amstrad CPC, and ZX Spectrum.
Now and Then examines how promising open source software fared over the years. It can be a bumpy ride.
Linux at Home looks at a range of home activities where Linux can play its part, making the most of our time at home, keeping active and engaged.
Linux Candy reveals the lighter side of Linux. Have some fun and escape from the daily drudgery.
Getting Started with Docker helps you master Docker, a set of platform as a service products that delivers software in packages called containers.
Best Free Android Apps. We showcase free Android apps that are definitely worth downloading. There's a strict eligibility criteria for inclusion in this series.
These best free books accelerate your learning of every programming language. Learn a new language today!
These free tutorials offer the perfect tonic to our free programming books series.
Linux Around The World showcases usergroups that are relevant to Linux enthusiasts.
Stars and Stripes is an occasional series looking at the impact of Linux in the USA.