AstroimageJ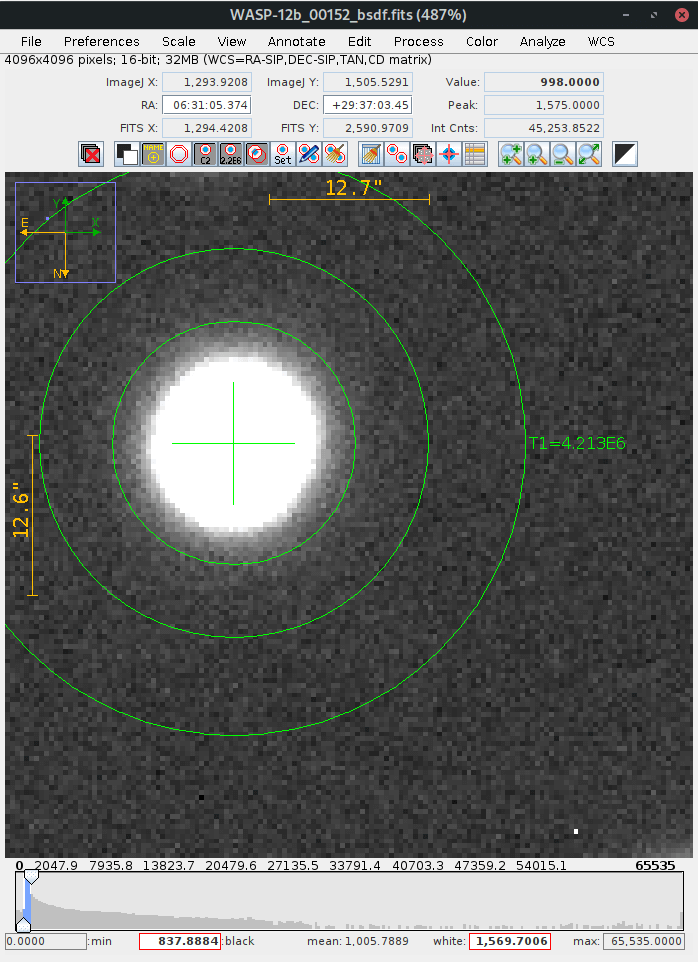 AstroImageJ (AIJ) is a modified version of ImageJ. It adds customizations to the base code and a packaged set of astronomy specific plugins.
Astro-Mode – when selected, this enables the additional functionality offered by AIJ.
Data Processing – performs image calibration (bias, dark, flat, linearity correction), and to optionally perform FITs header updates, run Multi-Aperture, and/or Multi-plot after each image has been calibrated.
Multi-Aperture – performs differential photometry on a series of (usually already calibrated) images.
Multi-Plot – plots multiple curves on a single plot
Open Data – opens s a previously saved measurements table (or any generic tab, comma, or space delimited file) from disk for plotting with Multi-Plot.
Coordinate Converter – retrieves coordinates from SIMBAD and converts them to other standard astronomical coordinate systems.
Single Apterture Photometry – single aperture photometry is performed by left-clicking the mouse at the desired location in an image.
AstroImageJ is a Java based program. From a memory perspective it's got a reasonably large footprint. With a fits image loaded, memory usage is over 800MB. This might be a problem with a mini PC with 4GB of RAM or less, but the AK41 has an ample 8GB of memory.
AstroImageJ runs well on the AK41.
Pages in this article:
Page 1 – Introduction / Celestia
Page 2 – Stellarium
Page 3 – Skychart
Page 4 – KStars
Page 5 – AstroImageJ
Page 6 – Summary
---
Complete list of articles in this series:
AWOW AK41 Mini PC
Week 11
Video consoles: SNES emulation
Week 10
Running TeamViewer with AWOW AK41 as the host
Week 9
Astronomy on the AK41 including Celestia, Stellarium, Skychart, and more
Week 8
Recording video with OBS Studio
Week 7
Home computer emulators: FS-UAE, ZEsaurUX, Hatari, Clock Signal
Week 6
Web browsing with Chrome, Firefox, Opera, and Vivaldi
Week 5
Gaming: SuperTuxKart, AwesomeNauts, Retrocycles, Robocraft, DOTA 2, and more
Week 4
Run multiple operating systems on the AK41
Week 3
Video and audio playback looking at hardware acceleration
Week 2
Benchmarking the AK41 with 3 other low power machines
Week 1
Introduction to the series including wiping Windows and installing Manjaro
This blog is written on the AWOW AK41 Mini PC.