Last Updated on September 6, 2020
This is a weekly blog chronicling my experiences of running the AWOW AK41 Mini Desktop PC on Linux.
I was intending to kick off Week 2 of this series with testing multimedia on the AK41. But we've received requests to benchmark this Mini Desktop Computer.
For this week's blog, I've run a variety of benchmarking tests on the AWOW AK41 Mini PC together with three other systems to put the results into context. All the tests use the Phoronix Test Suite, unless otherwise stated. For ease of reference, I list system information about the 4 machines under the spotlight on each page. Together with the AWOW AK41, I've included another Mini PC from AWOW. This is the NYI3. I've also included a laptop from ASUS (UX305FA), and a Mini PC from Gigabyte (BXBT-1900). They are all low-power machines.
All the machines are running identical versions of software, and configured to ensure consistency between results. The Manjaro rolling distro is used.
Let's kick off with some system tests.
---
Here's benchmark results showing how long it takes to build the Linux kernel in a default configuration. The test uses all cores/threads of a PC, but it's not the type of test where CPU cores run at 100%. A lot of the time, the compiler is waiting on other things like RAM and disk.
The AWOW AK41 Mini PC and Asus Laptop produce almost identical results, with the kernel taking a shade over 13 minutes to compile. AWOW's older NYI3 takes about 10% longer to complete this test. By comparison, the Gigabyte Mini PC lumbers behind being about 70% slower than the two fastest machines.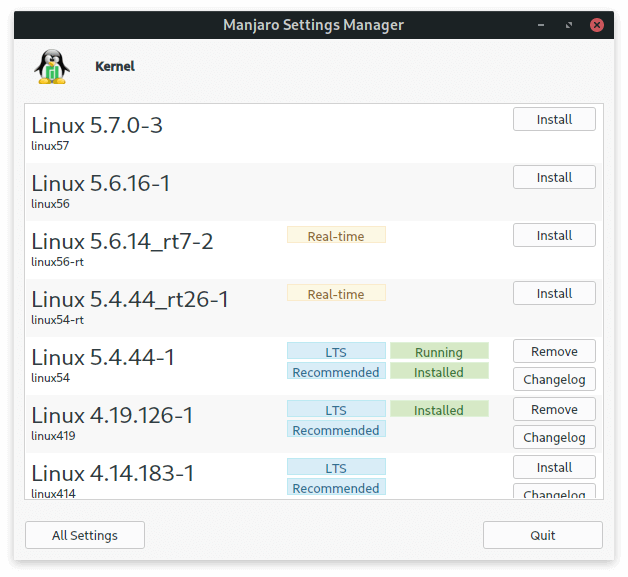 Here's a handy tip. It's definitely worth having at least 2 kernels installed on your system. If for any reason a kernel fails to boot, you've got an alternative working kernel that can boot the system and enable you to repair the system. It's quicker than alternative remedies.
Manjaro offers a really nifty utility called Manjaro Settings Manager (pictured left) which makes installing new kernels simple and straightforward. It's been a long time since I've actually compiled a kernel manually.
The tool also lets you configure other aspects of the system, such as language packs, user accounts, keyboard settings, and hardware configuration.
---
If you've read my Raspberry Pi 4 blog or my multimedia reviews, you'll know that I'm a music devotee with FLAC being my preferred digital audio coding format. It offers very good lossless compression.
The chart above summarizes benchmark results of converting a WAV file to the FLAC format, with 5 samples taken to ensure consistent results.
This is a good test of a system's single-threaded processor performance, memory, and overall system performance.
While the Asus UX305FA laptop offers slightly better results than the AWOW AK41 on this single core test, bear in mind the laptop only has 2 cores, while the AK41 has 4 cores. Impressively the AK41 is almost twice as quick as the Gigabyte Mini PC. The NYI3 produces an almost identical result to the AK41, but again bear in mind the NYI3 only has 2 cores.
---
Pages in this article:
Page 1 – Introduction / System
Page 2 – Processor
Page 3 – Memory
Page 4 – Graphics
Page 5 – Disk
---
| | AWOW AK41 |
| --- | --- |
| Type | Mini PC |
| Processor | Intel Celeron J4115 running at 1.80GHz (Turbo 2.5 GHz) with 4 cores and 4 threads |
| Chipset | Intel Gemini Lake |
| Memory | 8GB DDR4 (2133 MHz) |
| Graphics | Intel UHD Graphics 605 |
| Disk | 128GB Foresee NVMe M.2 SSD F900F128GBH |
AWOW NYI3
Gigabyte BXBT-1900
Asus UX305FA
Type
Mini PC
Mini PC
Laptop
Processor
Intel Core i3-5005U
2.00GHz
2 cores 4 threads
Intel Celeron J1900 2.00GHz
(Turbo 2.416 GHz)
4 cores 4 threads
Intel Core M-5Y10c
0.8GHz (Turbo 2.00GHz)
2 cores 4 threads
Chipset
Intel Broadwell
Intel Atom Z36xxx/Z37xxx
Intel Broadwell-U-OPI
Memory
8GB DDR4 (1600 MHz)
4GB DDR3 (1600 MHz)
8GB DDR3 (1866 MHz)
Graphics
Intel HD Graphics 5500
Intel HD 2GB
Intel HD Graphics 5300
Disk
128GB Kingston NVMe
250GB Samsung SSD 860
128GB SanDisk SSD
---
Complete list of articles in this series:
AWOW AK41 Mini PC
Week 11
Video consoles: SNES emulation
Week 10
Running TeamViewer with AWOW AK41 as the host
Week 9
Astronomy on the AK41 including Celestia, Stellarium, Skychart, and more
Week 8
Recording video with OBS Studio
Week 7
Home computer emulators: FS-UAE, ZEsaurUX, Hatari, Clock Signal
Week 6
Web browsing with Chrome, Firefox, Opera, and Vivaldi
Week 5
Gaming: SuperTuxKart, AwesomeNauts, Retrocycles, Robocraft, DOTA 2, and more
Week 4
Run multiple operating systems on the AK41
Week 3
Video and audio playback looking at hardware acceleration
Week 2
Benchmarking the AK41 with 3 other low power machines
Week 1
Introduction to the series including wiping Windows and installing Manjaro
This blog is written on the AWOW AK41 Mini PC.