Other Features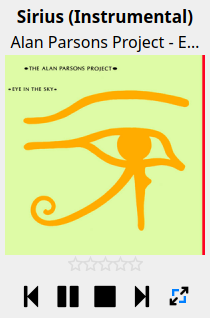 If you prefer a minimalist approach, Yarock offers a minimal mode.
In this mode (example above) you'll only see cover art and playback buttons. Handy if you're short of screen estate.
There's support for Last.fm scrobbling. To "scrobble" a song means that when you listen to it, the name of the song is sent to a Web site (for example, Last.fm) and added to your music profile.
Any half decent music player supports gapless playback. Yarock ticks that box.
You can add multiple directories to your music collection. What else is there? There's MPRIS 2 interface, desktop notifications, media shortcut support, and a command line interface.
Internationalization support is pretty reasonable. There are complete or fairly complete translations for Czech, German, Indonesian, Turkish, Chinese, French, Swedish, Japanese, Russian, Lithuanian, Romanian, Croatian, Spanish, Portuguese (Brazilian), and partial translations for other languages.
Pages in this article:
Page 1 – Introduction / Installation
Page 2 – In Operation
Page 3 – Streaming
Page 4 – Other Features
Page 5 – Summary