In operation
Let's put the user interface under the microscope. The project describes itself as "modern and elegant". In my opinion, the interface certainly doesn't possess any wow factor, at least not in its default configuration. The "playqueue" panel takes up considerable space. Once you've created some playlists to populate the panel, things look better. Or you can turn off the playqueue panel altogether.
The layout is a mite unconventional. To be frank (Ed – best stick to Luke), the word clunky springs to mind particularly given its modern Qt 5 interface (you can compile yarock with Qt 4 if you wish). But substance always wins out over style for me.
So while it's certainly not stylish, what's it like in operation?
Here's an image of Yarock in action.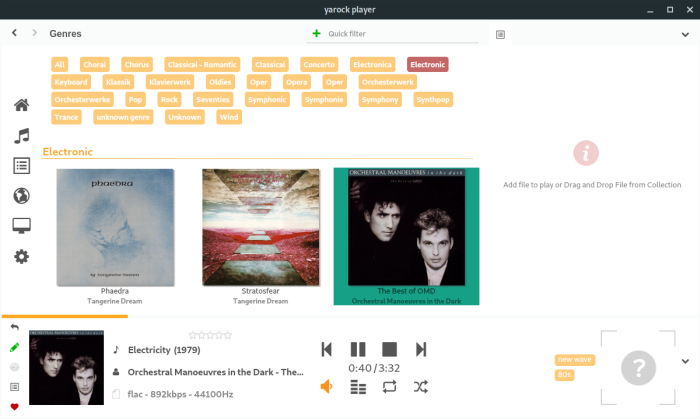 At the top reside genre tags which help filtering large music collections.
On the left hand side, there are five icons:
Home – gives access to context, a dashboard, and history.
Musical notes – play your collection by artist, album, track, genre, years, and favorites.
Clipboard – playlists, smart playlists, create a new playlist, and create a new smart playlist.
World – web streaming; listen to TuneIn, radionomy, and dirble.
Directory – navigate your filesystem to listen to music.
Cog – settings, about, database operations, add database, select database, show playqueue panel, and switch to minimal mode.
The image below shows the track view mode. Each track can be rated which helps populate the dashboard. And the software stores the number of times albums and tracks have been played. The most played albums and artists appear in the dashboard.
The image would look better with a playlist occupying the right hand side. The bottom bar hosts some useful functionality, such as editing metadata of tracks, but most users probably prefer the bottom bar collapsed.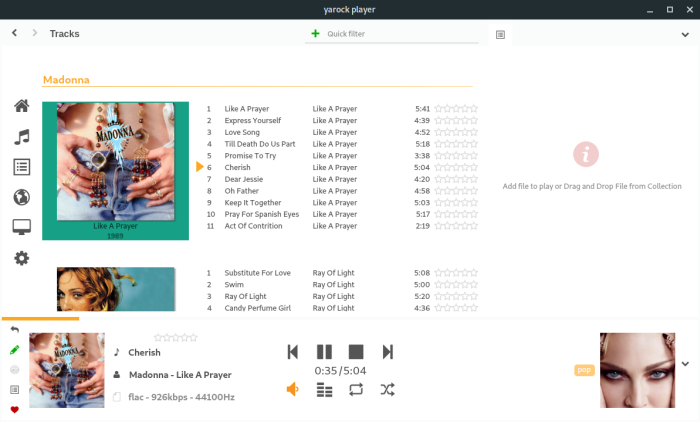 Playlists are implemented admirably, and I'm a big fan of smart playlists. Anything that makes things easier.
There's good support for different audio formats including FLAC, Opus, and MP3. My collection is coded only with FLAC.
Pages in this article:
Page 1 – Introduction / Installation
Page 2 – In Operation
Page 3 – Streaming
Page 4 – Other Features
Page 5 – Summary