Web Radio Streaming
Yarock is more than a music player. It also offers the ability to listen to radio stations over the internet. You've got three choices:
TuneIn Radio – an American audio streaming service delivering live news, radio, sports, music, and podcasts.
Radionomy – a contraction of two words: radio + autonomy. This service lets you create your own online radio or listen to online radio.
Dirble – another internet radio directory.
Here's an image of TuneIn Radio.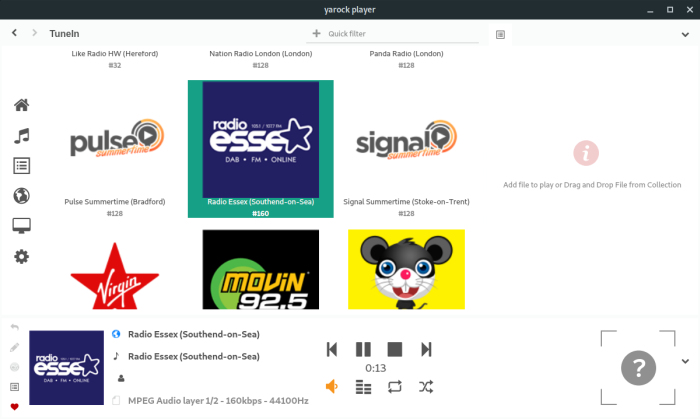 There's bitrate information shown.
If you're a fan of online music streaming, Yarock's offerings are rather limited. You might prefer MellowPlayer, which offers access to a much wider range of web-based music streaming services.
Next page: Page 4 – Other Features
Pages in this article:
Page 1 – Introduction / Installation
Page 2 – In Operation
Page 3 – Streaming
Page 4 – Other Features
Page 5 – Summary