Snownews is a text mode RSS/RDF newsreader (similar to what lynx is for web-browsing).
It supports RSS 1.0 feeds that comply with the W3C RDF specification and also supports Radio Userland's RSS 0.91 and 2.0 versions. Snownews tries to remove all HTML elements from feed descriptions and converts some elements (like tags) into newlines so that total HTML looks readable.
Snownews is fast and very resource friendly.
Features include:
Fast and very resource friendly.
HTTP proxy support.
Local cache for minimal network traffic.
HTTP authentication support (basic and digest methods).
Imports OPML (Outline Processor Markup Language) subscription lists.
Cookie support.
Fully customizable key bindings.
Type Ahead Find for quick and easy navigation.
Customizable color support.
Builtin HTTP client will follow server redirects and update feed URLs that point to permanent redirects (301) automatically.
Understands "Not-Modified" (304) server replies and handles gzip compression.
Extensible via plugins.
Feed categories.
Color support.
Full Unicode support.
Help.
Cross-platform support – runs under Linux, BSD, OS X, Solaris, and Windows (with Cygwin).
The software does not support HTTPS, but external tools can be used.
Website: github.com/msharov/snownews
Support: CHANGES
Developer: Oliver Feiler
License: GNU GPL v3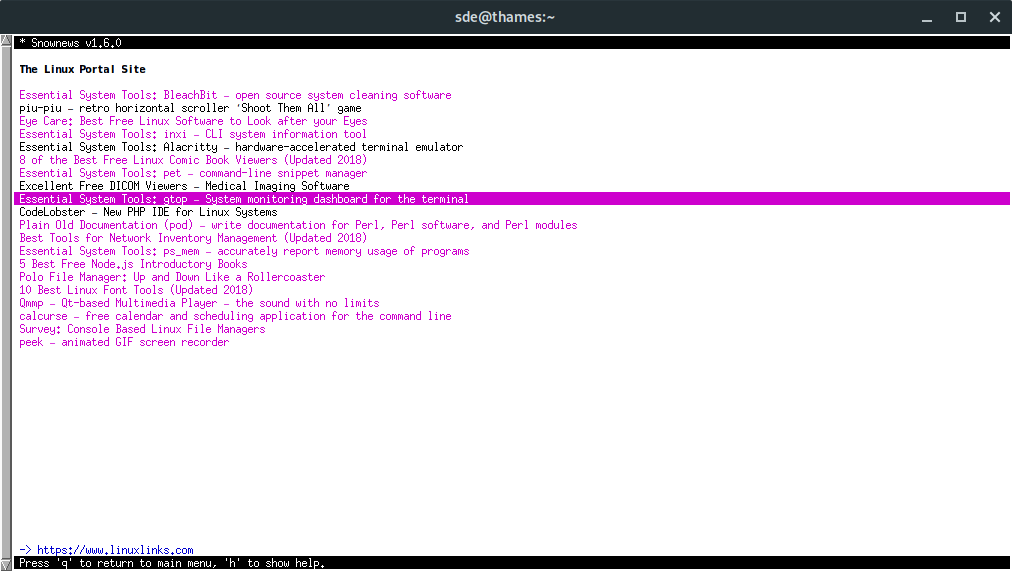 Snownews is written in C. Learn C with our recommended free books and free tutorials.
Return to News Aggregators Home Page
---