Mirage is a fancy, customizable, keyboard-operable Matrix chat client for encrypted and decentralized communication.
This software is in an alpha stage of development.
Mirage is free and open source software.
Features include:
General:

Fluid, responsive interface that adapts to any window size.
Toggleable compact mode.
Customizable keyboard shortcuts for everything, including switching rooms, navigating messages, sending/opening files…
Versatile theming system, properties can refer to each other and have any valid ECMAScript 7 expression as values:

Comes by default with dark and transparent themes.

Desktop notifications, sounds and window alerts.
Support for HTTP and SOCKS5 proxies including TOR.

Accounts:

Built-in public homeservers list.
Multiple accounts in one client.
SSO and password authentication.
Set your display name and profile picture.
Import/export E2E key files.
Inspect, rename, manually verify and sign out one or multiple sessions.
Sessions for accounts within the same client automatically verify each others.
Set your account's presence to online, unavailable, invisible or offline.
Set custom status messages.
Automatically set your status to unavailable after a period of inactivity.
Advanced push rules editor.

Rooms:

Create, join, leave and forget rooms.
Send, accept and refuse invites.
Edit the room's name, topic, invite requirement, guest access and enable E2E.
Kick, ban and set the power level of users.
Pin rooms to the top of the list.
Unread message and highlight counters.
Sending read receipts to mark rooms as read.
Seeing who has read a message and when.
Inspect and manually verify other users' E2E sessions.
See other users' presence, status message and last seen time.
Typing notifications.

Messages:

Send and receive E2E encrypted messages.
Send and receive emote messages (e.g. /me reads attentively).
Receive notice (bot) messages.
Send markdown formatted messages.
Additional syntax for coloring text, e.g. (Some text…) – SVG/CSS color names, #RGB, #RRGGBB and #AARRGGBB hex codes can be used.
Send and receive normal or E2E encrypted files.
Client-side Matrix & HTTP URL image previews, including animated GIF.
Upload images by pasting or drag-and-drop.
Full-size image viewer.
User ID, display names, room ID and room aliases mentions.
Autocompletion for usernames and user ID.
Individual and mass message removal.
Sending rich replies.
Website: github.com/mirukana/mirage
Support: Documentation
Developer: Mirage authors & contributors
License: GNU Lesser General Public License v3.0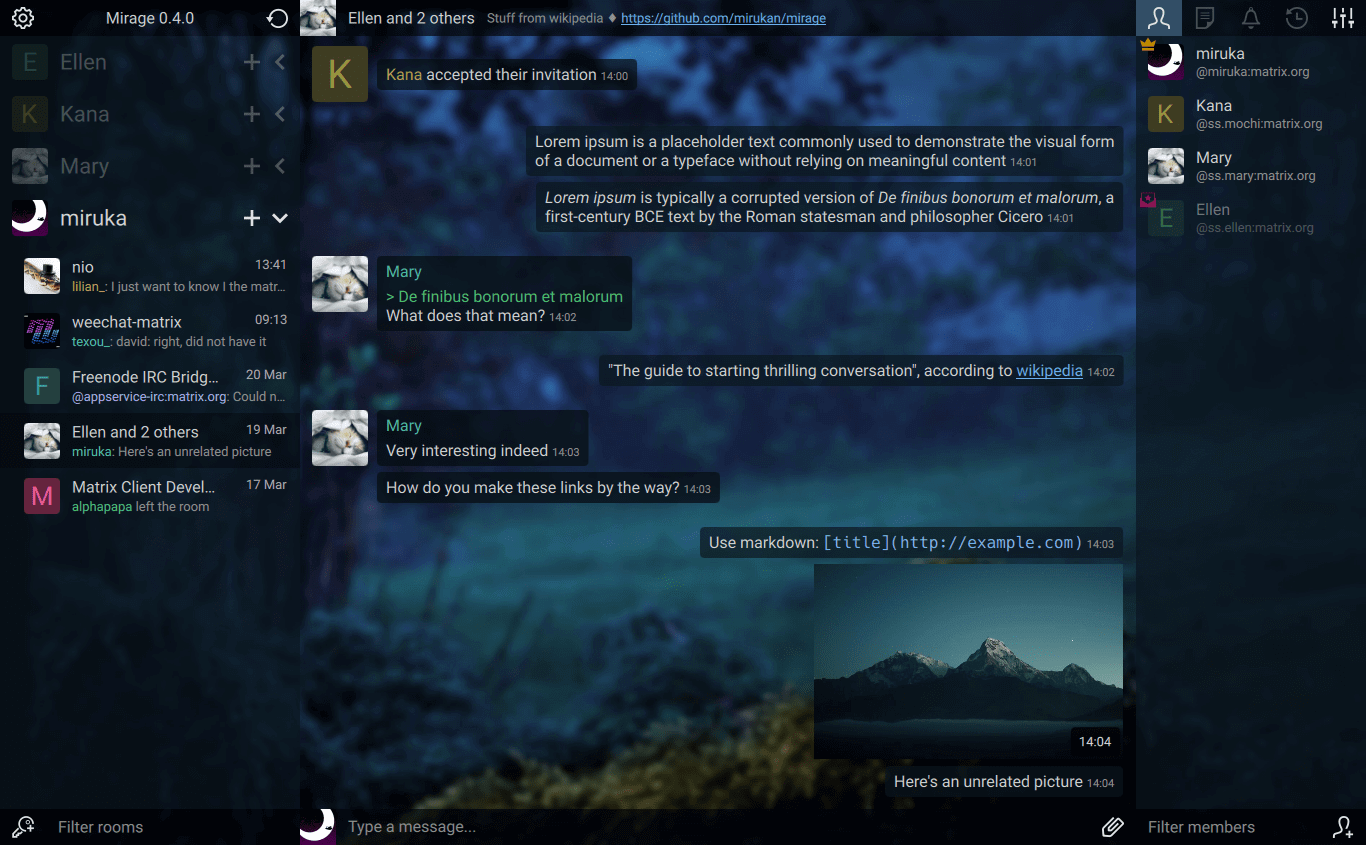 Mirage is written in QML and Python. Learn QML with our recommended free tutorials. Learn Python with our recommended free books and free tutorials.
Return to Matrix Clients Home Page
---
Popular series
New to Linux? Read our Linux for Starters series. We start right at the basics and teach you everything you need to know to get started with Linux.
The largest compilation of the best free and open source software in the universe. Each article is supplied with a legendary ratings chart helping you to make informed decisions.
Hundreds of in-depth reviews offering our unbiased and expert opinion on software. We offer helpful and impartial information.
Replace proprietary software with open source alternatives: Google, Microsoft, Apple, Adobe, IBM, Autodesk, Oracle, Atlassian, Corel, Cisco, Intuit, and SAS.
Linux Around The World showcases events and usergroups that are relevant to Linux enthusiasts.
Surveys popular streaming services from a Linux perspective: Amazon Music Unlimited, Myuzi, Spotify, Deezer, Tidal.
Saving Money with Linux looks at how you can reduce your energy bills running Linux.
Essential Linux system tools focuses on small, indispensable utilities, useful for system administrators as well as regular users.
Linux utilities to maximise your productivity. Small, indispensable tools, useful for anyone running a Linux machine.
Home computers became commonplace in the 1980s. Emulate home computers including the Commodore 64, Amiga, Atari ST, ZX81, Amstrad CPC, and ZX Spectrum.
Now and Then examines how promising open source software fared over the years. It can be a bumpy ride.
Linux at Home looks at a range of home activities where Linux can play its part, making the most of our time at home, keeping active and engaged.
Linux Candy reveals the lighter side of Linux. Have some fun and escape from the daily drudgery.
Getting Started with Docker helps you master Docker, a set of platform as a service products that delivers software in packages called containers.
Best Free Android Apps. We showcase free Android apps that are definitely worth downloading. There's a strict eligibility criteria for inclusion in this series.
These best free books accelerate your learning of every programming language. Learn a new language today!
These free tutorials offer the perfect tonic to our free programming books series.
Stars and Stripes is an occasional series looking at the impact of Linux in the USA.