In Operation
By default, the program shows the prices of a single stock, the price of Bitcoin, and the EUR/USD exchange rate in a single window. These prices are sourced from Yahoo Finance.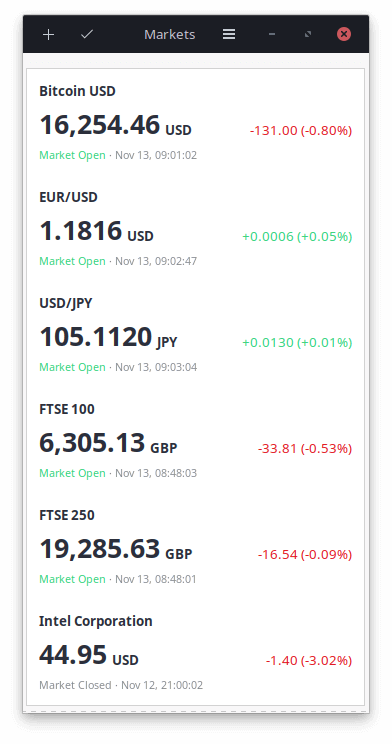 Clicking any entry in the interface fires up a web browser tab showing detailed financial information.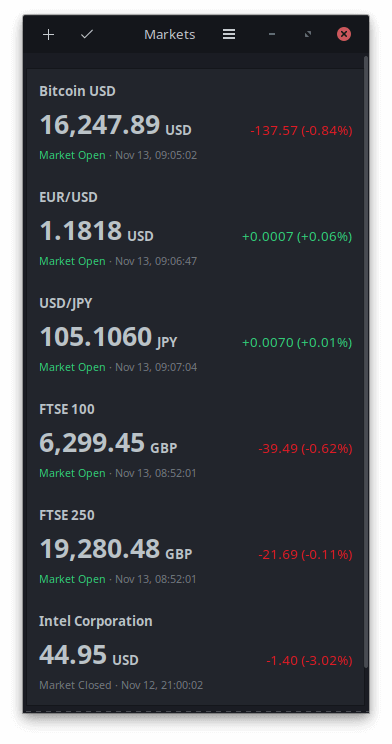 At the top left of the interface is a + symbol. This lets you add additional stocks, cryptocurrencies, and exchange rate pairs.
With a bit of effort you can create your own personal portfolio allowing for easy monitoring.
Next to the + symbol is a ✔ which lets you remove unwanted items from the list.
The Preferences dialog box lets you configure the update interval (which by default pulls data every 30 seconds). You also have the option of using a dark GTK+ theme, shown on the right hand side.
Pages in this article:
Page 1 – Introduction / Installation
Page 2 – In Operation
Page 3 – Summary