KIT Scenarist is billed as a simple and powerful screenplay editor.
KIT Scenarist is a fully-featured studio for creating movie screenplays. It combines:
Project organizer that allows storing all research documents on the project in one place.
The corkboard provides opportunities for placing, arranging, grouping and visualizing scenes of the future screenplay in the form of index cards on the corkboard.
A specialized script editor allows users to forget about formatting the script and direct all the creative energy to create stories.
The module of reports and statistics helps to examine history from a different angle, and prepare all the necessary reports for production.
Flexible application settings system allows a user to create a comfortable environment for creativity.
A line of script is formatted as a folder, prompting a scene heading, or a scene heading, prompting a scene description, or a scene description, or scene characters.
There is a cloud service available which offers synchronization advantages.
Features include:
Highly configurable.
Cards for an alternative overview, providing a visual way to work with structure.
Text-style storyboarding.
Mindmaps for ideas.
Organize research notes and images. Store a variety of materials (text documents, images, links to web pages and mindmaps) associated with your project.
Detailed production reports on the script, as well as graphs of the characters' activity throughout the script and the dynamics of the scenes. Statistics cover:

Scene Duration.
Action Duration.
Dialogues Duration.
Characters Count.
Dialogues Count.

Export formats supported: PDF, FDX, DOCX and FOUNTAIN.
Import formats supported: FDX, DOCX, FOUNTAIN and TRELBY.
Dark theme.
Auto-save.
Two panel mode.
Templates library.
Spell checking.
Internationalization support – supported languages include French, German, Italian, Polish, Russian, Spanish, Turkish, and Ukrainian.
Cross-platform support – runs under Linux, Mac OS X, Windows. There are mobile versions available for Android and iOS but these versions require payment.
Website: kitscenarist.ru
Support: GitHub code repository
Developer: Dimka Novikov, Alexey Polishkin and contributors
License: GNU General Public License v3.0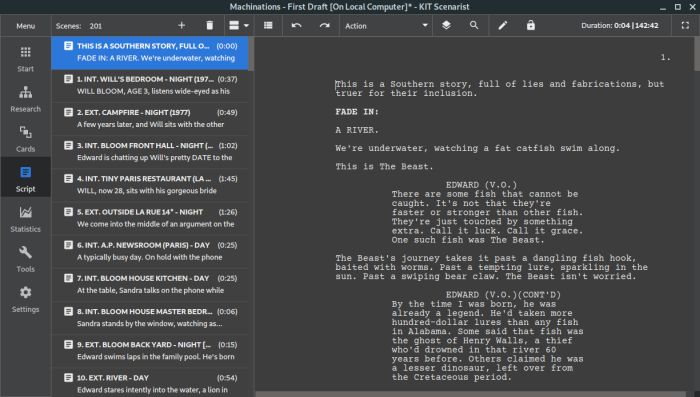 Here's statistics in action.
KIT Scenarist is written in C++ and C. Learn C++ with our recommended free books and free tutorials. Learn C with our recommended free books and free tutorials.
Return to Script Writing Home Page
Read our complete collection of recommended free and open source software. The collection covers all categories of software.

The software collection forms part of our series of informative articles for Linux enthusiasts. There's tons of in-depth reviews, alternatives to Google, fun things to try, hardware, free programming books and tutorials, and much more.