Git Extensions is a toolkit aimed at making working with Git more intuitive. It implements classic GIT by using a GUI (Graphical user interface), basically driven by a set of dedicated commands, hence maintains the version control system intuitively.
The shell extension integrates in Windows Explorer and presents a context menu on files and directories. There is also a Visual Studio extension to use Git from the Visual Studio IDE.
Git Extensions runs on multiple platforms (including Linux) using Mono. Mono is a free and open-source project to create an Ecma standard-compliant .NET Framework-compatible software framework, including a C# compiler and a Common Language Runtime.
Features include:
Feature rich user interface for Git.
32-bit and 64-bit support.
Many options to manage repositories. They include viewing the committed logs and changes made in comparison to the previous commit, cloning a repository, traversing through the file directory and filtering the committed logs using custom search input, etc.
Good range of plugins including GitFlow, find large files, Gerrit code review, release notes generator, delete obsolete branches, impact graph, gource, Github, auto compile submodules, proxy switcher, create local tracking branches, statistics, and periodic background fetch.
Wide range of settings can be configured
Internationalization support – there's support for Dutch, English, French, German, Japanese, Polish, Russian, Simplified Chinese, and Spanish.
Windows Explorer context menu integration for Git.
Visual Studio extension (2015-2017).
Website: gitextensions.github.io
Support: GitHub Code Repository
Developer: Many contributors
License: GNU General Public License v3.0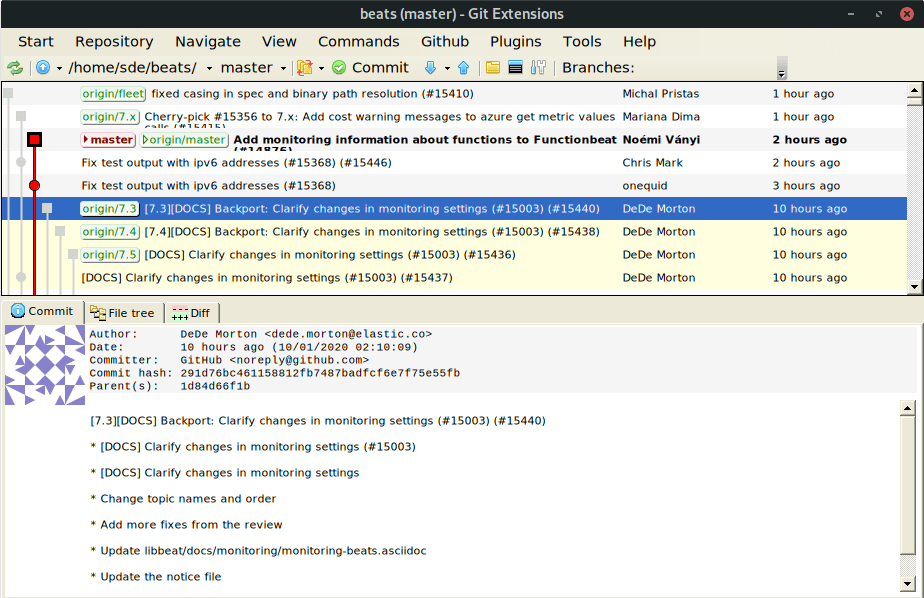 Git Extensions is written in C#. Learn C# with our recommended free books and free tutorials.
Return to Git Clients Home Page
---