ghostwriter is a distraction-free Markdown editor.
Enjoy a distraction-free writing experience, including a full screen mode and a clean interface. With Markdown, you can write now, and format later.
ghostwriter is free and open source software.
Features include:
Live HTML Preview – preview your Markdown document in HTML. With the live preview, you can copy the HTML to paste into your blog, or export to another format. You can even set your own custom style sheet to see how your document will appear once it is posted on your website. The live preview is optimized for large documents.
Uses head-up displays (HUDs) to provide information and special actions. The Outline HUD facilitates navigating large documents. Simply click on a heading in the HUD to go to a different section of your document, including within the live preview.
Focus mode – highlights only the current text around the cursor while fading the rest. You can configure ghostwriter to highlight the current line, sentence, paragraph, or three lines.
Hemingway mode – disables your backspace and delete keys, creating a typewriter experience. This feature is especially useful if you want to avoid editing and force yourself to write.
Syntax highlighting.
Built-in Themes – built-in light and dark themes provide an aesthetic writing experience out of the box. They are based on the community Ulysses III theme Plainstraction.
Custom theme creation.
Document and session statistics.
Drag and drop images.
Export to multiple formats – use the built-in processor, Sundown, to export to HTML. You can also install external processors like Pandoc and MultiMarkdown to export to multiple formats. These programs are automatically detected.
Cross-platform support – runs under Linux, macOS, FreeBSD, and Windows. There's also a portable version for Windows.
Website: wereturtle.github.io
Support: GitHub Code Repository
Developer: wereturtle and contributors
License: GNU General Public License v3.0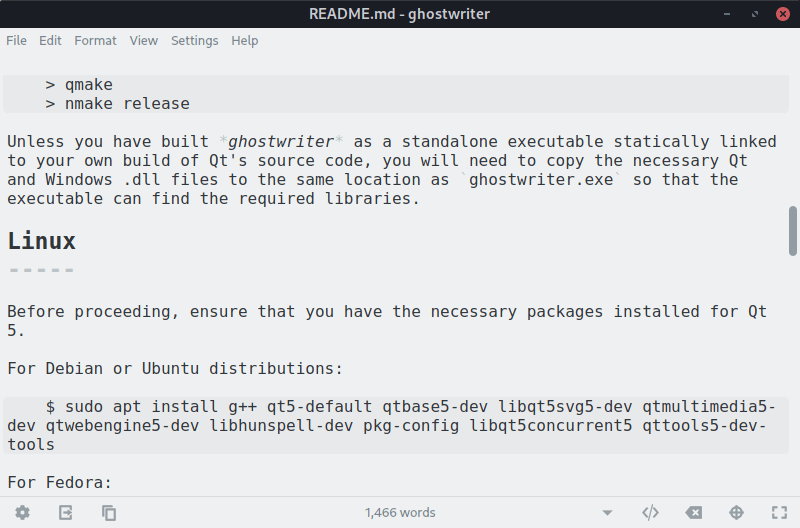 ghostwriter is written in C++ and C. Learn C++ with our recommended free books and free tutorials. Learn C with our recommended free books and free tutorials.
Return to Markdown Editors Home Page