In Operation
Here's an image of GabTag in operation.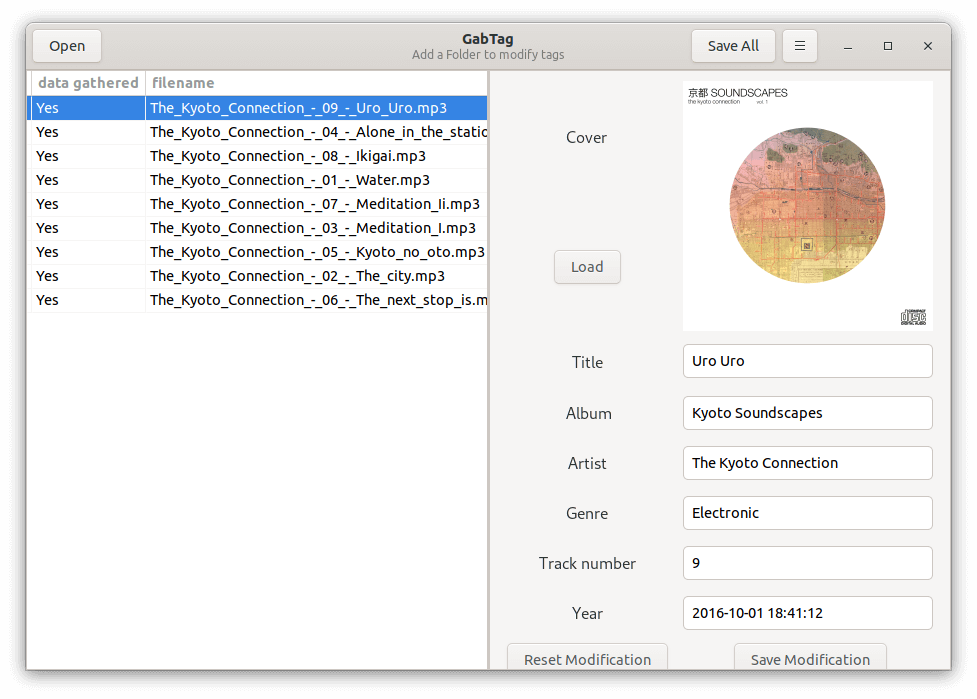 The interface is divided into two halves. On the left hand side we have a list of the tracks, and the right hand side is devoted to tags. Editing is simple. Edit the tags and click the Save all button in the program's header bar. You can add, modify or delete basic tags (title, album, artist, genre).
Features include:
Album art.
Fetch album and track details from MusicBrainz and lyrics.wikia.
Lyrics support.
Summary
GabTag is an easy-to-use tool for editing existing tags in bulk. Its interface is intuitive. It offers a quick solution to tidying up your music tags.
The biggest limitation of the software is that it offers very limited codec support. It only supports mp3. With no support for FLAC or Ogg, you'll need to use a different tool if your music collection is in these formats.
Website: github.com/lachhebo/GabTag
Support:
Developer: Ismaïl Lachheb
License: GNU General Public License v3.0
GabTag is written in Python. Learn Python with our recommended free books and free tutorials.
Pages in this article:
Page 1 – Introduction / Installation
Page 2 – In Operation / Summary