Friture is a real-time audio analyzer.
The purpose of Friture is to help analyze an audio signal to understand the characteristics of this signal (fundamental, harmonics, feedback, etc.), to describe the source/room/receiver behaviour (reverberation, gain peaks, etc.), or to make adjustments in the preprocessing (room equalization). This is achieved by providing a set of widgets to visualize audio data.
This program can be useful to analyze and equalize the audio response of a hall, or for educational purposes, and more.
Friture is free and open source software.
Features include:
Spectrum widget – displays audio data versus frequency. This is very appropriate to visualize the characteristics of tha signal: fundamental frequency, harmonics, feedback frequencies, etc. The response time of the display is configurable. The minimum response time is linked to the window length of the Fourier transform. For a FFT of 1024 points, and given the sampling rate of 48000 Hz used by Friture, the minimum response time is 1024/48000 = 21.3 ms. Additionally, the widget draws peaks for each frequency component. These peaks mark the recent maxima of the spectrum, and start to decrease shortly after the peak was reached. Finally, a label identifies the frequency of the global maximum of the spectrum.
2D Spectrogram widget – displays audio data versus both frequency and time, in a rolling-against-time fashion. The time-frequency resolution of the display is fixed by the window length of the Fourier transform (as for the minimum response time of the spectrum widget). It is also limited by the resolution of your display in pixels.
Fraction-of-octave analyzer – displays audio data versus time, similarly to the Spectrum widget. Audio data is grouped in frequency bins with fraction-of-octave widths. Each frequency bin is the result of a fraction-of-octave filter.
Delay estimator – computes the time delay between the 2 input channels. This is useful to align speakers in a room. The delay estimation is achieved using a cross-correlation algorithm. It only works when the 2-channel mode is enabled.
Level widget – displays peak power (25 ms response time, i.e. instantaneous) and RMS power (300 ms response time) in dBFS (dB Full Scale). When the 2-channels mode is enabled, it displays the levels of each channel on a separate scale.
Scope widget – displays audio data versus time. The time scale is configurable. The display is synchronized with regards to a leading-edge of the signal positioned in the center of the time axis, as a traditional scope would do.
Website: friture.org
Support: GitHub Code Repository
Developer: Timothée Lecomte
License: GNU General Public License v3.0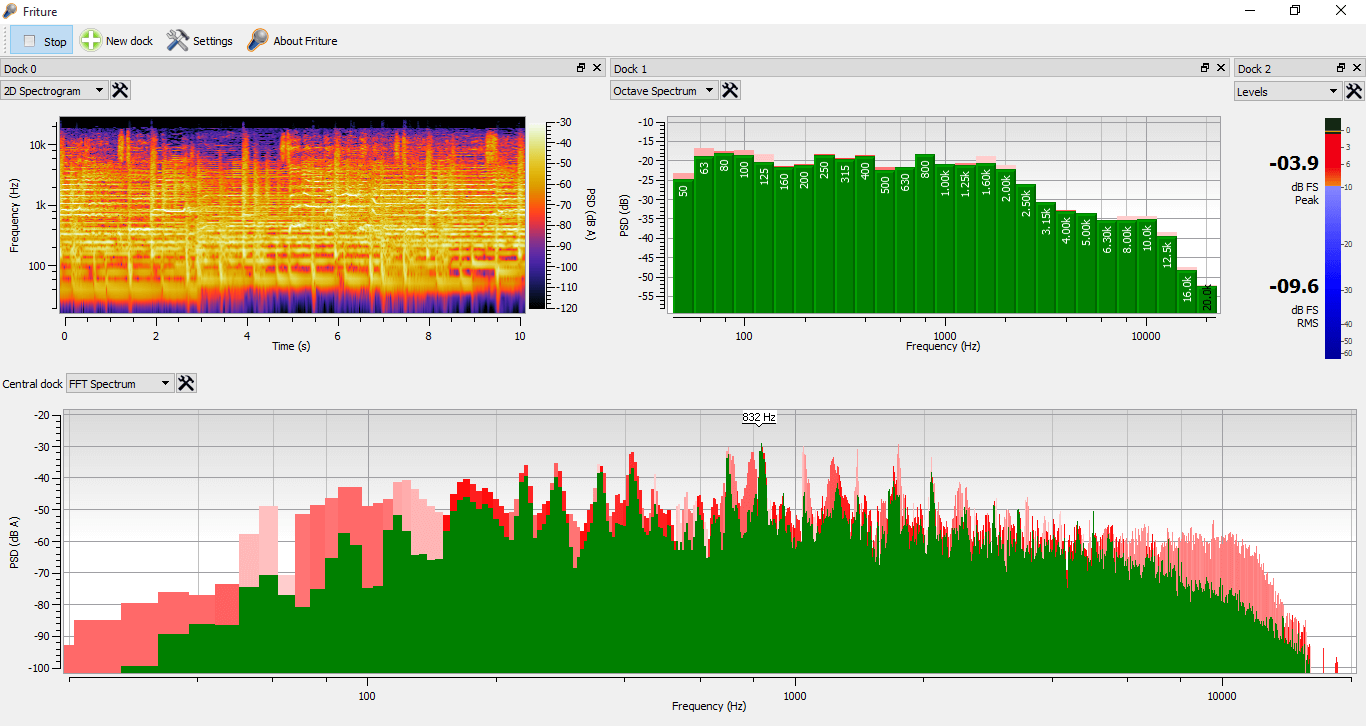 Friture is written in Python. Learn Python with our recommended free books and free tutorials.
Return to Audio Analyzers Home Page
---
Popular series
New to Linux? Read our Linux for Starters series. We start right at the basics and teach you everything you need to know to get started with Linux.
The largest compilation of the best free and open source software in the universe. Each article is supplied with a legendary ratings chart helping you to make informed decisions.
Hundreds of in-depth reviews offering our unbiased and expert opinion on software. We offer helpful and impartial information.
Replace proprietary software with open source alternatives: Google, Microsoft, Apple, Adobe, IBM, Autodesk, Oracle, Atlassian, Corel, Cisco, Intuit, and SAS.
Linux Around The World showcases events and usergroups that are relevant to Linux enthusiasts.
Surveys popular streaming services from a Linux perspective: Amazon Music Unlimited, Myuzi, Spotify, Deezer, Tidal.
Saving Money with Linux looks at how you can reduce your energy bills running Linux.
Essential Linux system tools focuses on small, indispensable utilities, useful for system administrators as well as regular users.
Linux utilities to maximise your productivity. Small, indispensable tools, useful for anyone running a Linux machine.
Home computers became commonplace in the 1980s. Emulate home computers including the Commodore 64, Amiga, Atari ST, ZX81, Amstrad CPC, and ZX Spectrum.
Now and Then examines how promising open source software fared over the years. It can be a bumpy ride.
Linux at Home looks at a range of home activities where Linux can play its part, making the most of our time at home, keeping active and engaged.
Linux Candy reveals the lighter side of Linux. Have some fun and escape from the daily drudgery.
Getting Started with Docker helps you master Docker, a set of platform as a service products that delivers software in packages called containers.
Best Free Android Apps. We showcase free Android apps that are definitely worth downloading. There's a strict eligibility criteria for inclusion in this series.
These best free books accelerate your learning of every programming language. Learn a new language today!
These free tutorials offer the perfect tonic to our free programming books series.
Stars and Stripes is an occasional series looking at the impact of Linux in the USA.