Snownews is a text mode RSS/RDF newsreader (similar to what lynx is for web-browsing).
It supports RSS 1.0 feeds that comply with the W3C RDF specification and also supports Radio Userland's RSS 0.91 and 2.0 versions. Snownews tries to remove all HTML elements from feed descriptions and converts some elements (like tags) into newlines so that total HTML looks readable.
Snownews is fast and very resource friendly.
Features include:
Fast and very resource friendly.
HTTP proxy support.
Local cache for minimal network traffic.
HTTP authentication support (basic and digest methods).
Imports OPML (Outline Processor Markup Language) subscription lists.
Cookie support.
Fully customizable key bindings.
Type Ahead Find for quick and easy navigation.
Customizable color support.
Builtin HTTP client will follow server redirects and update feed URLs that point to permanent redirects (301) automatically.
Understands "Not-Modified" (304) server replies and handles gzip compression.
Extensible via plugins.
Feed categories.
Color support.
Full Unicode support.
Help.
Cross-platform support – runs under Linux, BSD, OS X, Solaris, and Windows (with Cygwin).
The software does not support HTTPS, but external tools can be used.
Website: sourceforge.net/projects/snownews
Support:
Developer: Oliver Feiler
License: GNU GPL v3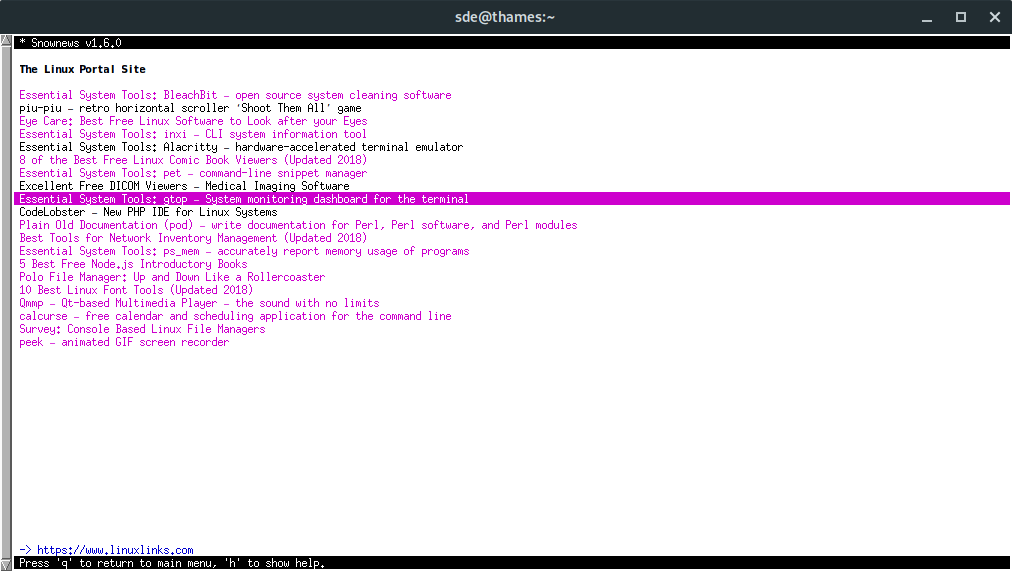 Snownews is written in C. Learn C with our recommended free books and free tutorials.
---
Popular series
The largest compilation of the best free and open source software in the universe. Each article is supplied with a legendary ratings chart helping you to make informed decisions.
Hundreds of in-depth reviews offering our unbiased and expert opinion on software. We offer helpful and impartial information.
Replace proprietary software with open source alternatives: Google, Microsoft, Apple, Adobe, IBM, Autodesk, Oracle, Atlassian, Corel, Cisco, Intuit, and SAS.
Awesome Free Linux Games Tools showcases a series of tools that making gaming on Linux a more pleasurable experience. This is a new series.
Machine Learning explores practical applications of machine learning and deep learning from a Linux perspective. This is a new series.
New to Linux? Read our Linux for Starters series. We start right at the basics and teach you everything you need to know to get started with Linux.
Alternatives to popular CLI tools showcases essential tools that are modern replacements for core Linux utilities.
Essential Linux system tools focuses on small, indispensable utilities, useful for system administrators as well as regular users.
Linux utilities to maximise your productivity. Small, indispensable tools, useful for anyone running a Linux machine.
Surveys popular streaming services from a Linux perspective: Amazon Music Unlimited, Myuzi, Spotify, Deezer, Tidal.
Saving Money with Linux looks at how you can reduce your energy bills running Linux.
Home computers became commonplace in the 1980s. Emulate home computers including the Commodore 64, Amiga, Atari ST, ZX81, Amstrad CPC, and ZX Spectrum.
Now and Then examines how promising open source software fared over the years. It can be a bumpy ride.
Linux at Home looks at a range of home activities where Linux can play its part, making the most of our time at home, keeping active and engaged.
Linux Candy reveals the lighter side of Linux. Have some fun and escape from the daily drudgery.
Getting Started with Docker helps you master Docker, a set of platform as a service products that delivers software in packages called containers.
Best Free Android Apps. We showcase free Android apps that are definitely worth downloading. There's a strict eligibility criteria for inclusion in this series.
These best free books accelerate your learning of every programming language. Learn a new language today!
These free tutorials offer the perfect tonic to our free programming books series.
Linux Around The World showcases usergroups that are relevant to Linux enthusiasts. Great ways to meet up with fellow enthusiasts.
Stars and Stripes is an occasional series looking at the impact of Linux in the USA.