Knoppix is a bootable CD with a collection of open source Linux software, automatic hardware detection, and support for many graphics cards, sound cards, SCSI and USB devices and other peripherals.
This Linux distribution is primarily designed to be used as a Live CD, but it can also be installed on to a hard disk or solid state drive.
Knoppix is particularly noteworthy for its collection of utilities for system repair and troubleshooting. It can help recover files that are preventing the installed operating system from booting, and restore the master boot record. It can also remove corrupted and infected files, as well as partitioning and reformatting connected drives. Other rescue functions that can be performed with Knoppix are to clone drives, conduct a security audiot, fix Windows boot.ini file, and more. A strong point of Knoppix is its diverse support of different hardware, and both command-line and graphical user interface tools to perform rescue operations.
Knoppix was one of the first Live CDs available. It has inspired many derivatives.
Features include:
Uses kernel 3.6.11 and X.Org 7.7 (core 1.12.4) for supporting current computer hardware.
LXDE

with filemanager PCMANFM

or KDE, as the available desktop environments.
MPlayer, with MP3 audio, and Ogg Vorbis audio playback support.
Internet access software, including the KPPP dialer and ISDN utilities.
The Iceweasel web browser (based on Mozilla Firefox), and Chromium.
The Icedove e-mail client (based on Mozilla Thunderbird).
GIMP, an image manipulation program.
Gimo.
Tools for data rescue and system repair, even for other operating systems.
Network analysis and administration tools.
LibreOffice, a comprehensive office suite.
Terminal server.
EBook Speaker, an accessible ebook reader.

Wine version 1.5 for integration of Windows based programs.

Network and security analysis tools for network administrators.
Many programming languages, development tools (including kdevelop) and libraries for developers.
More than 1000 installed software packages with over 2000 executable user programs, utilities, and games.
Website: www.knopper.net
Support: Wiki
Developer: Klaus Knopper
License: Various, mostly GNU GPL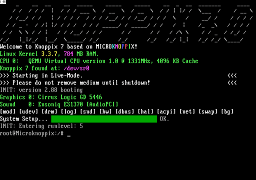 Return to Data Recovery Home Page | Return to System Recovery Home Page