Zettlr is billed as the Markdown editor for the 21st century.
Markdown is a simple markup language that enables you to write text just as complex as using standard office software, but with much less clutter. Remove unnecessary markup and styling from your writing process.
Zettlr is designed for academic writing. It provides a lot of powerful tools to help you write academic texts right out of the box.
Zettlr is not a WYSIWYG-editor such as Microsoft Word or LibreOffice, and therefore does not display a layouted version of your text. Instead, it shows you the structure of your text. However, it will attempt to pre-render a few elements which are easier to work with in such a state.
Zettlr is an Electron-based app.
Features include:
Tight and ever-growing integration with your favourite reference manager (such as Zotero or JabRef).
Cite with Zettlr using citeproc and your existing literature database.
Five themes and dark mode support.
File-agnostic writing: Enjoy full control over your own files.
Keep all your notes and texts in one place — searchable and accessible.
Code highlighting for many languages.
Simple and beautiful exports with Pandoc, LaTeX, and Textbundle.
Support for state of the art knowledge management techniques (Zettelkasten).
A revolutionary search algorithm with integrated heatmap.
Contains a full file manager based on our custom file system abstraction layer (FSAL).
Based heavily on the notion of context. Depending on different contexts, you likely wish different information available.
Internationalization support – support for over a dozen languages.
Cross-platform support – runs under Linux, macOS, and Windows.
Website: www.zettlr.com
Support: GitHub Code Repository
Developer:
License: GNU General Public License v3.0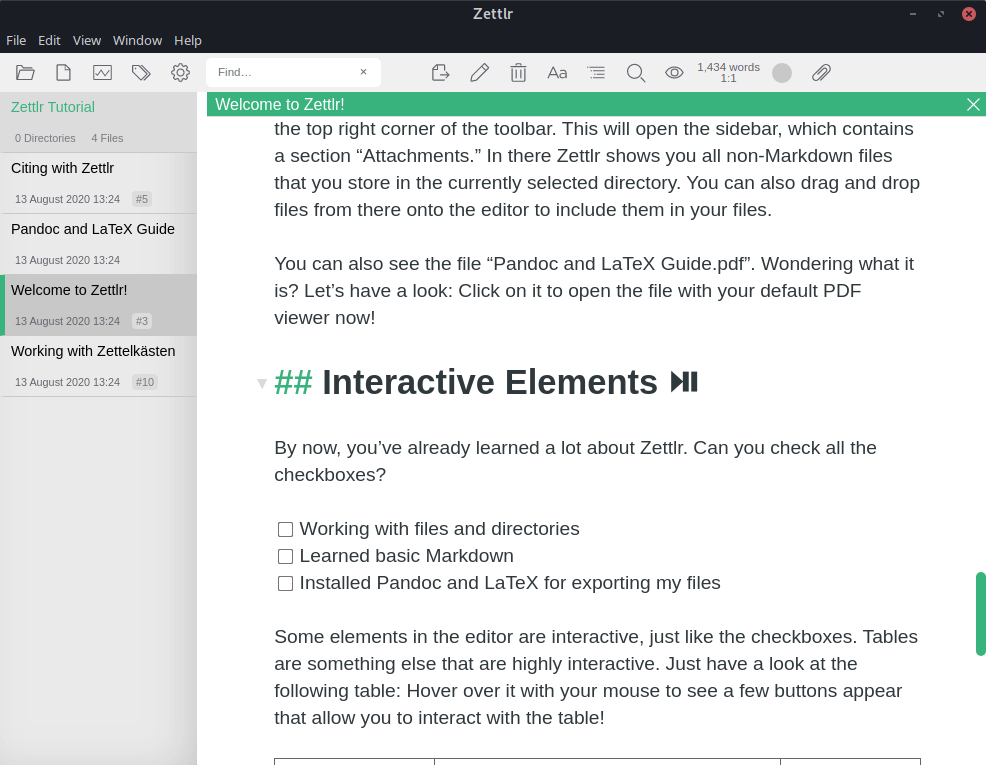 Zettlr is written in JavaScript. Learn JavaScript with our recommended free books and free tutorials.
Return to Markdown Editors Home Page