In Operation
One of the best features of radio-active is that it supports a huge number of internet radio stations. You've got access to more than 30,000 stations courtesy of the program's support for radio browser, a fantastic community driven effort collating stations. Any internet radio player worth its salt uses radio-browser or another radio directory. Manually having to find and add streams is just too much of a chore!
Let's have a look at the options available with radio-active. The help screen gives you a good summary of the available functionality. Issue the command $ radio --help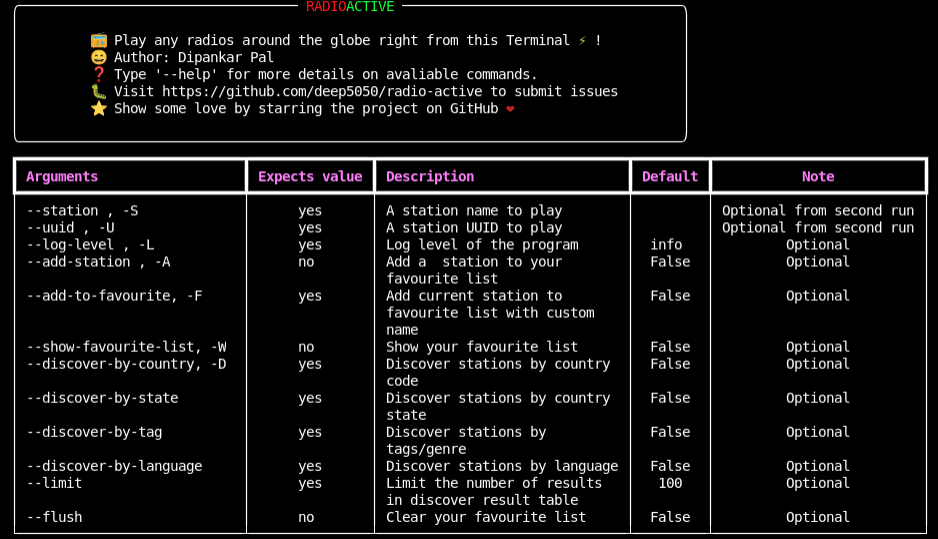 As you see, we can play a station armed with the station name or its UUID. For example to listen to BBC Radio 3 HD, we can issue the command
$ radio --station "BBC Radio 3 HD"
If multiple matches are found, the software shows the UUID of each e.g. if we type
$ radio --station "BBC Radio 3"

This offers a quick way of finding a station name and its associated UUID.
We can add stations to a favourite list with the option of custom names. There's also support for discovering stations by genre and language.
Issuing radio or radioactive as a bare command the software seeks to play the last station.
Next page: Page 3 – Memory Usage
Pages in this article:
Page 1 – Introduction / Installation
Page 2 – In Operation
Page 3 – Memory Usage
Page 4 – Summary