PyRoom is a full-screen writing program, i.e. a full-screen text editor with the purpose of isolating the user from the operating system and other applications. This editor is designed to stay out your way – and keeps other things out of your way, too.
As a fullscreen editor without buttons, widgets, formatting options, menus and with only the minimum of required dialog windows, it doesn't have any distractions and lets you focus on writing and only writing.
PyRoom is free and open source software.
Features include:
Very specialized feature set. Most features are hidden from the main interface, not cluttering your workspace with buttons and menus and statistics.
Full screen.
No visual clutter.
Work on multiple documents at once (main text, outline, etc).
Multi-monitor support.
Control PyRoom via keyboard shortcuts.
Autosave your work.
Check wordcounts on keypress.
Choose from preconfigured designs or create your own color scheme.
Allow indenting of paragraph beginnings
Further customize visual appearance and whitespace (line spacing, border, padding…).
Keyboard oriented.
Configurable.
Internationalization support.
Website: pyroom.org
Support: Mailing List
Developer: Adam Rooke, Bruno Bord, Caio Alonso, Florian Heinle, Peter Frost, Marc Carson, Nathan Haines
License: GNU General Public License Version 3.0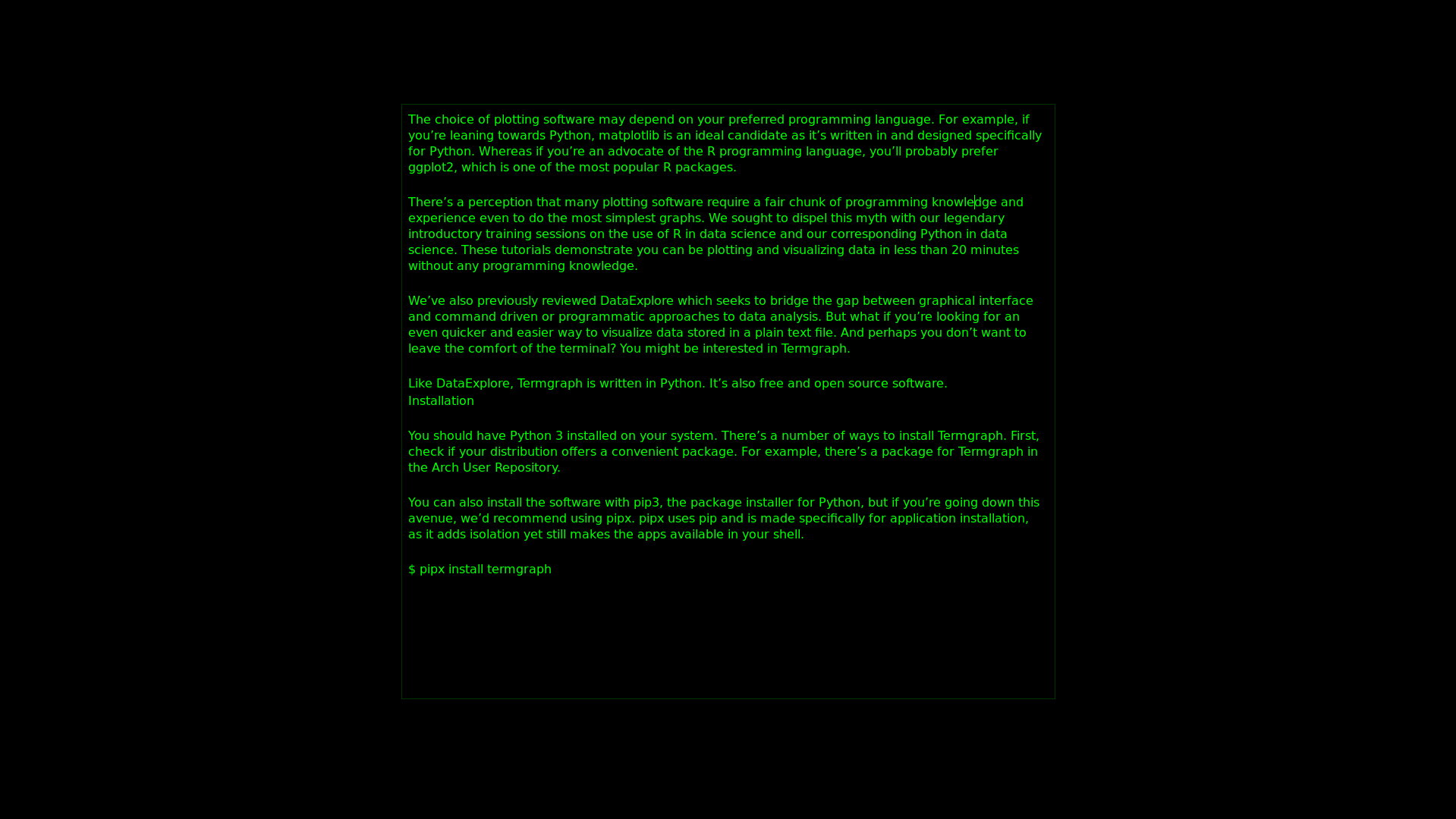 PyRoom is written in Python. Learn Python with our recommended free books and free tutorials.
Return to Distraction Free Tools Home Page
---
Popular series
New to Linux? Read our Linux for Starters series. We start right at the basics and teach you everything you need to know to get started with Linux.
The largest compilation of the best free and open source software in the universe. Each article is supplied with a legendary ratings chart helping you to make informed decisions.
Hundreds of in-depth reviews offering our unbiased and expert opinion on software. We offer helpful and impartial information.
Replace proprietary software with open source alternatives: Google, Microsoft, Apple, Adobe, IBM, Autodesk, Oracle, Atlassian, Corel, Cisco, Intuit, and SAS.
Getting Started with Docker helps you master Docker, a set of platform as a service products that delivers software in packages called containers.
Essential Linux system tools focuses on small, indispensable utilities, useful for system administrators as well as regular users.
Linux utilities to maximise your productivity. Small, indispensable tools, useful for anyone running a Linux machine.
Home computers became commonplace in the 1980s. Emulate home computers including the Commodore 64, Amiga, Atari ST, ZX81, Amstrad CPC, and ZX Spectrum.
Now and Then examines how promising open source software fared over the years. It can be a bumpy ride.
Linux at Home looks at a range of home activities where Linux can play its part, making the most of our time at home, keeping active and engaged.
Linux Candy reveals the lighter side of Linux. Have some fun and escape from the daily drudgery.
Best Free Android Apps. We showcase free Android apps that are definitely worth downloading. There's a strict eligibility criteria for inclusion in this series.
These best free books accelerate your learning of every programming language. Learn a new language today!
These free tutorials offer the perfect tonic to our free programming books series.
Stars and Stripes is an occasional series looking at the impact of Linux in the USA.