mtm stands for the Micro Terminal Multiplexer, a terminal multiplexer. This is a program that allows multiple terminal sessions to run within a single (physical or virtual) terminal session.
mtm divides the screen into multiple virtual terminals. Each virtual terminal is updated and accessed independently. At any given time, exactly one virtual terminal is "focused", meaning that it receives any typed characters. The currently-focused terminal is indicated by the location of the cursor.
Once inside mtm, things pretty much work like any other terminal. However, mtm lets you split up the terminal into multiple virtual terminals.
At any given moment, exactly one virtual terminal is focused. It is to this terminal that keyboard input is sent. The focused terminal is indicated by the location of the cursor.
Features include:
Simplicity – there are only a few commands, two of which are hardly ever used. There are no modes, no dozens of commands, no crazy feature list.
Compatibility – emulates a classic ANSI text terminal. That means it should work out of the box on essentially all terminfo/termcap-based systems (even pretty old ones), without needing to install a new termcap entry.
Very small size – entire project is around 1000 lines of code.
Stable.
Different terminal types are supported:

mtm – supports all of the features of mtm, but with the default 8 "ANSI" colors only.
mtm-256color – this can be used if the mtm terminfo description is installed and the host terminal qsupports 256 or more colors.
mtm-noutf – supports everything the mtm terminal type does, but does not advertise UTF8 capability.
Website: github.com/deadpixi/mtm
Support:
Developer: Rob King
License: GNU General Public License v3.0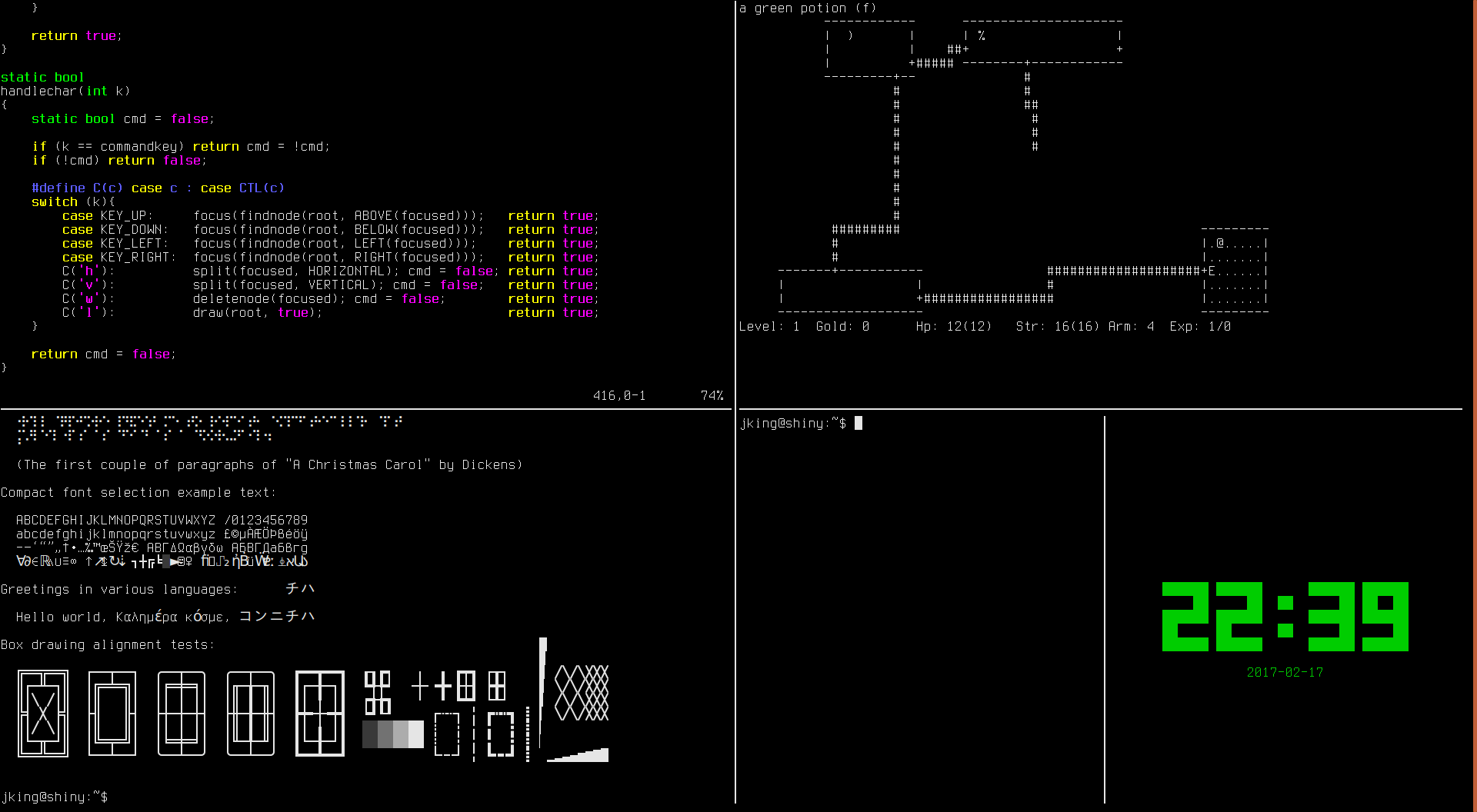 mtm is written in C. Learn C with our recommended free books and free tutorials.
Return to Terminal Multiplexers Home Page
---
Popular series
New to Linux? Read our Linux for Starters series. We start right at the basics and teach you everything you need to know to get started with Linux.
The largest compilation of the best free and open source software in the universe. Each article is supplied with a legendary ratings chart helping you to make informed decisions.
Hundreds of in-depth reviews offering our unbiased and expert opinion on software. We offer helpful and impartial information.
Replace proprietary software with open source alternatives: Google, Microsoft, Apple, Adobe, IBM, Autodesk, Oracle, Atlassian, Corel, Cisco, Intuit, and SAS.
Linux Around The World showcases events and usergroups that are Linux-related. This is a new series.
Getting Started with Docker helps you master Docker, a set of platform as a service products that delivers software in packages called containers.
Essential Linux system tools focuses on small, indispensable utilities, useful for system administrators as well as regular users.
Linux utilities to maximise your productivity. Small, indispensable tools, useful for anyone running a Linux machine.
Home computers became commonplace in the 1980s. Emulate home computers including the Commodore 64, Amiga, Atari ST, ZX81, Amstrad CPC, and ZX Spectrum.
Now and Then examines how promising open source software fared over the years. It can be a bumpy ride.
Linux at Home looks at a range of home activities where Linux can play its part, making the most of our time at home, keeping active and engaged.
Linux Candy reveals the lighter side of Linux. Have some fun and escape from the daily drudgery.
Best Free Android Apps. We showcase free Android apps that are definitely worth downloading. There's a strict eligibility criteria for inclusion in this series.
These best free books accelerate your learning of every programming language. Learn a new language today!
These free tutorials offer the perfect tonic to our free programming books series.
Stars and Stripes is an occasional series looking at the impact of Linux in the USA.