Last Updated on September 1, 2020
In operation
Here's an image of Kaku in action.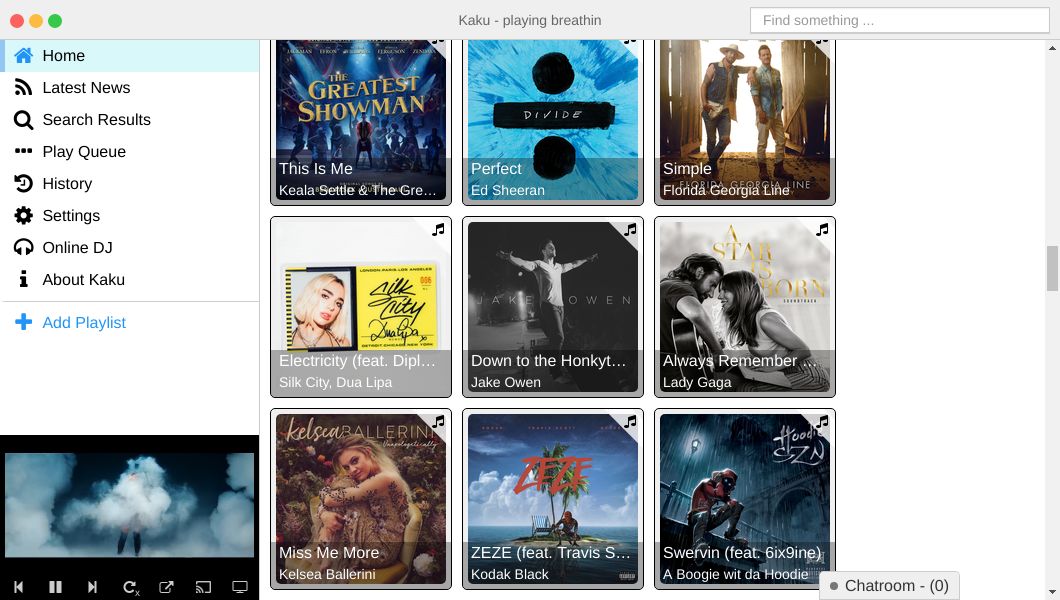 First thing you might notice from the above screenshot is that Kaku replaces the maximize, minimize, and close buttons with Mac style buttons. I prefer my applications to have a consistent look and feel, but it's not a big issue.
At the top right of the window, there's a search bar. By default, Kaku displays results from YouTube, but there's also the option to search Vimeo, SoundCloud, MixCloud, or all of them. Videos can be displayed in a list view or a icon view. By default, you're presented with the top ranking YouTube music videos.
At the bottom left, there's a small window that displays the video. There's the standard playback buttons and playback bar together with the option to cast the output to a device, and toggle TV mode. You can make videos appear full screen or occupy all of the Kaku estate.
Latest News
This section is redundant, useless, and hopefully will be removed in a later release. It shows only release notes for early releases of Kaku. You might (incorrectly) conclude that Kaku hasn't been updated in years. This isn't the case; the software is under active development. But even if this section offered details of recent improvements to the software, that information is much better placed on the project's GitHub page rather than cluttering up the application itself.
Search Results
You're taken to this section whenever you use the search bar, or click Search Results (unless you're in TV mode). Videos that match your search criteria are easily added to the play queue. The search bar displays even in TV mode, but search results are not displayed.
Play Queue
This section is populated by clicking the "Add to Play Queue" button, which is shown in Home and Search Results. The video currently being played is highlighted in light blue. Right click on a video gives the option to add it to a playlist. You'll need to have a playlist created first though.
History
As you might have guessed, this section shows a history of videos that you've watched. You can click on any entry and replay that video. Right click on a video gives the option to add it to a playlist.
Settings
This section lets you configure the application. I'll cover the configuration options in the next page.
Online DJ
Does the prospect of becoming a DJ entice you? This section lets you become your own DJ, offering your choice of music videos to listeners (known as guests). When you create a room, a room key is generated. You share this key with your guests which gives them access to your room. As the DJ, what you play will be offered to your guests. By joining the room, you can also text chat with everyone in the room. Neat!
Next page: Page 3 – Other Features
Pages in this article:
Page 1 – Introduction / Installation
Page 2 – In Operation
Page 3 – Other Features
Page 4 – Summary