GIMP stands for the GNU Image Manipulation Program, a freely distributed program for photo retouching, image composition and image authoring.
It has a large feature set. It can be used as a simple paint program, an expert quality photo retouching program, an online batch processing system, a mass production image renderer, an image format converter, etc. It also makes the task of screenshots easy.
GIMP is expandable and extensible. It is designed to be augmented with plug-ins and extensions.
The advanced scripting interface allows everything from the simplest task to the most complex image manipulation procedures to be easily scripted.
Features include:
A full suite of painting tools including brushes, a pencil, an airbrush, cloning, etc.
Digital retouching.
Tile-based memory management, so image size is limited only by available disk space.
Sub-pixel sampling for all paint tools for high-quality anti-aliasing.
Full Alpha channel support for working with transparency.
Layers and channels.
Scalable Brushes.
Fullscreen Editing.
Color Management and Soft-proofing.
A procedural database for calling internal GIMP functions from external programs, such as Script-Fu.
Advanced scripting capabilities.
Multiple undo/redo.
Transformation tools including rotate, scale, shear and flip.
File formats supported include GIF, JPEG, PNG, XPM, TIFF, TGA, MPEG, PS, PDF, PCX, BMP and many others.
Selection tools including rectangle, ellipse, free, fuzzy, bezier and intelligent.
Plug-ins that allow for the easy addition of new file formats and new effect filters.
Support for vector layers using the GFig plug-in.
Support for various input devices out of the box. Pressure and tilt sensitive tablets, but also a wide range of USB or MIDI controllers.
Website: www.gimp.org
Support: Documentation
Developer: First version written by Peter Mattis and Spencer Kimball. Thousands of individuals have contributed since.
License: GNU General Public License v3.0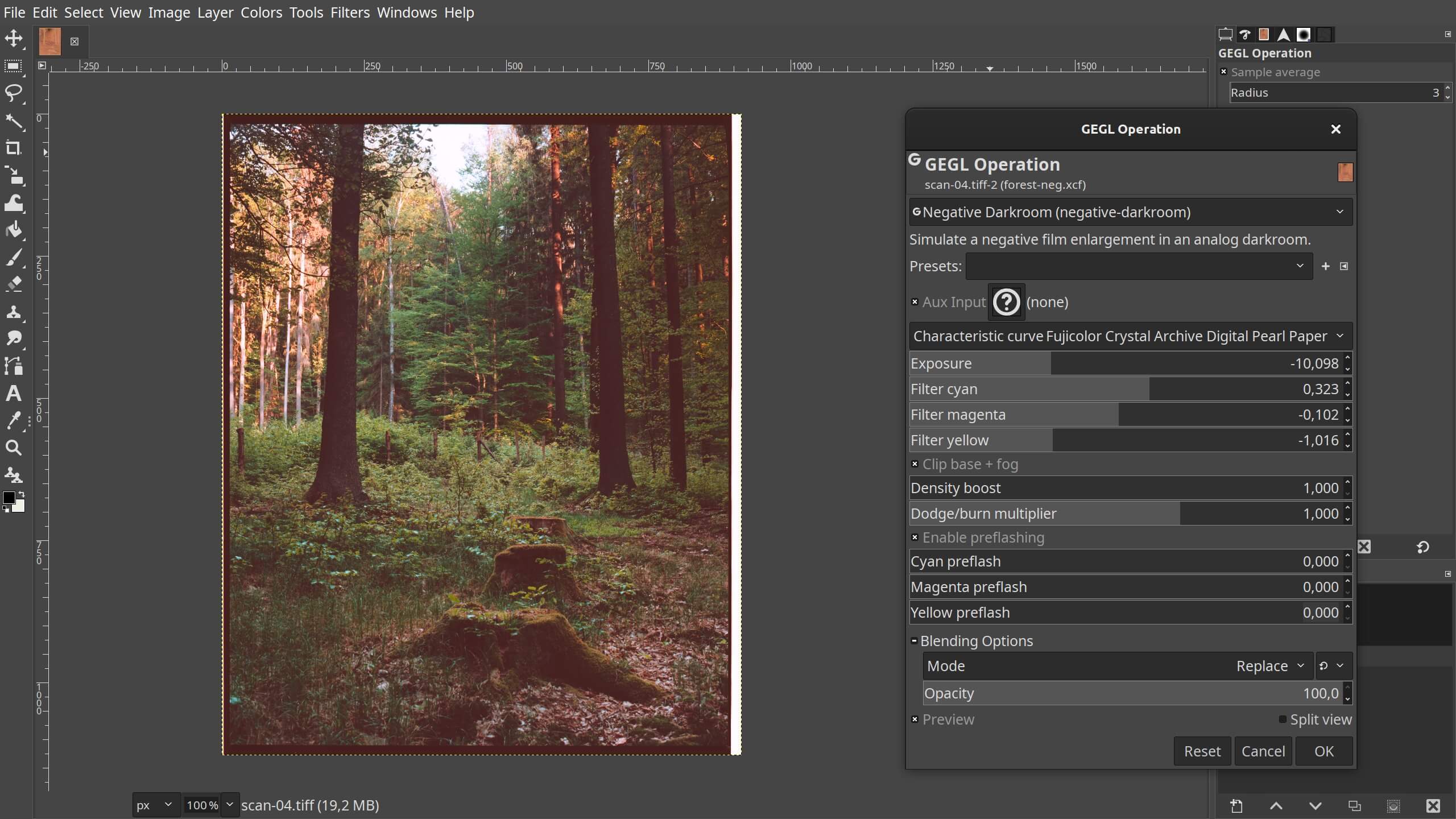 GIMP is written in C. Learn C with our recommended free books and free tutorials.
Return to Screen Capture | Return to Painting Tools
---
Popular series
The largest compilation of the best free and open source software in the universe. Each article is supplied with a legendary ratings chart helping you to make informed decisions.
Hundreds of in-depth reviews offering our unbiased and expert opinion on software. We offer helpful and impartial information.
Replace proprietary software with open source alternatives: Google, Microsoft, Apple, Adobe, IBM, Autodesk, Oracle, Atlassian, Corel, Cisco, Intuit, and SAS.
Awesome Free Linux Games Tools showcases a series of tools that making gaming on Linux a more pleasurable experience. This is a new series.
Machine Learning explores practical applications of machine learning and deep learning from a Linux perspective. This is a new series.
New to Linux? Read our Linux for Starters series. We start right at the basics and teach you everything you need to know to get started with Linux.
Alternatives to popular CLI tools showcases essential tools that are modern replacements for core Linux utilities.
Essential Linux system tools focuses on small, indispensable utilities, useful for system administrators as well as regular users.
Linux utilities to maximise your productivity. Small, indispensable tools, useful for anyone running a Linux machine.
Surveys popular streaming services from a Linux perspective: Amazon Music Unlimited, Myuzi, Spotify, Deezer, Tidal.
Saving Money with Linux looks at how you can reduce your energy bills running Linux.
Home computers became commonplace in the 1980s. Emulate home computers including the Commodore 64, Amiga, Atari ST, ZX81, Amstrad CPC, and ZX Spectrum.
Now and Then examines how promising open source software fared over the years. It can be a bumpy ride.
Linux at Home looks at a range of home activities where Linux can play its part, making the most of our time at home, keeping active and engaged.
Linux Candy reveals the lighter side of Linux. Have some fun and escape from the daily drudgery.
Getting Started with Docker helps you master Docker, a set of platform as a service products that delivers software in packages called containers.
Best Free Android Apps. We showcase free Android apps that are definitely worth downloading. There's a strict eligibility criteria for inclusion in this series.
These best free books accelerate your learning of every programming language. Learn a new language today!
These free tutorials offer the perfect tonic to our free programming books series.
Linux Around The World showcases usergroups that are relevant to Linux enthusiasts. Great ways to meet up with fellow enthusiasts.
Stars and Stripes is an occasional series looking at the impact of Linux in the USA.