Flarum is a simple discussion platform for your website.
It's fast and easy to use, with all the features you need to run a successful community.
Flarum is the combined successor of esoTalk and FluxBB.
Flarum is free and open source software.
Features include:
Fast and light. No clutter, no bloat, no complex dependencies. Flarum is built with PHP so it's quick and easy to deploy. The interface is powered by Mithril.
Elegant user interface.
Styable.
Performant JavaScript framework with a tiny footprint.
Beautiful and responsive. This is forum software for humans. Flarum is designed to be consistent and intuitive across platforms, out-of-the-box.
Powerful and extensible. Customize, extend, and integrate Flarum to suit your community. Flarum's architecture is flexible, with a powerful Extension API.
Internationalization support with 34 language packs.
Website: flarum.org
Support: Blog, Documentation, GitHub Code Repository
Developer: Flarum Foundation
License: MIT License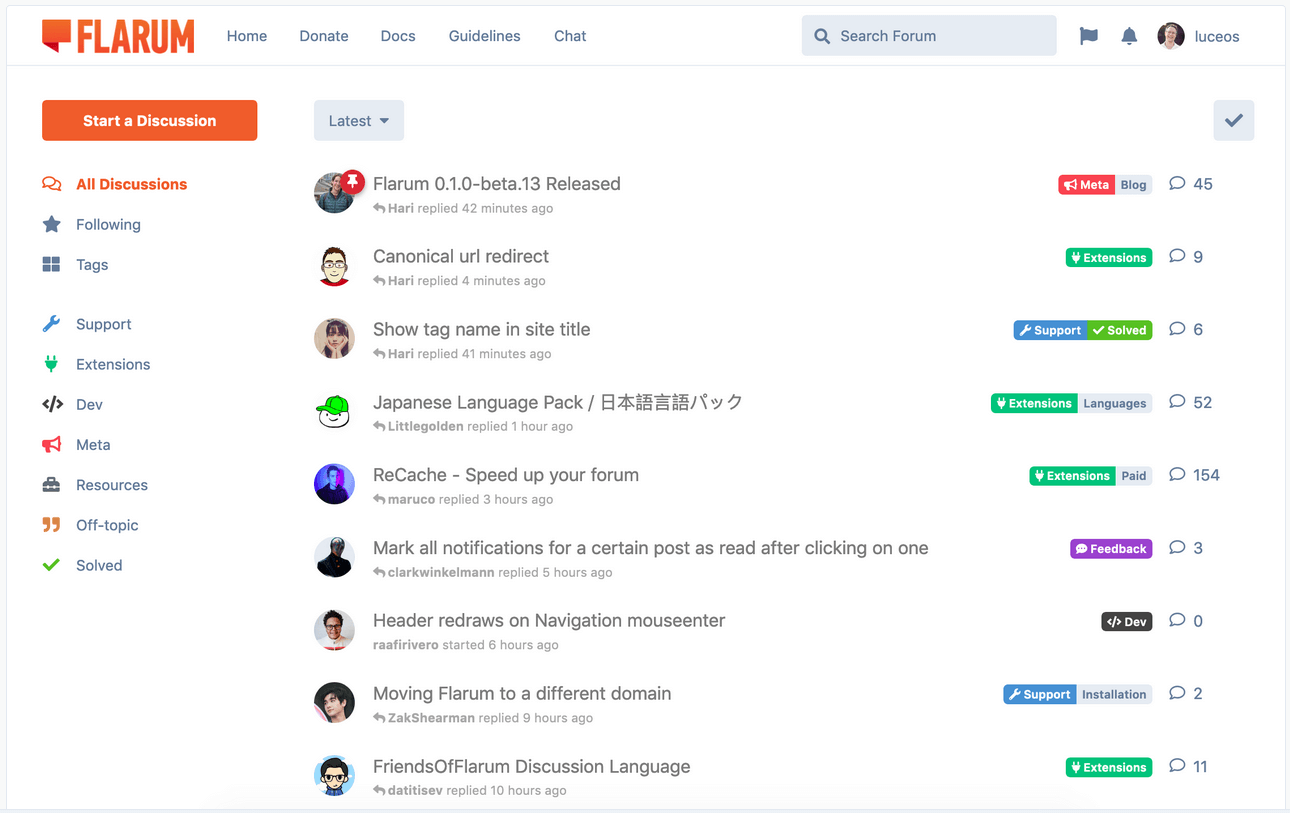 To run Flarum you'll need:
Apache (with mod_rewrite enabled) or Nginx.
PHP 7.2.9+ with the following extensions: curl, dom, gd, json, mbstring, openssl, pdo_mysql, tokenizer, zip.
MySQL 5.6+ or MariaDB 10.0.5+.
SSH (command-line) access to run Composer.
Flarum is written in PHP. Learn PHP with our recommended free books and free tutorials.
Return to Internet Forums Home Page
---
Ongoing series
New to Linux? Read our Linux for Starters series.
The largest compilation of the best free and open source software in the universe. Supplied with our legendary ratings charts.
Hundreds of in-depth reviews offering our unbiased and expert opinion on software.
Alternatives to Google's Products and Services examines your options to migrate from the Google ecosystem with open source Linux alternatives.
Alternatives to Microsoft's Products and Services recommends open source Linux software.
Essential Linux system tools looks at small, indispensable utilities, useful for system administrators as well as regular users.
Linux utilities to maximise your productivity. Small, indispensable tools, useful for anyone running a Linux machine.
Home computers became commonplace in the 1980s. Emulate home computers including the Commodore 64, Amiga, Atari ST, ZX81, Amstrad CPC, and ZX Spectrum.
Now and Then examines how promising open source software fared over the years.
Linux at Home looks at a range of home activities where Linux can play its part, making the most of our time at home, keeping active and engaged.
Linux Candy opens up to the lighter side of Linux. Have some fun!
Best Free Android Apps. There's a strict eligibility criteria for inclusion in this series
These best free books accelerate your learning of every programming language
These free tutorials offer the perfect tonic to the free programming books series
Stars and Stripes is an occasional series looking at the impact of Linux in the USA