CenterIM is a text-mode multi-protocol instant messaging client for Linux, *BSD, Solaris and other Unices. The program supports most of widely used IM protocols, including AIM, ICQ, IRC, QQ, Skype, XMPP (Jabber).
CenterIM is a powerful communication tool that can be used through SSH, without the need for VNC/Remote Desktop.
This is free and open source software.
Features include:
Supported protocols:

AIM (AOL Instant Messenger).
Bonjour.
Gadu-Gadu.
Groupwise.
ICQ.
IRC.
MSN/Windows Live.
MXit.
MySpaceIM.
QQ.
SILC (Secure IRC).
SIMPLE.
Sametime.
XMPP (Jabber and Google Talk).
Yahoo.
Yahoo JAPAN.
Zephyr.

Customization – change key bindings, color schemes, and more.
Website: www.centerim.org
Support: FAQ
Developer: Petr Pavlu
License: GNU General Public License Version 2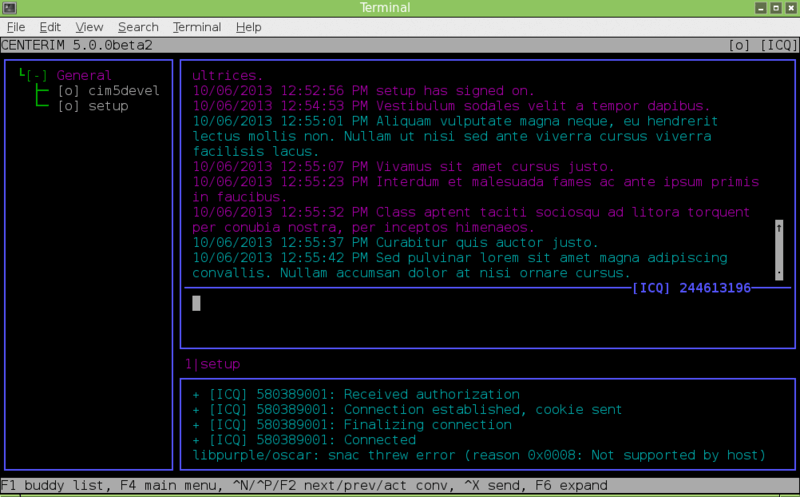 CenterIM is written in C++. Learn C++ with our recommended free books and free tutorials.
Return to Console-Based XMPP Clients Home Page