CenterIM is a text-mode multi-protocol instant messaging client for Linux, *BSD, Solaris and other Unices. The program supports most of widely used IM protocols, including AIM, ICQ, IRC, QQ, Skype, XMPP (Jabber).
CenterIM is a powerful communication tool that can be used through SSH, without the need for VNC/Remote Desktop.
This is free and open source software.
Features include:
Supported protocols:

AIM (AOL Instant Messenger).
Bonjour.
Gadu-Gadu.
Groupwise.
ICQ.
IRC.
MSN/Windows Live.
MXit.
MySpaceIM.
QQ.
SILC (Secure IRC).
SIMPLE.
Sametime.
XMPP (Jabber and Google Talk).
Yahoo.
Yahoo JAPAN.
Zephyr.

Customization – change key bindings, color schemes, and more.
Website: www.centerim.org
Support: FAQ
Developer: Petr Pavlu
License: GNU General Public License Version 2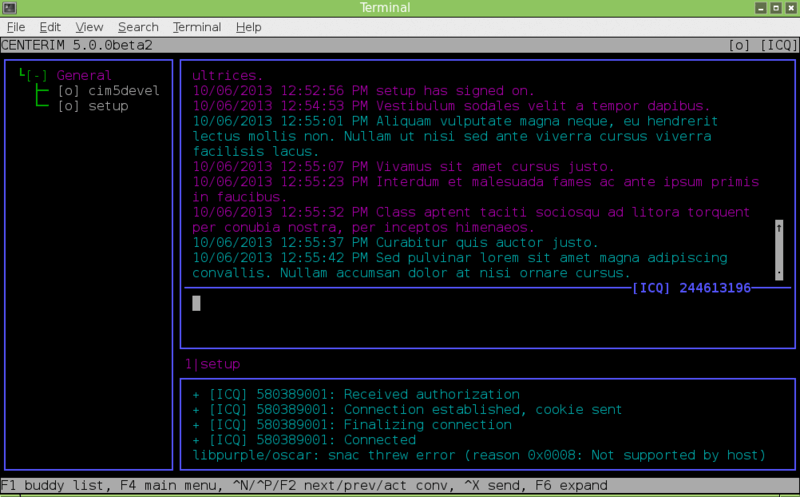 CenterIM is written in C++. Learn C++ with our recommended free books and free tutorials.
Return to Console-Based XMPP Clients Home Page
---

Click the button to make a donation via flattr. Donations help us to maintain and improve the site. You can also donate via PayPal.


---
Read our complete collection of recommended free and open source software. The collection covers all categories of software.

The software collection forms part of our series of informative articles for Linux enthusiasts. There's tons of in-depth reviews, alternatives to Google, fun things to try, hardware, free programming books and tutorials, and much more.