There's a strict eligibility criteria for inclusion in this series. See the Eligibility Criteria section below.
JuiceSSH is an all in one terminal client for Android including SSH, Local Shell, Mosh and Telnet support.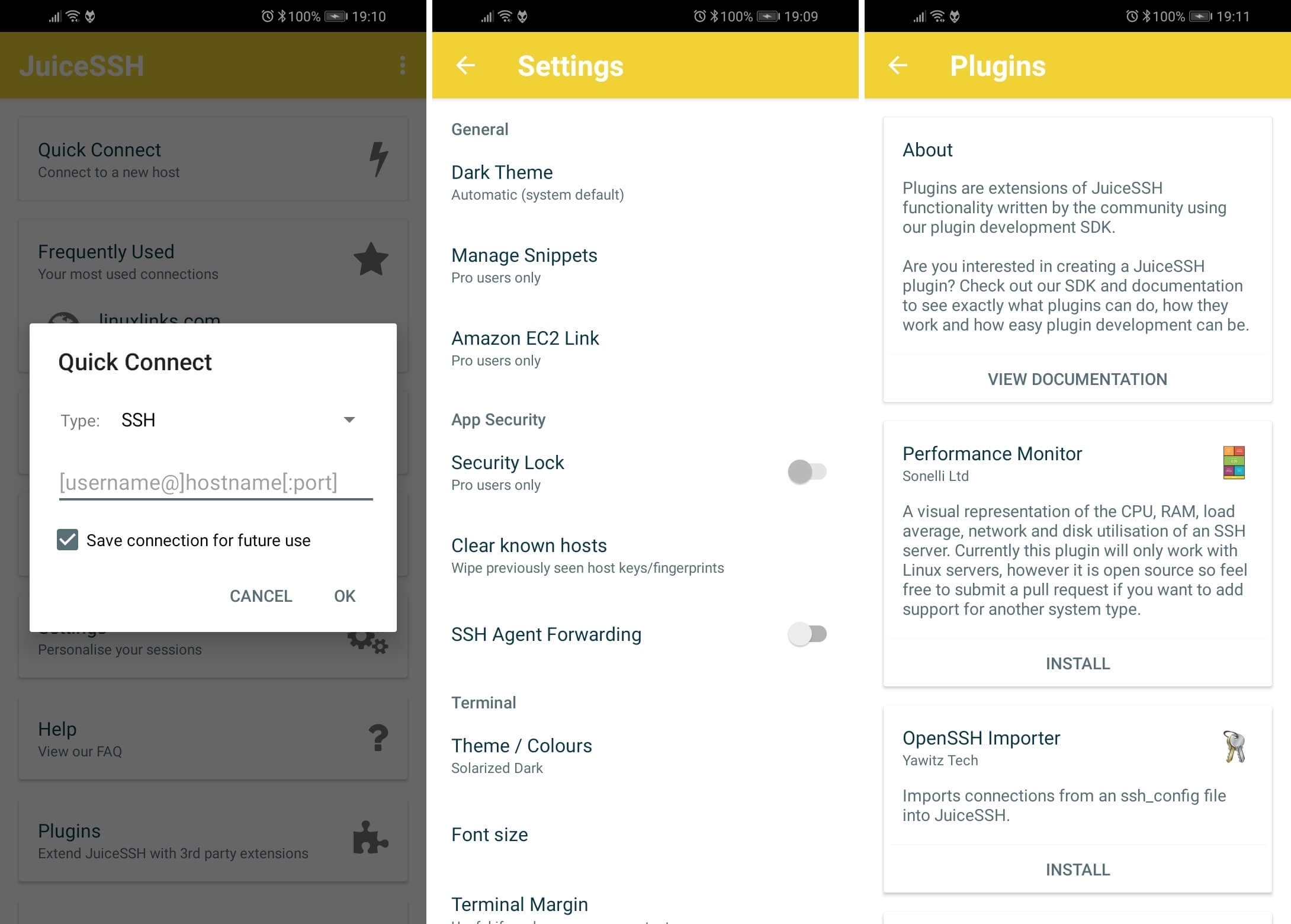 All synchronisation is encrypted with industry standard AES-256 encryption.
Features include:
Full color terminal / ssh client.
Popup keyboard with all those normally hard to find characters.
Use the volume keys to quickly change font size.
External keyboard support.
Gestures for irssi, weechat, tmux and screen.
Community and third party plugins.
Official Mosh support.
Telnet support.
Local Android terminal support.
Dark, Light, 80's hacker, Molokai, Solarized Dark and Solarized Light terminal color themes.
Click URLs to open in a browser.
Copy & Paste within sessions.
Save / Share SSH transcripts.
UTF-8 character support.
Easily organize your connections by group.
Keep multiple SSH sessions running in the background.
Seamlessly connect 'via' other SSH connections with one click.
Immediate access when you open the app to your frequently used connections.
IPv6 support.
Password & OpenSSH private key support (ed25519, ECDSA, RSA and DSA).
SSH key generator (optional passphrase encryption supported.
Identities (users/password/keys) are abstracted from connections. Instead of updating every connection when you change your password – just update the identity and any connections linked to it will use the new password/key.
zlib compression to improve SSH sessions on high latency connections.
JuiceSSH is an excellent way to connect to local and remote servers over SSH and other connection protocols. It's fast, reliable, and easy to use. We love it immensely.
There is a paid version that adds additional functionality. But the free app has an impressive array of features that'll be sufficient for most use cases.
---
Eligibility criteria
For an Android app to be awarded our love, it must satisfy the following criteria:
High quality with a good set of features, stable in operation and mature software;
No charge to use the app;
No intrusive ads in the program;
Open source and proprietary software can be included;
Apps where additional functionality is available for a payment can be included where appropriate.