Streaming media
This is one of the real strengths of the program.
There's a wide range of supported protocols supported: SMB, UPnP/DLNA, SFTP (over SHH), FTP, and WebDAV. Most of our testing was restricted to the first two protocols. Operation was great although of course scanning a large music collection takes time.
The only criticism in this area is that the app supports SMBv1 only. SMBv1 is so insecure that most security experts now recommend that administrators disable it. The developer is working on providing support for newer versions of the SMB protocol.
If you're looking for a Linux based UPnP/DNLA media server program, read our recommended open source software.
Icecast & Shoutcast
You can also stream from Icecast and Shoutcast servers.
Icecast is an open source streaming media (audio/video) server which currently supports Ogg (Vorbis and Theora), Opus, WebM and MP3 streams. It can be used to create an Internet radio station or a privately running jukebox and many things in between. Shoutcast is cross-platform proprietary software. Like Icecast, it's software for streaming media over the Internet.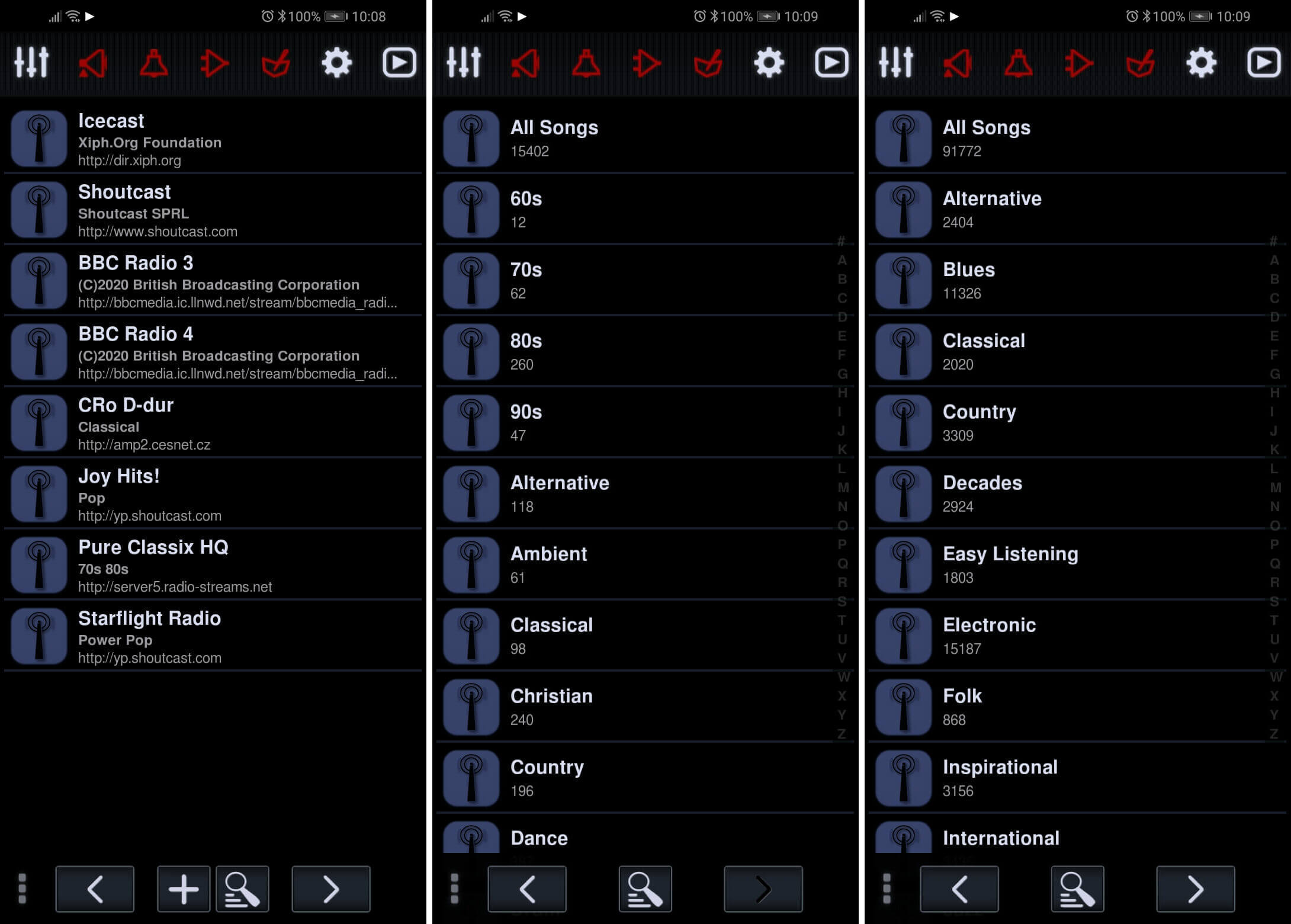 In the first image you can see we've added some stations to the category list.
For Icecast and Shoutcast stations, adding bookmarks is easy. The second and third images show the station categories available from Icecast and Shoutcast. Totalling over 100,00 stations there are a ton of stations available whatever your musical tastes.
You might notice we've added entries for BBC Radio 3 and 4. You're not limited to Icecast or Shoutcast stations; you can add custom URL streams. Sadly there's no radio station database (like the Linux program Shortwave offers) so you'll need to manually add stations. But the custom URLs are saved to an XML file which can be edited manually.
We really like that you can push streaming entries to the Queue or other playlists. Another great feature is the ability to redirect audio output to a different device with Chromecast, UPnP/DNLA and USB DAC supported.
Next page: Page 4 – DSP Effects
Pages in this article:
Page 1 – Introduction
Page 2 – In Operation
Page 3 – Streaming media
Page 4 – DSP Effects
Page 5 – Summary