Scratch is a multi-platform, open source, easy, interactive, collaborative programming environment designed for creating interactive stories, animations, games, music, and art — and sharing these on the web. Scratch is designed to help young people (ages 8 and up) develop modern learning skills.
When developing Scratch projects, students learn important mathematical and computational ideas, while also gaining a deeper understanding of the process of design.
Scratch is a graphical programming environment implemented in Squeak that works in a very Lego-like fashion. Testament to the popularity of Scratch, there are nearly 3 million projects that have been created with this programming environment.
Features include:
Limited hardware / operating system access which helps make Scratch a safe programming language to learn.
Build programs by snapping together colorful blocks of code.
Turing complete.
Visual Graphical User Interface.
Basic programming constructs are supported and grouped into different block categories:

Motion.
Looks.
Sound.
Pen.
Control.
Sensing.
Operators.
Variables.

Variables and lists for data storage, and arrays can be replicated.
Floating point scalars and strings are supported.
Primarily event-driven.
Many simplified casting rules.
Small stage / Full stage / Presentation Mode.
Compress sounds.
Compress images.
Upload programs to the Scratch Web site.
Website: scratch.mit.edu
Support:
Developer: Lifelong Kindergarten Group at the MIT Media Lab
License: GNU GPL v2 OR Scratch Source Code License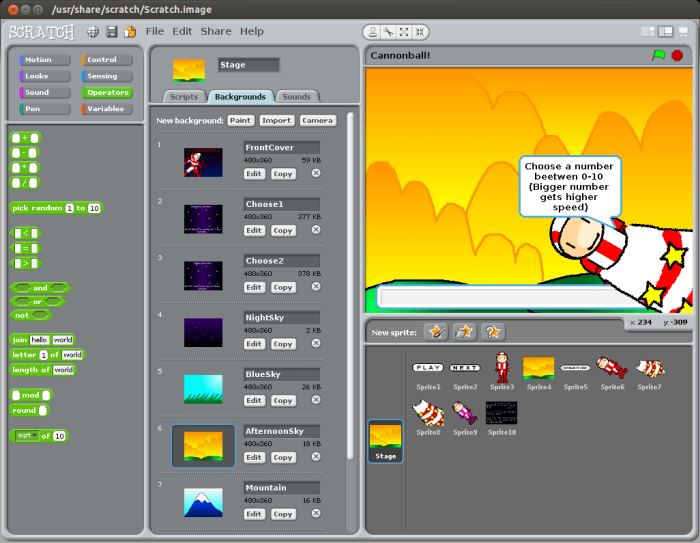 Scratch is written in JavaScript. Learn JavaScript with our recommended free books and free tutorials.
Return to Programming Tools for Kids Home Page | Return to Great Ways for Kids to Learn the Art of Coding
---
Ongoing series
New to Linux? Read our Linux for Starters series.
The largest compilation of the best free and open source software in the universe. Supplied with our legendary ratings charts.
Hundreds of in-depth reviews offering our unbiased and expert opinion on software.
Alternatives to Google's Products and Services examines your options to migrate from the Google ecosystem with open source Linux alternatives.
Alternatives to Microsoft's Products and Services recommends open source Linux software.
Essential Linux system tools looks at small, indispensable utilities, useful for system administrators as well as regular users.
Linux utilities to maximise your productivity. Small, indispensable tools, useful for anyone running a Linux machine.
Home computers became commonplace in the 1980s. Emulate home computers including the Commodore 64, Amiga, Atari ST, ZX81, Amstrad CPC, and ZX Spectrum.
Now and Then examines how promising open source software fared over the years.
Linux at Home looks at a range of home activities where Linux can play its part, making the most of our time at home, keeping active and engaged.
Linux Candy opens up to the lighter side of Linux. Have some fun!
Best Free Android Apps. There's a strict eligibility criteria for inclusion in this series
These best free books accelerate your learning of every programming language
These free tutorials offer the perfect tonic to the free programming books series
Stars and Stripes is an occasional series looking at the impact of Linux in the USA