Monitorix is a free, lightweight, open source system monitoring tool designed to monitor as many services as possible.
This application monitors CPU load and temperatures to the users on the system. Network devices activity, network services demand and even the devices' interrupt activity are also monitored. The current status of any corporate server with Monitorix installed can be accessed via a web browser.
It has been designed to be used under production Linux servers, but due its simplicity and small size you can use it to monitor embedded devices.
Features include:
Monitors:

System core (CPU load and temperatures, active processes and memory allocation).
Global or per-processor/core kernel usage (user, nice, system, idle and I/O wait).
Temperatures (HP ProLiant IML Agent and LM-Sensors with HDDtemp support).
Mounted filesystems and disk I/O.
Activity of up to 5 network devices.
Use of SMTP, SSH, FTP, Telnet, Samba, NetAtalk, VirusMail, FAX, POP3 and HTTP services.
Complete MTA statistics including anti-spam, anti-virus and greylisting.
Activity of up to 12 predefined network ports.
Devices interrupt activity (APIC support with up to 256 different interrupts).
and more.

Support for HP Insight Management Agents for ProLiant servers.
Support for Samba v2 and v3, Sendmail, Postfix, NetAtalk, Qpopper and Hylafax status logs.
Support for the Nginx web server statistics.
Support for remote servers monitorization (Multihost feature).
Silent mode to be able to retrieve the graphs from scripts or other programs.
Traffic statistics are stored on disk into RRD format fixed-size databases.
Possibility to view statistics per day, week, month or year.
Possibility to view statistics with rendered graphs or in plain text.
Each picture can be zoomed in to see the graph in more detail.
Monthly traffic activity report via email can be sent to LAN users.
Warns if some selected network port is not listening.
Two alert capabilities cover either if CPU load average or the root filesystem reaches or exceeds a threshold value for an specified amount of time.
Web interface offers minimal learning, ubiquitous access.
Configuration with only one text-plain file.
Perl and Shell Script based (lightweight tool).
Website: www.monitorix.org
Support: Documentation, GitHub Code Repository
Developer: Jordi Sanfeliu and contributors
License: GNU General Public License v2.0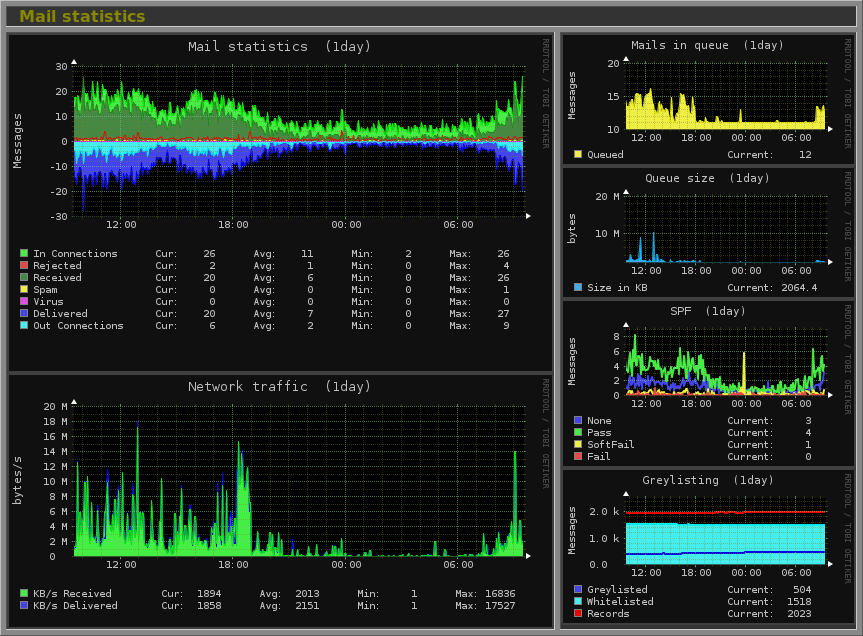 Monitorix is written in Perl. Learn Perl with our recommended free books and free tutorials.
Return to System Monitoring Home Page
---
Popular series
New to Linux? Read our Linux for Starters series. We start right at the basics and teach you everything you need to know to get started with Linux.
The largest compilation of the best free and open source software in the universe. Each article is supplied with a legendary ratings chart helping you to make informed decisions.
Hundreds of in-depth reviews offering our unbiased and expert opinion on software. We offer helpful and impartial information.
Replace proprietary software with open source alternatives: Google, Microsoft, Apple, Adobe, IBM, Autodesk, Oracle, Atlassian, Corel, Cisco, Intuit, and SAS.
Linux Around The World showcases events and usergroups that are relevant to Linux enthusiasts.
Surveys popular streaming services from a Linux perspective: Amazon Music Unlimited, Myuzi, Spotify, Deezer, Tidal.
Saving Money with Linux looks at how you can reduce your energy bills running Linux.
Essential Linux system tools focuses on small, indispensable utilities, useful for system administrators as well as regular users.
Linux utilities to maximise your productivity. Small, indispensable tools, useful for anyone running a Linux machine.
Home computers became commonplace in the 1980s. Emulate home computers including the Commodore 64, Amiga, Atari ST, ZX81, Amstrad CPC, and ZX Spectrum.
Now and Then examines how promising open source software fared over the years. It can be a bumpy ride.
Linux at Home looks at a range of home activities where Linux can play its part, making the most of our time at home, keeping active and engaged.
Linux Candy reveals the lighter side of Linux. Have some fun and escape from the daily drudgery.
Getting Started with Docker helps you master Docker, a set of platform as a service products that delivers software in packages called containers.
Best Free Android Apps. We showcase free Android apps that are definitely worth downloading. There's a strict eligibility criteria for inclusion in this series.
These best free books accelerate your learning of every programming language. Learn a new language today!
These free tutorials offer the perfect tonic to our free programming books series.
Stars and Stripes is an occasional series looking at the impact of Linux in the USA.