Linux Feed Reader (commonly known as Liferea) is a news aggregator for online news feeds. It supports the major feed formats including RSS/RDF and Atom and can import and export subscription lists in OPML format.
Liferea is intended to be a fast, easy to use, and easy to install news aggregator for GTK+ that can be used with the GNOME desktop.
Liferea allows direct subscriptions from Firefox and Epiphany. Epiphany provides a standard plugin that allows adding subscription directly to Liferea.
Features include:
Full Support for RSS & RFD, CDF, Atom/Echo/PIE 0.2.
OPML and OCS support.
Traditional three-pane interface.
Collapsible groups for feeds.
Filters to scrape websites or postprocess feeds.
Enclosures (Podcasting). Play Podcasts in Liferea.
Permanently save headlines in news bins.
Match items using search folders.
Bandwidth saving by supporting feed specified update intervals, HTTP compression and etags.
Synchronizes with InoReader, Reedah, TheOldReader, and TinyTinyRSS.
Read articles when offline.
Plugin installer that allows easy discovery and installation of 3rd party plugins.
Full screen support for videos.
Support for Do-Not-Track.
Optional AMP / HTML5 rich content fetching feature.
Internationalization support.
Website: lzone.de/liferea
Support: Documentation, GitHub
Developer: Lars Windolf, Nathan J. Conrad, Arnold Noronha, Emilio Pozuelo Monfort, Adrian Bunk, and many contributors.
License: GNU General Public License v2.0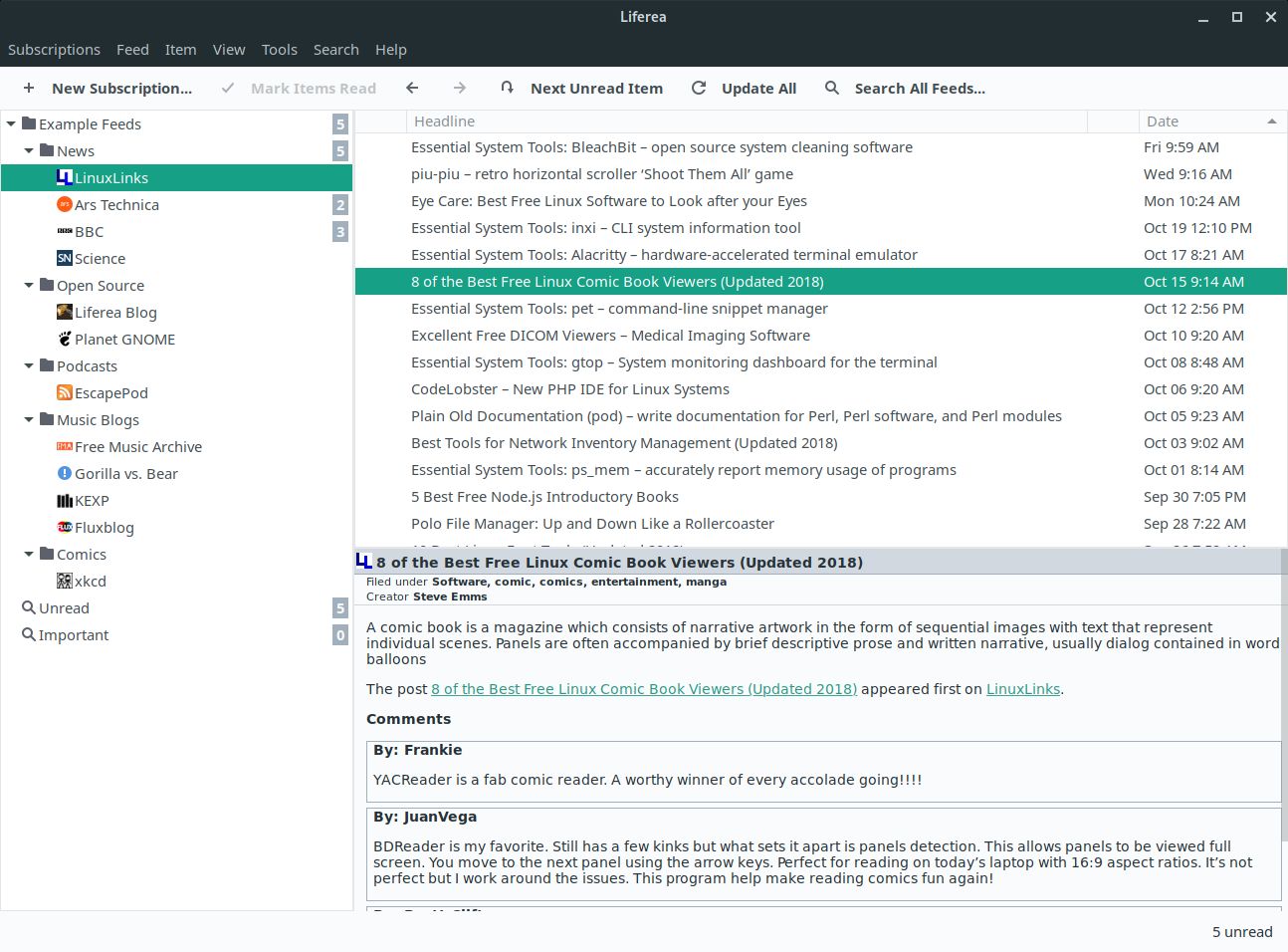 Liferea is written in C. Learn C with our recommended free books and free tutorials.
Return to News Aggregators Home Page | Return to Podcast Tools Home Page
---

Click the button to make a donation via flattr. Donations help us to maintain and improve the site. You can also donate via PayPal.


---
Read our complete collection of recommended free and open source software. The collection covers all categories of software.

The software collection forms part of our series of informative articles for Linux enthusiasts. There's tons of in-depth reviews, alternatives to Google, fun things to try, hardware, free programming books and tutorials, and much more.